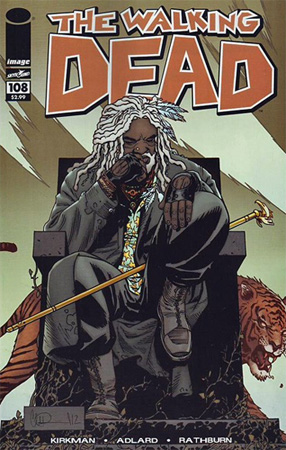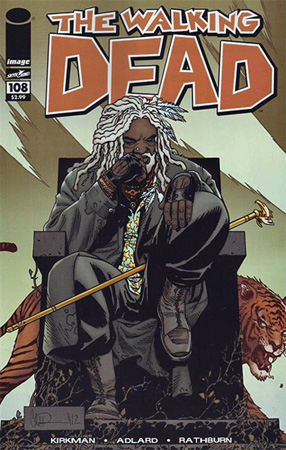 The Walking Dead Issue 107 ended with Paul and Rick discussing what may need to be down to stop the harassment of Negan and the Saviors. Paul's suggestion was to finally meet Ezekiel.
Note: This recap may contain spoilers!
Issue 108 opens with Negan acting like a complete jerk during, get this, a ping pong game. Then he takes another wife (he has taken pretty much all the men's wives) and heads off to do what he does with them, blatantly telling Dwight his plan.
Meanwhile, the comic gets a real flashback to a recent episode of the show. Michonne and Carl are back to back, fighting a horde off the best they can. Carl is almost bitten, but Michonne saves him — stating that just because he's lost an eye doesn't mean he can't overcome that. Afterall, his father only has one hand. Everyone deals with their limitations. The two vow to keep the situation a secret.
This is where we get to the good stuff. As stated above, Issue 107 left us waiting to meet Ezekiel. Jesus has led Rick to the Kingdom — literally. That's the name. A giant school that has a wall built around it. Cars are not allowed inside the Kingdom, something that should come in to play in future issues. Immediately two armor clad men on horseback greet Jesus and Rick, and allow them passage into the gates to meet King Ezekiel.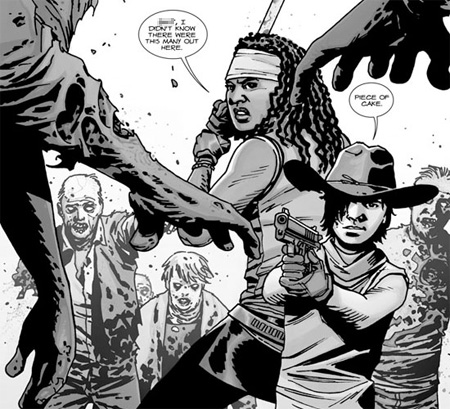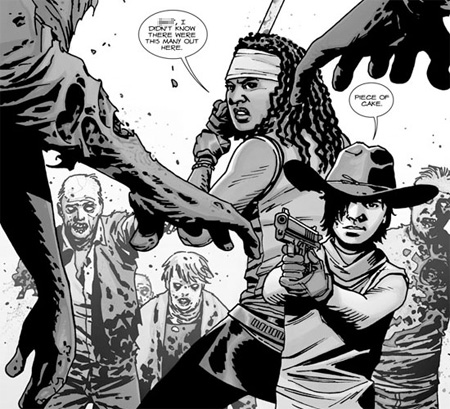 The second Ezekiel walks out into his panel — wow! This guy better be carrying Samuel L. Jackson's wallet from Pulp Fiction. He looks like George Clinton with crazy dreads and beard, a pimping outfit and a staff. I could hear James Brown's Funky President playing in my head just looking at that panel. And guess what? He's got a tiger. YES, a tiger. On a leash. Named Shiva. And Shiva knows what's up.
Ezekiel appears to be a kindhearted badass so far. He hates violence (as does Shiva), yet wants to get rid of Negan, much agreeing with Rick's rage against him. Lurking in the shadows, however, is Dwight. Rick is enraged by this — stating how he saw Dwight kill for Negan. Dwight insists he is there as a somewhat double agent. Negan has his wife and he cannot let that continue. He hopes to bring down Negan as well and wants them to all work together. He wants Negan's head on a platter.
It's interesting in this issue how much of the Governor storyline of the TV show can be seen. There is the idea of bringing down the tyranny with someone from the inside — but on the show we're lacking that higher authority of King Ezekiel. Perhaps, as I stated last time, if we continue the show, we can incorporate these complex characters from the comic. Minding his age, maybe we can even get just a screen test of George Clinton as King Ezekiel. That would be awesome.