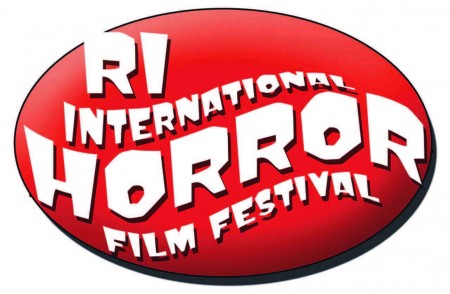 The Rhode Island International Horror Film Festival (RIIHFF) kicked off its tenth season in Providence on October 22, 2009, screening seven short films from around the globe. Although attendance was low (due at least in part to the screening's location, the Bell Street Chapel, and the sign pointing away from the parking lot entrance) and the venue's sound system is not well-suited for film screenings, audience members seemed to enjoy themselves. Although all of the films screened are related to the horror genre in one way or another, several of the selections could easily be categorized as comedies as well.
Back to Life (2009), U.S.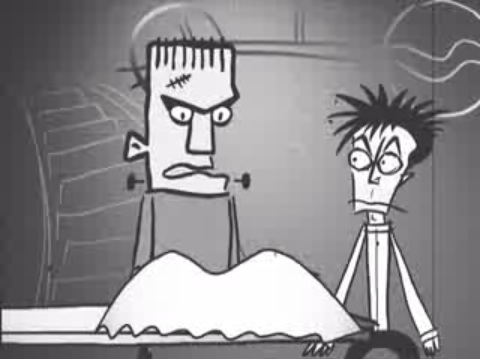 The festival opened with director Mike Salva's Back to Life, a three-minute black-and-white animated short that puts a humorous spin on the classic story of Dr. Frankenstein and his monster. Although the plot doesn't cover much ground given the film's short runtime, Back to Life is based on the most infamous scene from Mary Shelley's Frankenstein: the reanimation of the monster. When Dr. Frankenstein brings his monster to life, he is startled to discover that his creation has some pretty definitive ideas about his status as a reanimated corpse (not to mention how the doctor can compensate him for dragging him out of Heaven and back down to Earth). The monster — which not only speaks, but won't shut up — is voiced by Salva's friend, standup comedian Ryan Williams.
According to Williams, he helped Salva to create Back to Life for a project commissioned by Adobe after one of the company's CEOs saw Salva's short film Max the Hero. Salva was asked to create three introductory "bumpers" for a three-day conference. The result of the project was Back to Life and two live-action short films, Zombies and Photoshop of Horrors.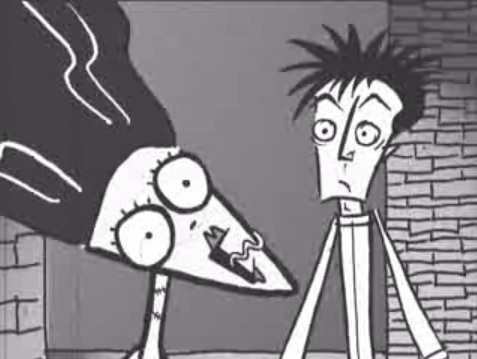 The reason that Back to Life is so successful is due in large part to the failing efforts that Frankenstein's monster makes to be gracious in his complaints about being brought back to life. "You know what, I was fine. I was in Heaven, surrounded by loved ones," says Frankenstein's monster, "Everything was perfect and uh, you— you brought me back to life… Good. Good — no, no that's good. Oh look, I have someone else's arms!" The doctor, dumbfounded, watches as his monster chatters on endlessly and the result is positively hilarious. Back to Life was the perfect opener for the 2009 RIIHFF and I highly recommend heading over to the Mangy Dog web site and taking a few minutes to watch it.
Hector Corp (2009), U.S.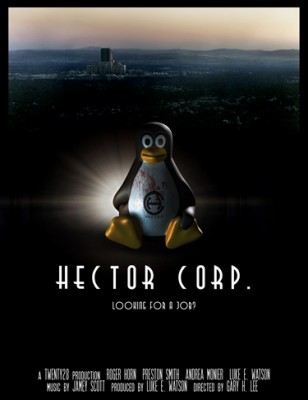 The ten-minute thriller Hector Corp followed Salva's Back to Life, providing a striking contrast between the amateur (although still impressive) animation of the latter and the high-quality CGI used in the former. In Hector Corp, the president of the company for which the film is named, Hector Corporation (HC), decides to take extreme measures to carry out the company's layoffs. When a hardworking suit named Victor is mistakenly targeted by the company's creepy little executioners, the audience is given a first-hand look at the experience of Hector Corporation's ill-fated employees.
The stress-relief penguins distributed to each of the HC employees slated for termination could've been a deal-breaker for Hector Corp, but instead are the source of the film's comedic relief. Rather than using wires or strings to bring squishy little penguin figures to life, Hector Corp uses some very advanced CGI — which makes perfect sense given that the film's director, Gary Lee, works in visual effects and animation at DreamWorks and has contributed to films like Kung Fu Panda, Monsters vs. Aliens, and Over the Hedge. Hector Corp has a highly stylized look that results from the combination of live-action characters and a fully animated CGI setting. Lee successfully merges fantasy and reality in Hector Corp through a unique use of green-screen techniques that allow the actors to move around in and interact with the film's CGI background and characters. The film's subject matter is particularly timely, as it takes a clear stance on corporate downsizing, satirizing the arbitrary nature of many corporate decisions. Amidst this dark and rather sinister plot, however, is a hoard of sadistic yet squeezably cute stress-relief penguins whose vicious attacks on the Hector Corporation employees with ballpoint pens and scissors inevitably draw laughter from the audience. Hector Corp is a smart, funny and eerie short film that engenders both creativity and the quality that audiences have come to expect from individuals associated with a company like DreamWorks.

The cast of Hector Corp includes Roger Horn as Victor Gray, Preston Smith as Chris Wright, and Andrea Monier as Anne Watson. For more information, check out the Hector Corp Facebook page.
I'm Afraid I am Hitler (2008), U.S.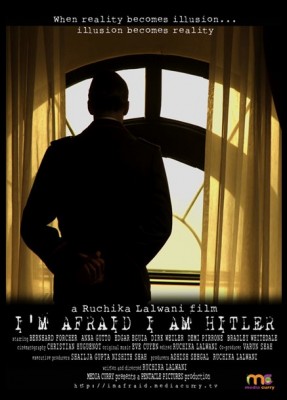 The third film screened during opening night of the RIIHFF was director Ruchika Lalwani's 23-minute I'm Afraid I am Hitler. Lalwani's film tells the heartfelt story of Adien (Bernhard Forcher), a man trapped between two worlds: the reality of the world in which he lives, and a fantasy dream world that he has made into a reality. Believing that he is Hitler, Adien confines himself to his home and cuts all contact with the outside world to prevent his dark secret from being exposed. As he battles to wake from this self-inflicted, unending nightmare, Aiden spirals into a deeper and deeper psychosis until he suffers a psychological break and loses touch with reality completely.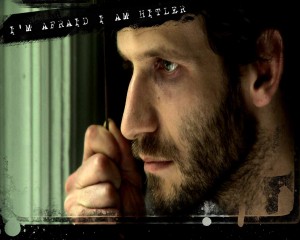 Bernhard Forcher's portrayal of Adolf Hitler is rather interesting; unlike Leni Riefenstahl's Nazi propaganda films or contemporary films like Quentin Tarantino's Inglourious Basterds that depict Hitler as strong and intimidating, I'm Afraid I am Hitler features a more tenuous version of the German dictator, although an intimidating one nevertheless. It remains unclear whether this characterization is intentional or simply the result of Forcher's stature; however, given that it does not detract from the film, it is a moot point. According to Lalwani, the premise of I'm Afraid I am Hitler is simple, but "the character is extremely complex. Adien is a young man burdened with guilt and self-hate. His movements always exude suspicion and fear. The way he walks, for instance, has a creeping quality — as though he constantly fears something will jump out at him." Indeed, the way that Adien moves within the frame throughout I'm Afraid I am Hitler is one of the film's defining and most memorable characteristics.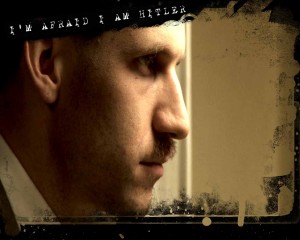 Another admirable characteristic of I'm Afraid I am Hitler is the way that information is conveyed; Adien keeps a record of his hallucinations and "memories," allowing the audience to read, rather than hear, what he is thinking as he types on an old-fashioned typewriter and all of the scenes that take place in Nazi Germany are spoken in German with English subtitles. Also particularly interesting is the inclusion of several scenes involving Eva Braun (Anna Gutto). Such inclusion makes sense when considering the film's goal of establishing the horrific nature of Hitler's various actions in order to justify Adien's intense and constant fear of discovery and paranoia. I'm Afraid I am Hitler achieves this goal and succeeds in creating a compelling psychological thriller that takes audiences on an intense rollercoaster ride of emotion. For more information on I Believe I am Hitler, visit the film's web site.
Séance (2009), Czech Republic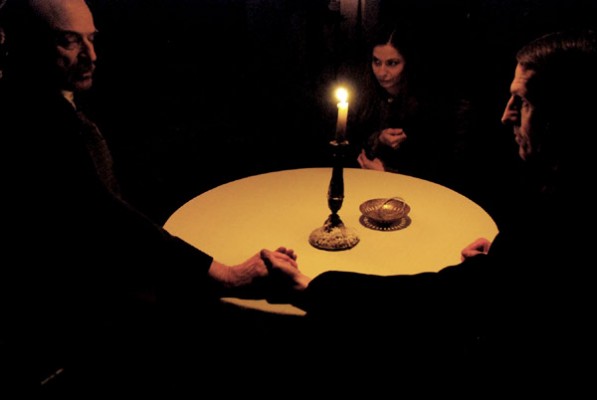 The first foreign film to screen at the RIIHFF was Czech director Robin Kasparík's 18-minute horror film Séance, which tells the story of a young woman named Marie (played by the well-known Czech actress Klára Jandová). Marie has the unique ability to contact the dead, and for this reason she is recruited by two men to conduct a séance. The specific circumstances of each of these individuals are unclear, but it appears that the two men who summon Marie for the séance, a man named Richard (Pavel Noví) and the Doktor (Zdenek Julina), are all tenants of a Baronka, or Baroness, played by Czech actress Marie Durnová (Ocas jesterky, Koumáci, Pocetí mého mladsího brata).
Marie is startled to discover that it is not the Baroness who called her to the castle, but that Richard and the Doktor have brought her there because the Baroness died earlier that day and her debts to the two men remain unsettled. The purpose of the séance is to ask the Baroness where she has hidden one of her possessions — a pendant that is rumored to be valuable — to repay all of the noblewoman's remaining debts with much to spare. Although Marie is versed in tarot and has a reputation for speaking to ghosts, she is apprehensive about conducting the séance and performing the rituals that Richard and the Doktor are requesting, and with good reason.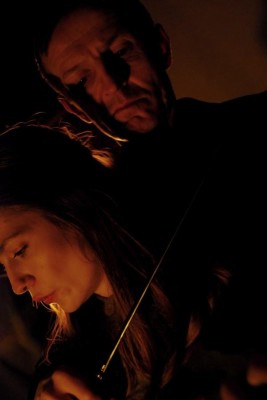 The setting of Séance, particularly the scenes that take place within the Baroness's castle, plays a large role in establishing the overall mood of the film, and the fact that the production team spent ten days filming in a 16th century palace in the Czech Republic lends a high degree of authenticity to Kasparík's film. Similarly, Kasparík, who also wrote Séance, hired a consultant on magic and magical language to advise the writing process and ensure that the ritual performed in the film was as authentic as possible. "I succeeded in putting together a team of really wonderful people," Kasparík said earlier this year of the Séance production team. "They were as passionate about the Séance as I was. I really appreciate all the patience and enthusiasm they put into making this movie. The work atmosphere was great."
He continued, "My dream is to present Séance at this year's US horror film festivals. There are not many film makers in the Czech Republic who focus on horror genre, so I'm very excited by the opportunity to meet authors that are interested in the same genre as I am." Since then, Kasparík has succeeded in screening Séance at the 2009 Eerie Horror Film Festival, 2009 Chicago Horror Film Festival, the H.P. Lovecraft Film Festival and CthulhuCon and, now, the 2009 Rhode Island International Horror Film Festival, among several others.
Three additional films were screened during the opening night of the RI International Horror Film Festival. Stay tuned for Part II of our coverage, which will cover these selections: two Spanish films, Lazarus Taxon and Zombies and Cigarettes, and a short film from the United Kingdom called The Taxidermist.