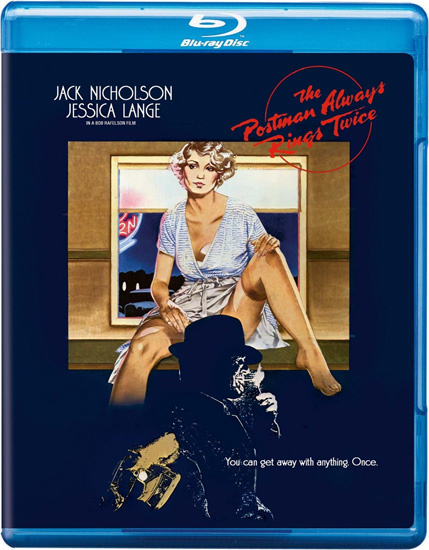 James M. Cain's 1934 novel The Postman Always Rings Twice is a mainstay on lists of the best crime fiction of the 20th century, and it even has garnered a spot on the Modern Library's overall list of the 100 best novels of all time. With such adulation, it's hardly a surprise that the book has been adapted into multiple films, but it's a bit more surprising that it also debuted as an opera in 1982. The movies are the better known of the adaptations, with the first English language version premiering in 1946 (French and Italian adaptations came earlier). Now a classic noir film in its own right, the 1946 film stars Lana Turner and John Garfield with a memorable supporting performance from Hume Cronyn. Thirty-five years later, the story would return to the big screen with a new production directed by Bob Rafelson.
The 1981 version of The Postman Always Rings Twice came out on DVD in the late '90s, but Rafelson wasn't happy with the version of his movie presented in that release. In a recent statement, he complains that "it was the wrong format, had no commentary, pan and scan, and a host of other errors." As is the trend with any maturing media format, the studios now are digging into their vaults to enhance their earlier movies as new Blu-rays, and the newly restored version of The Postman Always Rings Twice finally is a disc that makes the director proud.
The movie's story is noir at its finest. Jack Nicholson, who previously starred in several other Rafelson films, plays Frank Chambers, a shady drifter conning a trip across Depression-era America. At the start of the film he finds himself at a gas station and diner owned by Greek immigrant Nick Papadakis (John Colicos) in rural California. Frank scams his way into a mechanic job at Nick's station, and it's not long before he's making eyes at Nick's young wife Cora (Jessica Lange, in one of her first performances). As femme fatales and shiftless con artists often do in situations like this one, Frank and Cora soon cook up a plan to do away with Nick. Of course, another sure bet in noir is that their plan doesn't go exactly as planned, and the result is a tense tale of betrayal, lust, and murder.
These days noir stories commonly feel a bit softer than the crime fiction of James M. Cain's era. While many of today's movies show us criminals with hearts of gold, Cain wasn't afraid to tell a story about two generally bad people doing bad things. Frank and Cora have moments of doubt and even remorse, but at the core they both are willing to do terrible things to accomplish their own short sighted and selfish goals. Even the nature of their relationship is uncomfortably harsh, with every tryst looking more like an attack than a romantic encounter. The Postman Always Rings Twice plays as something of a morality tale, and as such the main characters aren't folks you'll be likely to find yourself rooting for. Interestingly, Rafelson decided to make one notable change from the original source material when he produced this adaptation, and the one scene—the book's final scene, in fact—that he removes takes away some of the teeth in the aforementioned morality play.
While I do think the film would deliver a better punch without the ending having been altered, the overall production is a believable and painful look into the lives of some deeply unhappy people giving in to their desires. The Postman Always Rings Twice is David Mamet's first film script ever, and in addition to the three principals the movie also features Christopher Lloyd, Anjelica Huston, and Michael Lerner in small but significant roles. It all comes together as a well constructed period piece that creates enthralling characters and is anything but a feel-good flick.
The new Blu-ray release is lean on the special features, including a theatrical trailer and a scene-specific commentary track. The commentary is new for this release and is notable for its edited together interview audio with Jack Nicholson, David Mamet, and Bob Rafelson. The Postman Always Rings Twice released on Blu-ray on January 21, 2014, and is in stores now.