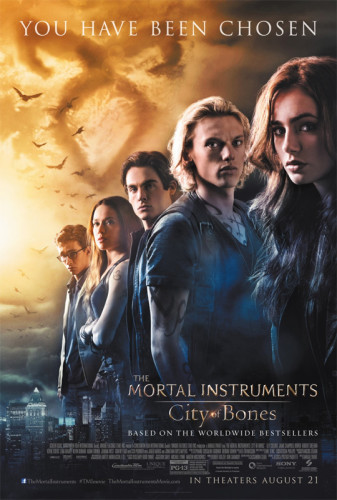 I will admit I am very picky when it comes to book-to-movie adaptations. I have awaited the on screen debut of The Mortal Instruments: City of Bones for months. Today, I stepped into the theater to see the movie. I knew I was reviewing the film so I resolved to be as objective as possible. I did fangirl out when my beloved Magnus Bane appeared but I think I did a great job of not being biased. So, ladies and gentlemen, I give you my review.
Adapting a book the size of one of Cassandra Clare's wasn't going to be easy from the beginning. So things must be cut and changed to squeeze it in. The pace of the movie was considerably faster than in the book. I took me a some time to get used to it. The beginning of the film speeds along quickly. Many details are abandoned in favor of the getting the ball going. For the book being so large, I could see why this was necessary. Game of Thrones would be three times as long if they included all the details. Some scenes should have been longer, though. I think more should have been included at Magnus Bane's party and the Hotel Dumor scene. At certain times, I felt like I was watching a slideshow instead of a movie. Yet, the final product worked. The movie kept all the big, important points of the story which will be a plus for fans.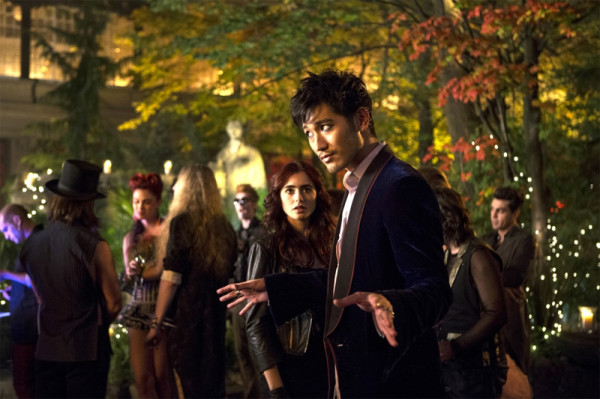 The thing I am most nitpicky about is characters. But I didn't have very many complaints about the actors or the job they did. Jamie Campbell Bower did a great job as Jace. He had his attitude down perfectly. JCB has the potential to be a really good actor. I saw him in Anonymous, a non-teen film, and he was great. I can't wait to see him be Jace again in City of Ashes. Lily Collins was a decent Clary. I just feel like she blanked out during some scenes. I think with time she will get better with the role. Robert Sheehan was a great Simon. I watched Sheehan in Misfits. He was amazing. He showed he had the flexibility to play nerdy Simon. The support cast was great. Jemima West and Kevin Zegers did a good job for the amount of time they were on screen. I give props to a personal favorite actor of mine, Aidan Turner, for his role as Luke. I would like to say I hated Valentine's (Jonathan Rhys-Meyers) hair. I don't know who thought that was a good change but they really should have reconsidered. Rhys-Meyers did do a great job of playing Valentine. And last, but never least, Godfrey Gao was a lovely Magnus. I just wish he had more screen time… and that the "Call me" line was in the movie.
Fans usually roar if the changes made in the book are not to their satisfaction. The setting of the final scenes along with some of the action that took place was the biggest change. I was okay with seeing the support characters get more screen time. They made it work in a satisfactory way. I wasn't just watching Valentine, Jace, and Clary angst for thirty minutes or so. I was entertained by the surplus of action going on. My biggest gripe is that two of Simon's scenes were changed from the book. They were some of his best ones in the book. Some minor things bugged me a little but overall the book kept what mattered. Not too many liberties were taken with the plot, characters, or setting. I would say the movie was seventy-five percent faithful to the book.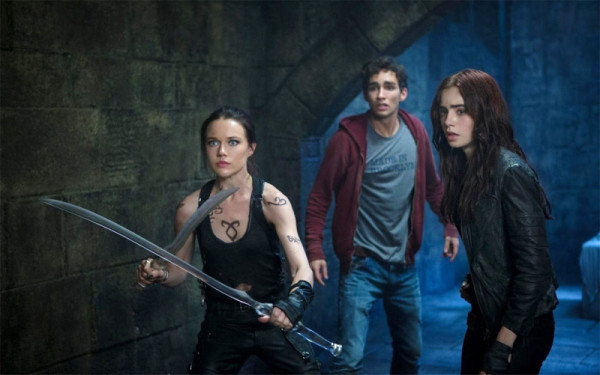 I finally reached a final opinion after mulling it over for an hour. Cassandra Clare is a great story teller and her books are long. Things had to be chopped and changed to condense it into a film. They did a good job with the time constraints. I believe, though, the book would have been better adapted to an hour-long episodic television series. The pacing would be less hectic and more character development could have take place. Big books are just hard to make into movies. I wasn't disappointed with the film, but I wasn't blasted into space by how awesome it was either. I came out with a general sense of satisfaction. This fan, at least, was pretty pleased.