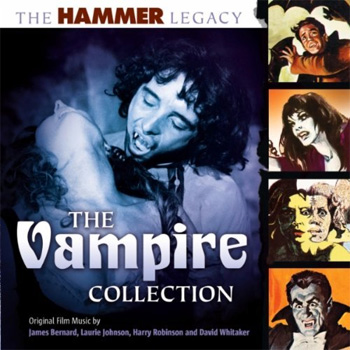 Soundtrack: The Hammer Legacy: The Vampire Collection
Artist: Various
Label: Silva Screen Records
Release Date: July 12, 2011
Ever wonder if the world of Twilight was what Hammer thought vampire films would end up like? Sparkly teens running from their emotions and fighting with too-buff-for-shirts werewolves to the sounds of rock's latest chart toppers? Let's hope not… because when you think of the bloodsuckers of the night, that's not what one should see — or hear. The Vampire Collection, brought to you by The Hammer Legacy, is a gathering of a handful of artists who bring to life the reality of vampire tales, whimsical at times, eerie at other times but overall dramatic the entire time.
The only thing these songs possess that current vampire culture exhibits? Love and lust are showcased in the rightly titled tracks from James Bernard's classic horror movie sounds in "Vampire Rhapsody" (The Kiss Of The Vampire) to Harry Robinson's "Lust For a Vampire" and "The Dream Strange Love." The dramatic change between these two was very noticeable unlike the rest of the album which kind of ran together after a while. "Lust For a Vampire" starts off in a sort of Disney fashion, very light and then when "The Dream Strange Love" kicks in, things take a turn down a dark alley, you know the kind? The ones painted with horror stories. So if you're not a fan of what vampires in 2011 are doing their bidding to musically, do get your hands on The Vampire Collection, out now.
Track Listing:
James Bernard – "Opening Credits" (From The Kiss Of The Vampire)
James Bernard – "Vampire Rhapsody" (From The Kiss Of The Vampire)
Harry Robinson – "The Vampire Lovers (Opening Credits)" (From The Vampire Lovers)
Harry Robinson – "Countess Dracula (Opening Credits)" (From Countess Dracula)
Harry Robinson – "Lust For A Vampire (Opening Credits)" (From Lust For A Vampire)
Harry Robinson – "The Dream "Strange Love" (From Lust For A Vampire)
Harry Robinson – "Twins Of Evil (Opening Credits)" (From Twins Of Evil)
David Whitaker – "Vampire Circus (Opening Credits)" (From Vampire Circus)
David Whitaker – "The Tiger Dance" (From Vampire Circus)
James Bernard – "The Legend Of The 7 Golden Vampires (Main Titles)" (From The Legend Of The 7 Golden Vampires)
James Bernard – "Ambush" (From The Legend Of The 7 Golden Vampires)
James Bernard – "The Battle Rages" (From The Legend Of The 7 Golden Vampires)
James Bernard – "Introducing Vanessa Buren" (From The Legend Of The 7 Golden Vampires)
Laurie Johnson – "Captain Kronos-Vampire Hunter (Main Titles)" (From Captain Kronos-Vampire Hunter)