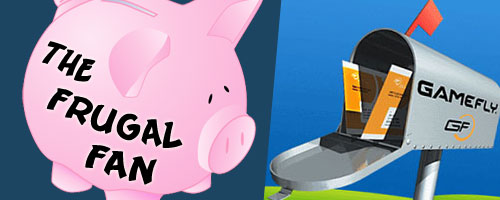 The Frugal Fan is a new feature on Fandomania that will bring you new ideas and ways to save money without sacrificing your fandom. This first installment gives some insight into how I do my shopping for new video games without spending an arm and a leg.
Gamefly is a very popular service that provides video game rentals in a manner similar to what Netflix does for movies. You join up and add a bunch of games to your queue. Gamefly then sends you your games as they come up and are available on your list. You keep and play the games for as long as you want and then mail them back to get the next games on your queue. They have different price structures, depending on how many games you want to have out at one time, and I subscribe to the two-games-at-a-time program.
Gamefly is much more useful than just working as a rental service, though. It's also a huge money saver for me in my game shopping. Here's how: If you like a game after renting it, Gamefly gives you the option to keep it. You'll be charged for the game, and they will send you the original box and manual for the game. The really useful part is that the prices Gamefly charges are incredibly low, even for games that have just released.
At the time I'm writing this article, Rock Band 2 is selling in most stores for $59.99. I rented the game from Gamefly and had it shipped out to me the day before it was released. As soon as I saw it was in the mail to me, I selected to buy the game. After adding a $5 coupon I'd been saving, I was able to purchase Rock Band 2 on its release day, brand new, for $38.19. The game had been removed from its case to use for rental, but since I snagged it right away, it was essentially a brand new copy.
I follow this pattern on all new game releases I want to buy on release day, unless there's some special incentive to buy it elsewhere (store exclusives for preordering, etc). I highly recommend Gamefly for your game rentals as well as purchases, and here are a few more tips to help stretch your money more there:
Add the new game you want to the top of your queue several days before it's going to be released, and make sure you have at least one game returned so that you have an open shipping slot waiting for a game to ship out to you. This will ensure that you get the game as soon as it's released. If you miss the initial ship date, you might have to wait a couple of weeks (until the first wave of renters finishes playing the game and returns it) to get the newest game.
The longer you're a Gamefly member, the cheaper your game purchases become. Every three months you'll receive a $5 coupon you can apply towards game purchases. After you've been a member for 6 months you'll also get 5% off the already low game purchase prices. And after you've been a member for 12 months you'll get a whopping 10% off your game purchases. If you plan ahead and save your coupon, you can combine it with your other discounts to save a ton of money.
Gamefly does charge sales tax, but they never charge shipping fees, so it all balances out.
Occasionally Gamefly runs crazy sales for their in-stock games. I was able to snag three new-ish XBox 360 games for $14.37 and two others for $9.57 this way last December.
I'd love to hear about any money saving tips you have for your fandom purchases, from DVDs to games to concerts. Keep an eye out for more helpful hints next week!
Sign up for Gamefly (or just try their free trial):