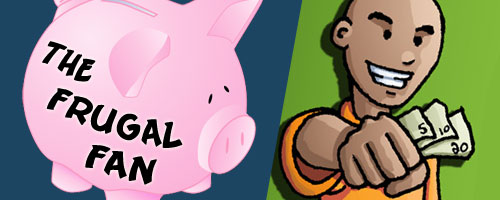 A couple of weeks ago I wrote about how I use Gamefly to save a bunch of money on my game purchases. Sometimes there are even cheaper ways for finding video games, and nowhere is a better resource than CheapAssGamer.com.
This oddly named website is a treasure trove for anyone who buys games. The site is run by founder CheapyD, and its greatest feature is the massive community that has arisen from the CAG forums. It is there that news tends to break first about what games will be discounted in what stores, what sorts of special deals retailers will be running, and where the cheapest prices on new or used games can be found. CAG also occasionally shakes things up in the online gaming blogosphere, and it's always a source of amusement and even sometimes profundity. Here's a quick look at where to find the most useful content once you've signed up for a forum account (which you really need to do, as pretty much everything on CAG requires that you be logged in):
Best of the Sunday Ads
Enterprising forum users always get the scoop on what the Sunday ads for Best Buy, Circuit City, Toys R Us, and the rest of the big retailers will contain, often as early as a week or two in advance. This allows me to plan ahead if there's a specific game I'm wanting to pick up.
Video Game Deals Forum
The heart of CAG is the deals forum, where users post about any new discounts or special deals they hear about regarding video games. This forum truly is indispensable, and Cheapy usually posts the most noteworthy deals from the forum onto the frontpage of the site as well.
CAGCast
The main podcast for CheapAssGamer is the CAGCast, hosted by CheapyD and Wombat. Along with their stories about their lives over the past week, they also talk video games and specifically run down any game shopping news that has cropped up for the current week. Be warned that the CAGCast isn't exactly a "safe for work" show, so wear your headphones!
CAG Foreplay
Hosted by a married couple known as The Shipwrecks, CAG Foreplay is a second podcast that has launched from CheapAssGamer. This one focuses on the new video games being released for the current or upcoming week, and the hosts are very knowledgeable about a wide breadth of game releases and deals.
I've personally saved a load of money by following CAG, and I can't recommend it highly enough to anybody who buys video games regularly.