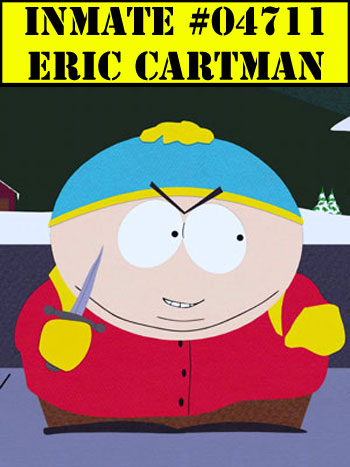 The Fandomania Asylum is home to some of the most loathsome villains to appear on TV, in the movies, video games, comics, and more. Now we are going to let you in to our confidential records on the psyches of some of the most evil characters in history. For our first profile we decided to treat you to our psychological profile of one of the most devious, conniving, sociopathic monsters on television.
Ladies and Gentlemen, I present to you…
INMATE #04711~ ERIC CARTMAN
AGE: 10
WEIGHT: Changes too frequently to determine
HEIGHT: 3 feet
BIRTH PLACE: South Park, Colorado
FAMILY: LeAnn Cartman (Mother), Mr. Kitty (Family Pet)
KNOWN ACQUAINTENCES: Stanley "Stan" Marsh, Kyle Broflovski, Kenneth "Kenny" McCormick, Leopold "Butters" Stotch
PSYCHOLOGICAL PROFILE: Born without a father in a backwater town in Colorado, Eric Cartman has an alarmingly substantial list of delinquent behavior for a fourth grader. Eric was conceived by an unknown female after a drunken barn dance years back. LeAnn Cartman was subsequently revealed to be a hermaphrodite, and thus Eric Cartman's father. Eric Cartman's reckless behavior could indeed be attributed to his being raised by a woman who is actually his father. Through later observation it was discovered that LeAnn Cartman, a person desperate for human companionship, was eager for a friend and thus doted upon Eric with all he could ever want. Instead of teaching Eric to be a paragon of ethical behavior, Cartman's upbringing (or lack thereof) has led him to become a uncontrollable sociopath. At the age of ten Eric Cartman's list of activities include anti-Semitic behavior, class discrimination, race discrimination, and in some cases sex discrimination. Eric Cartman also seems to suffer from a severe megalomaniacal complex which is evident in his eagerness to gain authority over those to whom he deems himself to be superior. His megalomania seems to be a front for his deep rooted insecurities. The side he never reveals to his friends and his classmates displays a confused child with bizarre habits and sexual confusion. All of these quirks show that Eric Cartman is a twisted tornado of chaotic human behavior, which if unchecked could lead to severe schizophrenic dementia.
KNOWN OFFENSES
After vowing revenge on one Scott Tenorman, Cartman engineered the accidental murder of Scott's parents. Cartman proceeded to steal the parents' bodies and grind them into meat for chili, which he proceeded to serve to Scott at a chili cook-off which Cartman organized.

Cartman pretended that his hand puppet was possessed by a singer (Jennifer Lopez). He continued the charade to the point where he destroyed the career of the actual Jennifer Lopez. He made a public spectacle of Ben Affleck and cost a record company millions of dollars in production costs. After Cartman claimed that the entity possessing his hand puppet was actually a con man named Mitch Conner, he admitted that all of this was just an attempt to make his friends believe that he was actually possessed.

Frustrated by the constant assumption of his fondness for the TV Show Family Guy, Cartman proceeded to pose as an orphaned child of a terrorist victim, for the purpose of infiltrating FOX and sabotaging Family Guy's writing staff, all in an effort to get the show cancelled.
When Cartman was refused an invitation by Kyle Broflovski to go to Casa Bonita, Cartman deceived invitee Leopold "Butters" Stotch into hiding in an underground bomb shelter, claiming that a nuclear apocalypse has occurred.
In yet another effort to trump Kyle Broflovski, Eric Cartman usurped the South Park chapter of the Civil War Reenactors guild by keeping the participanta inebriated on S'more Schapps. Cartman proceeded to use the reenactors for resurrecting the Confederacy and forcing former President Clinton to secede the United States to the the Confederates.




Eric Cartman engaged in an all out brawl with a midge- sorry, person of diminutive stature, after being challenged by said person of diminutive stature. Cartman was challenged because he insisted upon heckling the person of diminu-Aw, the hell with it!- midget's stature.
In yet another example of his bouts of intolerance, Cartman began a smear campaign discriminating against redheads. In an effort towards teaching Cartman empathy, Cartman's associates Stan Marsh, Kyle Broflovski, and Kenny McCormick altered Cartman's appearance to make Cartman believe that he had "Gingervitis." Immediately, Cartman reversed his position on gingers and proceeded to rally all the ginger kids to exterminate every non-ginger in South Park.
ADVISED TREATMENT
Many types of parenting and therapy techniques have been attempted over the years with absolutely no success. However it was later discovered that the techniques of Cesar Milan (AKA The Dog Whisperer) actually showed Cartman making incredible progress. Unfortunately LeAnn Cartman failed to continue the treatments as she continued to indulge Cartman's spoiled behavior. It may be advised that LeAnn Cartman be deemed unfit to parent a child, whilst Eric Cartman himself be committed for intensive therapy. We also recommend that Cartman be secluded with limited human contact.