The Fandomania Asylum is home to some of the most loathsome villains to appear on TV, in the movies, video games, comics, and more. Now we are going to let you into our confidential records on the psyches of some of the most evil characters in history. This month John brings us Alex DeLarge from A Clockwork Orange.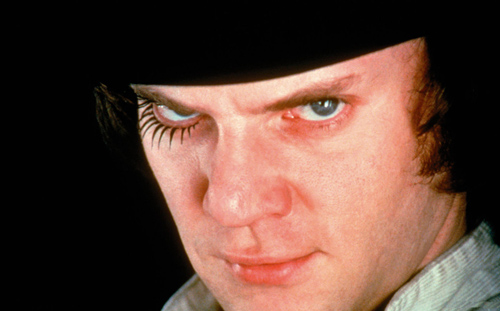 INMATE #655321~ ALEXANDER "ALEX" DELARGE
AGE: 15
WEIGHT: Estimated at 145 lbs.
HEIGHT: Estimated Five Feet, Six Inches
BIRTHPLACE: London, England
FAMILY: Mother and Father. The parents have requested that their names not be disclosed for this profile.
KNOWN ACQUAINTANCES: Pete, Georgie-Boy, and Dim. (Actual names unknown. For the duration of this
profile they shall be referred to as "droogs.")
PSYCHOLOGICAL PROFILE
There are many who find themselves to be appalled by violence. So much so that they become physically ill at the very thought of it. In our youth, our parents made it a point to teach us never to embrace a life of horrible deeds and horrible consequences. In the case of young Alexander DeLarge, we see a young man who has every luxury that most wish for: a nice home, loving parents, and an outstanding intellect. By and large, Alex should be a shining example to other children of his generation. Unfortunately, Alex has developed a horrifying fascination with excessive violence. Or, as he and his droogs call it, "The Old Ultra-Violence." Alex has committed offenses across the board, ranging from petty to totally obscene. Early observers we were mortified to discover that, unlike his droogs, Alex treats the violence he commits as a sort of lifestyle, as opposed to a way of gaining financial means or even for retribution against society. Alex alternatively views the violence he creates as a sort of macabre performance in which he is the star. His parents are far too timid to police Alex's behavior, and as a result Alex is totally without ethical grooming. He seems to have no consideration for the pain of his victims. Instead, Alex appears to take a sincere and sadistic joy from his deeds. Through hours of observation, we have also learned that Alex has a passionate affection for the works of the composer Ludwig Van Beethoven. Such a fondness leads us to theorize that Alex views the so-called Ultra-Violence as more an artistic outlet, as if he is orchestrating his own warped symphony. With no ethical boundaries, Alex is a freight train of horrible violence who wreaks havoc for the sake of havoc.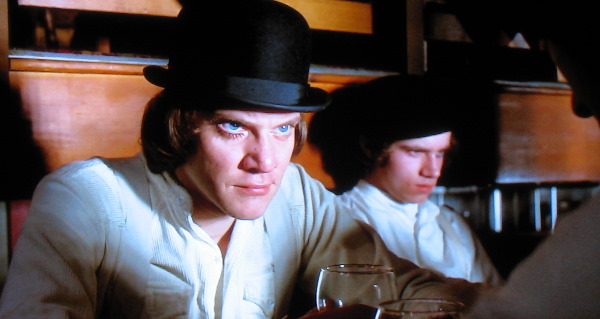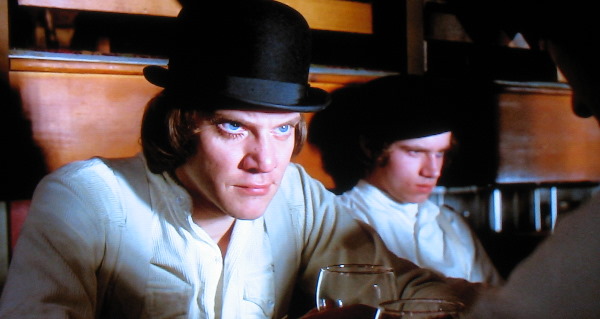 KNOWN OFFENSES
NOTE: Many of the crimes Alex committed prior to our observation have been kept confidential at the
request of his delinquent sponsor, Mr. Deltoid. Nevertheless, the events we have witnessed are no less shocking. Let it be warned: READ AT YOUR OWN RISK.
Alex led his droogs in the impromptu beating of an innocent vagrant bystander. Alex's personal record states that the beating occurred simply because of Alex's distaste towards the homeless, particularly those who proceed to become inebriated and sing.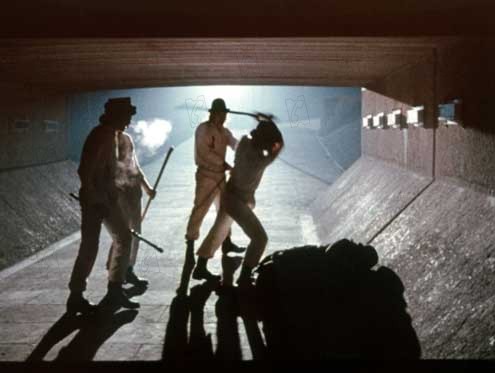 Alex subsequently led his droogs in a all out gang battle with a gang led by someone going by the name Billy-Boy. The battle resulted in Billy-Boy's gang being brutally beaten to the point hospitalization.
Alex stole a priceless sports car and headed to the countryside to drive recklessly down a one way street. The carnage resulted in a variety of automobile and motorcycle accidents. It was never determined whether there were any injuries, but it seems very likely.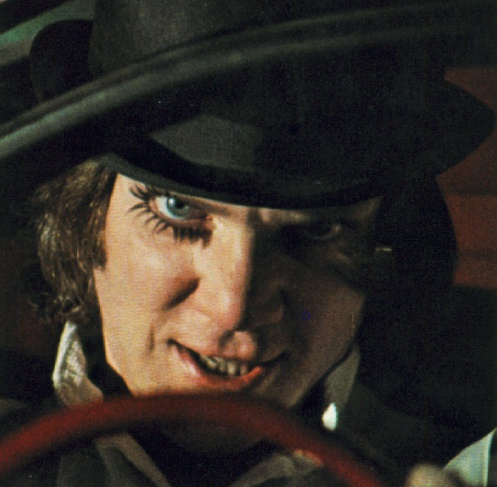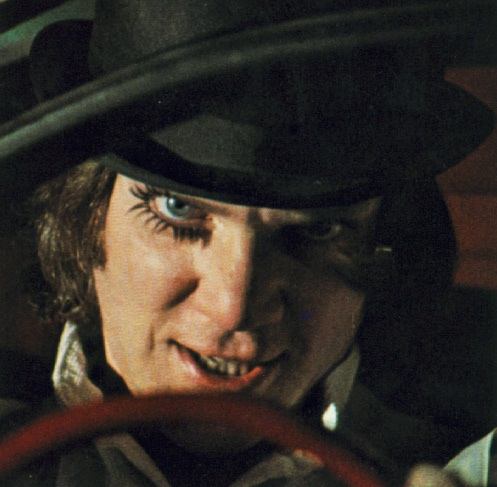 The most notorious criminal act committed by Alexander DeLarge was when he manipulated his way into the home of a writer (whose name has been mysteriously wiped from our records). Alex's droogs proceeded to pin down the writer (causing permanent paralysis from the waist down) and restrain the writer's wife. Alex then ransacked the writer's home before repeatedly kicking the writer in the stomach. Next, he gradually stripped the wife with a pair of scissors before raping her, all the while singing "Singing in the Rain." Later reports state that the writer's wife died from pneumonia. It is assumed by the husband that it was brought about by the trauma of the incident.
During our observation it can be led to assume that Alex also committed other violent acts such as mugging and other types of theft.
In an act of truancy, Alex seduced two young women and engaged them in a threesome.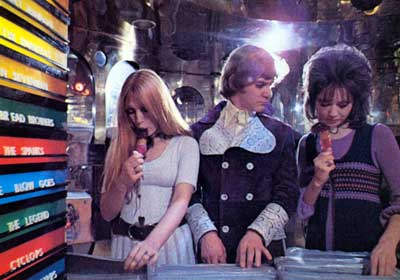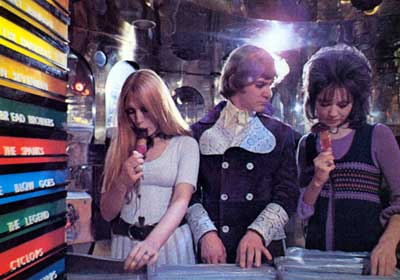 After an attempt by Alex's droogs to usurp control of the gang, Alex reasserted his authority by beating Georgie-Boy and Dim into the flatblock marina. Using a blade hidden in his cane, Alex then sliced into Dim's hand.
In a plan devised by his droogs, Alex broke into a health farm outside of town. He engaged in an altercation with the rich woman who runs the house. Brandishing a phallic sculpture, Alex dealt a substantial blow to the woman's cranium, leading to her eventual death.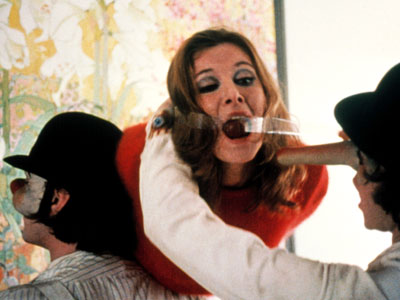 Following the last incident, Alex was betrayed by his droogs, arrested, and sentenced to twelve years in prison.
ADVISED TREATMENT
Alex appears to be a lost cause, but during his prison sentence he seemed to embrace the teachings in the Bible and even developed a friendship with the prison chaplain. It would appear that Alex is not beyond the capacity to do good. However, Alex is a boy of exceptional cunning. As such, the possibility of Alex manipulating the prison establishment into commuting his sentence for good behavior should never be far from the minds of any authority figure who crosses his path. In an obvious attempt to skip out on his prison sentence, Alex volunteered for an experimental treatment (known amongst our top specialists as  "The Ludavico Treatment"). The purpose of this treatment is to imprint an inhibition towards tendencies, both violent and sexual. The procedure has seen much success. After undergoing the procedure, whenever the subjects attempted to commit acts of violence or sex, their minds created a physical reaction that could only be described as paralysis and nausea.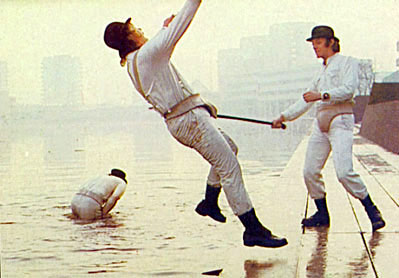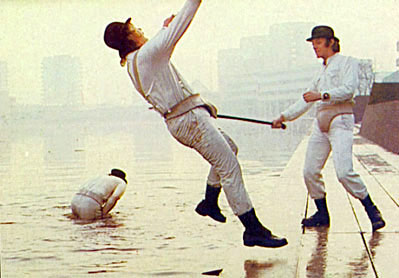 Alex's treatment was extremely successful to a fault. During one of the treatment sessions, Alex was accidentally made intolerant of Beethoven's Ninth Ceremony, a flaw which could be exploited in ways beyond Alex's control. Unfortunately Alex's reintegration into society was disastrous. Records of what happened afterward have been confiscated by the Minister of the Interior. What is known that the treatment was reversed. Little is known about what happened to Alex, but we can only hope that time has diminished his lust for the old Ultra-Violence. We were unable to take Alex in for further therapy or observation, due to orders by government officials. Even our treatment options were expunged from our records. As previously stated, one can only hope that Alex has finally grown out of this phase.