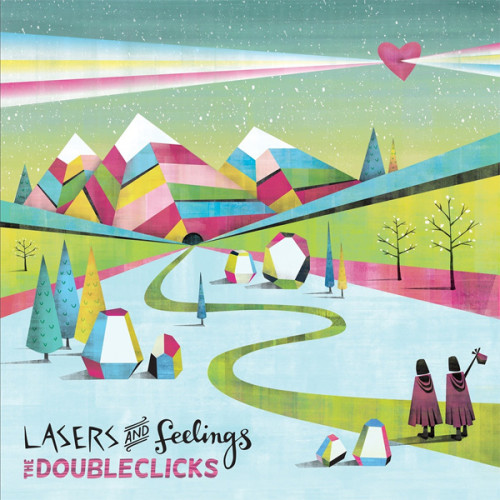 The Doubleclicks' Lasers and Feelings makes for a worthy follow-up to last year's wonderful Chainmail and Cello (and that's saying something since it was in my top 15). While keeping with the basics of cello and guitar / ukulele, The Doubleclicks have added in a few other instruments to make for a much fuller sound that really complements the songs well. I'm quite certain this one, too, will end up in my best of list for 2013.
The title track begins the album with a fun song about, well, lasers and feelings. It seems the narrator of the song is in love with a mad genius. He has lasers; she has feelings for him. It's sort of a reverse "Skullcrusher Mountain." I really like this one in particular; it sets up the album well, both musically and lyrically. Actually, I often find myself reminded of Jonathan Coulton, and I even detect a They Might Be Giants influence in some tracks (e.g., the chorus of "The Guy Who Yelled Freebird" and "The Mystery's Gone").
Since I tend to focus on the geekier songs, let's mention a couple of those here. "Can't You See the World Is Ending" reminds me of Buffy the Vampire Slayer. It's about not being able to focus on the minutia of high school and the Internet because, well, the world is ending. Unlike Buffy, however, it's not due to demons; instead, it's aliens. There's also The Doubleclicks' salvo in the "fake geek girl" debate: "Nothing to Prove." They're absolutely right that they shouldn't have to prove their "geek cred" just because they happen to be women. If anyone wants to be a geek, we should certainly allow them to be one of us, regardless of whether or not they've read the "right" comic books or watched the "best" TV shows. Being a geek is about being passionate, right? I mean, if you're passionate about, say, Jane Austen and Pride and Prejudice, I think that qualifies you as a geek. Oh, wait, that brings us to the final track of the album, "Oh, Mr. Darcy," a previously released song which was already great, but truly benefits from the full band treatment. In fact, it's probably my favorite track, although I'm pretty sure my wife is rather confused when I sing along loudly with the chorus while hanging out by myself in my office…
So if you're a true geek guy or geek girl (or even a fake one!), prove it to everyone by going and buying Lasers and Feelings now!