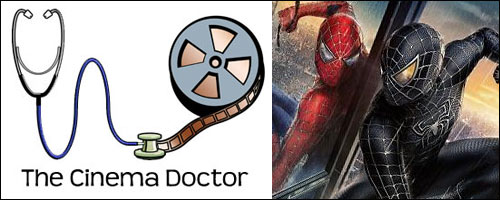 Previously, The Cinema Doctor received a standing ovation for his successful rehabilitation of the movie musical version of The Producers. This week his expertise has been requested for a very controversial case. For this session, The Cinema Doctor intends to clear the cobwebs out of the attic of Spider-Man 3.
TODAY'S PATIENT: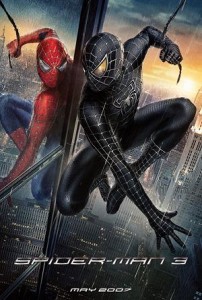 Directed by Sam Raimi
Starring: Tobey Maguire, Kirsten Dunst, James Franco, Thomas Haden Church, Topher Grace, Rosemary Harris, JK Simmons, Bryce Dallas Howard, and James Cromwell
Based on the Comic Book Series by Stan Lee and Steve Ditko
PATIENT DESCRIPTION: These are good times for both Spider-Man and Peter Parker. The public has finally come to embrace Spider-Man, and Peter Parker is gunning to propose to Mary Jane. Well, life has other plans. Harry has embraced his father's madness and has become another Goblin. The angst continues to be exacerbated when it's revealed to Peter that Uncle Ben's actual killer is still on the loose, and now he's Imhotep's stunt double (aka Sandman). With these kinds of enemies, Spidey needs a boost. That boost comes in the form of an amorphous symbiote that bonds with Spidey, making him stronger and more powerful than ever. The question is, at what cost?
EXAMINATION:
HEALTHY ASPECTS: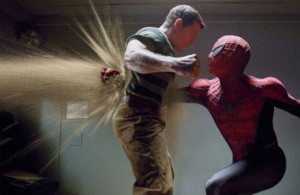 The action still runs on an adrenaline high, there are still fantastic moments of vertigo-inducing grandeur, and the fight sequences still achieve the kind of tension that keeps us on our toes.
Casting is still extremely sharp and unexpectedly well conceived. In particular, Thomas Haden Church really brought more to Sandman than we ever thought capable.
Maguire definitely succeeds at showing us Spider-Man's descent into darkness, and many times it's quite chilling when he lashes out at people he knows. It's even more chilling when he dispatches Sandman in a very malicious fashion.
The dialogue continues to smoothly balance between the humanistic and the fantastic, and never do they overshadow each other.
All of the scenes with J. Jonah Jameson are pure comedy gold, and I would go so far as to say that they're the funniest in the whole trilogy.
The writers approach Sandman similarly to the way they approached Doctor Octopus in the previous film by making him less of a cookie cutter villain and more like a regular person with extraordinarily dire circumstances thrust upon him.
The story arc involving Harry's declining insanity and thirst for revenge against Spider-Man comes to an unexpectedly satisfying conclusion.
The brawl between Peter and Harry is the best fight in the film, because it's not between two costumed characters. There are no more illusions between them. Instead it's an explosion of wrath and bitterness between two men with serious issues. It finishes in a way that perfectly displays how far Peter has strayed from his principles, thanks to the suit's influences. He's come to the point where he's willing to permanently injure a person that used to be his best friend.
It's very commendable that despite his dislike of the character, that Raimi was willing to bring Venom into the mix. It's even more surprising how well Topher Grace pulled off the two characters. As Eddie Brock, Grace perfectly conveys Brock's narcissism and impulsive ambition, and as Venom he combines the aforementioned traits with the satisfaction of having the power that he always wanted.
The writers use the three villains to display Spidey's mental state. Spidey craves revenge against Sandman to the point that he puts his very soul at stake. Spidey is so hungry for revenge that he fails to take into consideration the actual details surrounding Uncle Ben's death. He never stops to ask questions that need answering. These traits echo those of Harry's. Harry has been blinded by rage towards Spider-Man because of his fathers death, and he never once stops to ask questions as to the circumstances that led to his father's death. Venom serves the story by showing what happens at the end of the path when a person becomes so possessed with vengeance that his soul is corrupted, after which there is no turning back. Eddie Brock/Venom is there to show us what Spider-Man could have become had he continued on his path.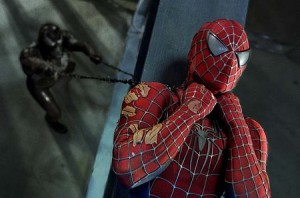 EARLY ASSESSMENT: The core story of the film is very much present and accounted for. The writers set out to tell us a story of what happens when a person given extraordinary abilities gives in to the seduction and how blind that person becomes when faced with pure undiluted anger. The script also goes far enough to show the consequences of said emotions. We see how Harry pays for his single-minded behavior, and the portrayal of Venom shows us the monster that Peter could have become. It's very clear that the writing team behind Spider-Man 3 intended to weave a web of surprising psychological complexity.
SYMPTOMS: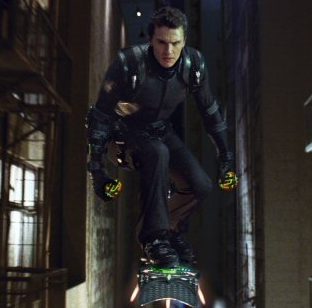 Though Harry's story arc is brought to a very appropriate and daring conclusion, there is an irritating plot hole that was ignored in the pursuit of the finish. Specifically it lies in the monotone butler Bernard and his revelation of the true nature of Norman Osborn's death. It's not so irritating that he knew the truth. Bernard took the time to explain that. What's irritating is that he has known the truth since the end of the first movie and never bothered to put an end to the emo BS early by telling Harry before it was too late. The plot hole lies in the question as to what took Bernard so long to come forward with this clearly need-to-know information! Instead he decided to wait till Harry became a Two-Face knock off.
Though Mary Jane still serves her purpose as the person who keeps Peter grounded, her actions in the film really don't lend a lot to her character's likability. We can sympathize that she got kicked off the show, but why doesn't she tell Peter? Peter has many super powers, but he ain't psychic. How is he supposed to keep her morale up if she doesn't tell him what's wrong? Mary Jane also comes off as very stuck up when she spurns very solid advice from Peter regarding the bad review. She decides to be all angsty and laments her personal issues. She also still seems to have a problem sticking with JUST ONE GUY during the course of a movie. I sense that the writers were so busy writing all the Spidey / Harry / Sandman / Venom bits that they didn't get a chance to refine Mary Jane's character. As a result we actually found ourselves cheering when emo Peter clocks MJ in the Jazz club.
Sam Raimi is notorious for injecting humor into his films, but there are certain things that didn't need it. In the case of Spider-Man 3, the whole montage where Peter is disco dancing on the New York streets is a bit too out of place. Granted, we're seeing Peter behaving in a way he usually doesn't, but the impact is lost when you make it humorous. We're supposed to be taking it seriously. My only theory to this is that Raimi and Co. were afraid that there may have been too much drama, so they opted to do another humorous montage like they did in Spider-Man 2 when Peter gave up being Spider-Man.
Gwen Stacy's presence in the film was too little WAY too late. Granted, Raimi had a good reason for not including her in the first movie, but unless he was going to go for the gold with her character, then what is the point of even putting her in? At least Captain Stacy moved the story along. All Gwen Stacy seemed to do was to make Peter look like a lecherous jerk, and give Spider-Man some other woman to save. With three villains, a complex psychological plotline, and a frustrating love triangle between the three leads, I think we could easily have done without the peroxide blonde baggage. So why was she put in? The answer is coming soon.
Though as previously stated Venom served the subtext very well, and he was realized extremely well on screen, it's extremely underwhelming that he only got fifteen minutes of screen time in a two and a half hour movie. Like him or not, Mr. Raimi, Venom is an essential character in the Spider-Man storyline, and he needs to be more than just an add on.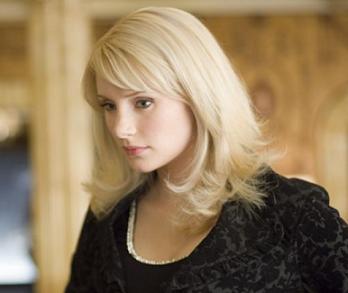 DIAGNOSIS: Writeria Aquiescia brought about by Fandomius Demantosis
The reason for all these problems is simple. It's the fans' fault… All the things that were shoved into this movie were brought about because the fans wanted Venom, the fans wanted to see the black suit, and the fans wanted Gwen Stacy and her Dad. They wanted all of these so later on they would get Carnage. They wanted so much and would not shut up about it. Their demands became so loud and obnoxious that Raimi and Co. found themselves having to write a whole story around what they wanted. It seems like Raimi only wanted to focus on the Harry story and the Sandman story. I don't blame him because there was enough meat on those stories to fill a two hour movie. Since there was so much pressure to insert Venom and the black costume, the final result made the film feel extremely crammed and way too chaotic. As a result essential character developments were diminished in favors of pleasing the horde. I understand that the fans are what these movies are made for but it's important to realize that just because the fans want it, it's not always a good idea. After all, why do you think Jericho bombed… TWICE?
ADVISE TREATMENTS: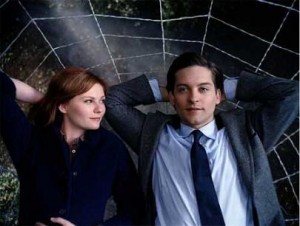 PRESCRIPTION:
Resolve the Sandman story and the Harry one in this movie. Keep Venom since he does serve the story, but instead of killing Eddie Brock, let him live, and as a post-credit stinger, have him breaking into Doc Connors' Lab and stealing the remnant of the symbiote that Peter gave Connors to examine. That way Venom could come back.
The plot hole regarding Bernard can be treated by adding TWO lines, like so:After Bernard's monologue:

HARRY: Why didn't you tell me before?

BERNARD: You wouldn't listen.

Adding this will heal the plot hole, and it will punctuate the idea of how the pursuit of revenge will impair your better judgment.

Lose the out of place humor. If you can't find a better place for it, save it for later. If Raimi wanted to insert another humorous interlude, just give us another scene with J. Jonah Jameson and Ted Raimi.
After cutting the fat, focus on trimming and refining the character of Mary Jane, making her more approachable and likeable. Oh, and never let her sing again.
Gwen Stacy is far too important in the Spider-Man mythos to just be another bit of eye-candy for Emo-Peter. So unless you intend to actually use her in the story, don't waste her time or ours.
Though it's important to tap into what the fans are interested in seeing, never slave yourself to it. Like every American President learns, you can't please everyone, and here's a bit of truth: Fans are never happy. Even when you give them what they want, they'll find something else to whine about.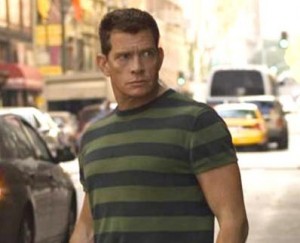 CAN THIS PATIENT BE SAVED?
I think with some intensive script doctoring and outlining for the fourth film, plus some isolation from the internet fan forums, this movie has got a fighting chance.