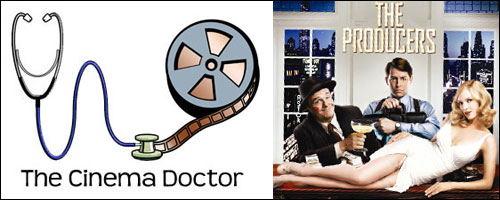 Previously the Cinema Doctor confronted 007 and taught him how to shoot straight by euthanizing Die Another Day. Now the Cinema Doctor ventures into the world of sexy showgirls, tap dancing nazis, and horny old women. Marvel as he trips the light fantastic by examining the musical version of Mel Brook's 1968 classic, The Producers.
TODAY'S PATIENT: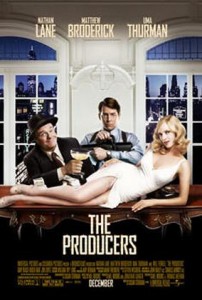 Directed by Susan Stroman
Starring: Nathan Lane, Matthew Broderick, Will Ferrell, Uma Thurman, Roger Bart, and Gary Beach
With Special appearances by: Jon Lovitz, Andrea Martin, John Barrowman, Debra Monk, Richard Kind, David Huddleston, and Michael McKean
Based on: The Broadway musical The Producers. Book, Music, and Lyrics by Mel Brooks and Thomas Meehan
PATIENT DESCRIPTION: Down-on-his-luck Broadway producer Max Bialystock is facing a total career meltdown after the opening / closing of his last Broadway show, Funny Boy: A Musical Version of Hamlet. Reduced to seducing rich old ladies for money, Max needs a break. In comes neurotically timid accountant Leo Bloom who inadvertently hatches a scheme where Max raises more money than he needs to produce a surefire flop and make off with the rest of the money. They think they have a flop in the Neo-Nazi musical Springtime For Hitler: A Gay Romp With Adolf and Eva at Berchtesgarden.
EXAMINATION:
HEALTHY ASPECTS: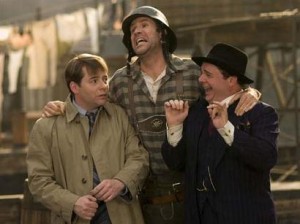 The inclusion of most of the original Broadway cast really helps to recreate the energy of the Broadway show.
The musical numbers are staged with outstanding Broadway style gusto by Susan Stroman.
The casting of Will Ferrell as the Neo-Nazi playwright Franz Liebkind was an unexpected masterstroke. The character's evident lunacy is an ideal match for Ferrell's comedy style.
Much of the humor of the Broadway show makes a seamless transition to the silver screen and heralds back to the classic style of the 1950's movie musical.
Nathan Lane brings his Tony Award winning performance to the screen without being too theatrical.
With Nathan Lane, some of his colleagues from the show follow suit, namely Gary Beach and Roger Bart.
EARLY ASSESSMENT:
The Brooksian spirit of the Broadway show makes a smooth jump from stage to screen. The humor is still as irreverent as ever, and the songs are still as enjoyable on screen as they are on stage. There is nary a joke that ever falls flat. The story is just as fresh now as it's been since Mel Brooks' 1968 original film. All of this is solid proof that if there's anything wrong with this film it's definitely not the material.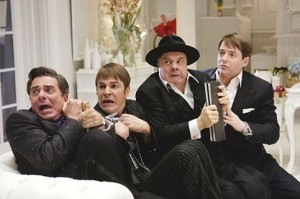 SYMPTOMS:
I think the main problem lies with the director. Susan Stroman seemed like an ideal choice to direct the film. After all, she was one of the many reasons that The Producers became the Broadway box office giant it became. Unfortunately, she learned way too late that film is a completely different kind of stage. She appears to have been more interested in pointing a camera and telling the cast to do what they did on stage. The final result is a film that looks extremely stagey and, on the whole, phony.
While many of the veterans of the Broadway show were able to tone their performances down to be more accommodating of the film format, Matthew Broderick didn't seem as interested in following suit. He seemed very content to phone in his performance from Broadway while leeching off his wife's Sex and the City residuals. In the finished product, we're left with a Leo Bloom who comes off as too broad, too theatrical, and too over the top. Granted, this is supposed to be a farce, but Broderick didn't need to cater to a third balcony that isn't there to begin with.
After watching Uma Thurman's performance as Ulla, the Swedish Secretary / Receptionist, it makes me lament that Nicole Kidman had to drop out of the picture. After seeing her performance in Moulin Rouge, it's blatantly clear that Kidman had the perfect range to play Ulla and better chemistry with Matthew Broderick (see The Stepford Wives, 2004). No disrespect to Uma. She is also an actress of exceptional range. The problem is that her range doesn't include musical comedy. When Ulla says, "Now, Ulla Belt," I expect Ulla to belt, not to bray like a donkey. Her singing voice is so underwhelming and so bland that you can tell they cast her on the fly because they had no time to find a bankable star who can sing.
Susan Stroman is clearly so intimidated by the scale of making movies that she doesn't realize that scenic design for a film needs to be a bit more meticulous and a bit more detailed. One of the brilliant achievements in movie making is when the audience can't tell what is a set and what is a location. After looking at the blatant contrast between location and set, it's evident that Stroman has stage blood running through her veins. She neglected to think that the camera can pick up more than just an actor's performance. It doesn't take an effort to see that the exterior of the St. James Theater is a sound stage; all you have to do is look on the floor.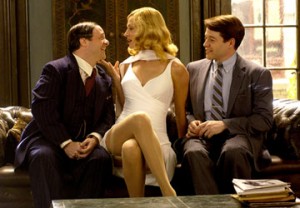 DIAGNOSIS: Directorus Inadequatius
Susan Stroman may be the directorial queen of the Broadway stage, but it's clear that when the queen tried to conquer new territory, she became quite intimidated to attempt any new kinds of cinematic techniques.
ADVISE TREATMENTS: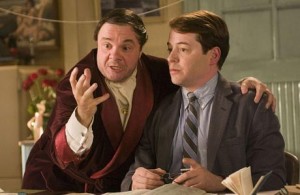 PRESCRIPTION:
The treatment for this film is actually quite simple and obvious: Find a director with a shining record on both stage and screen who happens to be particularly inclined in the art of adapting stage plays to the screen. The cure for what ails this film comes in the form of director Mike Nichols. Nichols has made a career staple of bringing incendiary works of the stage to the screens (both large and small). If you look at his track record you'll notice that a lot of them are originally stage plays. However, when you see the way Nichols films them you would never think them to be as such. With the exemplary work he did with Angels In America, and Who's Afraid of Virginia Woolf, that alone should prove his hand at differentiating the completely polar mediums of stage and screen. Also with his recent success on Broadway with Monty Python's Spamalot, you can clearly see that Nichols has quite the prowess with ribald humor. That, and he can stage musicals.
Now I am not saying Stroman is a horrible director. By no means is that true. On stage she is the queen, and no one puts together an ensemble dance sequence quite like her. So it would indeed be wise to keep Stroman on as the choreographer for the film. Think about it: one of the most versatile film directors working with one of the best stage choreographer working on Broadway today. If that isn't the making of a fantastic combination, then I should have my Cinema Doctor's License revoked.
CAN THIS PATIENT BE SAVED?
It's a classic case of a patient getting the wrong treatments. All we have to do is fix the prescription based on my diagnosis (ie: new director), and this patient will be as right as rain… Whatever "right as rain" means.