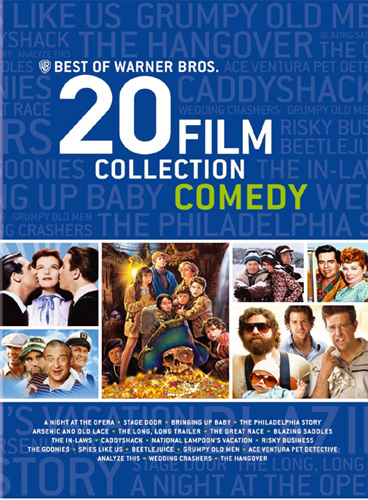 Summer is here, and for most of us that means the weather is ridiculously hot. If you're anything like me (and I suspect a lot of you are, since you're reading Fandomania), your kneejerk response to sweltering weather is to hide away inside and entertain yourself in air conditioning until the outside decides it hates you a little less and permits you to leave the house without baking. If you're running short on things to do while avoiding the sweltering weather, and if you want your indoor entertainment to give you a steady stream of belly laughs, Warner Brothers has you right in their target demographic sites. Last week they picked out twenty of their key comedy films, slammed them all together into one comprehensive yet compact box set, and shipped the whole thing out to stores as The Best of Warner Bros. 20 Film Collection – Comedy.
Usually when I review a DVD or Blu-ray release, I like to start with a general synopsis of the movie, move on to my thoughts about the film, and close with a rundown of the special features included on the disc. Clearly that's not something that's practical to do for a collection of twenty flicks, all of which are arguably fantastic selections from the archives of Warner's ninety year history in the movie business. Instead, we can take a look at the collection as a whole, with the twenty movies divided chronologically into two subsets. Each of the subsets includes ten movies (one per disc) housed in plastic cases, and both of those cases slide into a cardboard slipcover that should fit nicely on your DVD shelf, while taking up much less real estate that all twenty individual DVD boxes would claim.
The first set runs from 1935 through 1980 and includes a lot of early Warner productions that were new to my apparently unworldly viewing palate. Here's the full rundown of the early set:
A Night at the Opera (1935)
Stage Door (1937)
Bringing Up Baby (1938)
The Philadelphia Story (1940)
Arsenic and Old Lace (1944)
The Long, Long Trailer (1954)
The Great Race (1965)
Blazing Saddles (1974)
The In-Laws (1979)
Caddyshack (1980)
From just this half of the collection it's already apparent that the tone of comedy has a wide range here. There are quite a few selections that are pleasant fare for family viewing, and there are just as many ribald entries that are best to keep out of the kids' hands. There's just as much variety in the more recent film selection, which packs in kid-friendly films like The Goonies alongside raunchy ones like Wedding Crashers and The Hangover. Check out the 1983-2009 titles:
National Lampoon's Vacation (1983)
Risky Business (1983)
The Goonies (1985)
Spies Like Us (1985)
Beetlejuice (1988)
Grumpy Old Men (1993)
Ace Ventura Pet Detective (1994)
Analyze This (1999)
Wedding Crashers (2005) – Unrated and Theatrical Versions
The Hangover (2009)
To be clear, the movies collected here are assembled from previous releases and are not remastered or recompiled versions. In fact, some of the relatively recent films (Ace Ventura comes to mind) appear here in non-anamorphic format, when widescreen versions could have been included. That takes a little of the shine off, but there's no denying that this is a fantastic collection overall. If you're a movie collector, you probably already have a number of these titles on your shelf. If you don't, this is a good chance to add them in, as long as owning standard definition discs versus high definition isn't a concern for you.
Along with the two cases of ten movies each, the box set also includes a twenty-four page book with brief details about all the movies in the collection. Warner has been releasing these big collections all year as a part of their 90th anniversary celebration, and we surely can look forward to some more genres getting bulk movie sets before the year's end. If you're interested in checking out the Best of Warner Bros. 20 Film Collection: Comedy, it released on July 2 and is in stores now.