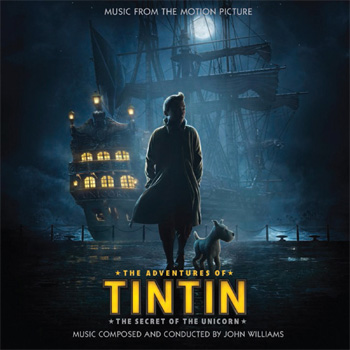 Title: The Adventures of Tintin
Composers: John Williams
Label: Sony Masterworks
Release Date: December 13, 2011
I've always been told that you should start off saying something nice when critiquing a person's work, so here goes: The Adventures of Tintin is a movie I've been waiting for since it was announced. I loved reading the collected editions of Herge's comics as a kid, all about the intrepid Belgian reporter Tintin and his adventures. Then I was really excited to find out that Peter Jackson was producing, Steven Spielberg was directing, and Steven Moffat and Edgar Wright had contributed to the script. Oh, and John Williams doing the score, it's got to be fantastic, right?
Well, this isn't one of William's best. Let's face it, folks, when we think of John Williams, we think of some the most moving pieces of music in the last fifty years. Star Wars, Superman, Indiana Jones, Harry Potter, the list goes on. After all these, we tend to expect at least two or three major pieces out of every film he scores. Yet, I have a hard time finding that signature tune on this album. It's not in the opening titles, "The Adventures of Tintin". You really don't get that big musical piece until about mid-way through the album with "Sir Francis and the Unicorn." You hear some of the underlying movements of other pieces in this song, but they're brought to the forefront and sound great.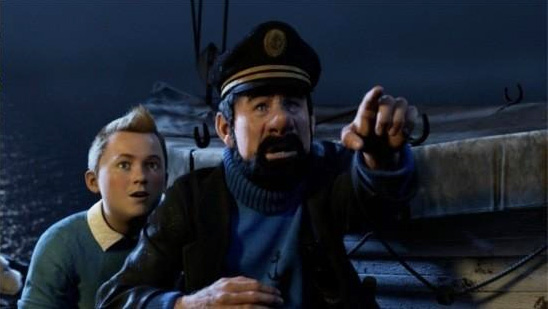 However, it is interesting to listen to this soundtrack and glean different plot points from the pieces Williams gives us. Using music to tell the story and describe the characters has always been one of his strong suits, and The Adventures of Tintin certainly does that. From "Introducing the Thompsons and Snowy's Chase", the music really conveys the bumbling nature of the two detectives (geektastically voiced by Simon Pegg and Nick Frost). Good bit of chase music in this as well, from the aforementioned song to "Marlinspike Hall" and "Escape from the Karaboudjan", gives me the impression that Tintin and Captain Haddock will be doing a lot of running.
From the different tunes you hear, it appears that Tintin's journey will be taking him to many interesting and distinct locations, with riffs in certain songs typically reserved for Venice and the Sahara Desert. Also, it seems like some creepy things be happening at Marlinspike Manor for two songs to be devoted to the place. Lastly, with "The Adventure Continues", It may be that all creative parties have left the door open for sequels based on the other Tintin adventures.
While it sometimes seems like Williams phoned this one in, I'm sure that once I have the chance to see the film in theaters later this week, I'll be able to remember every song I've listened to, and afterwards, when I listen to them I will be able to picture every scene in my head. Williams is still that good!
Track Listing:
"The Adventures Of Tintin" (3:07)
"Snowy's Theme" (2:09)
"The Secret Of The Scrolls" (3:12)
"Introducing The Thompsons And Snowy's Chase" (4:08)
"Marlinspike Hall" (3:58)
"Escape From The Karaboudjan" (3:20)
"Sir Francis And The Unicorn" (5:05)
"Captain Haddock Takes The Oars" (2:17)
"Red Rackham's Curse And The Treasure" (6:10)
"Capturing Mr. Silk" (2:57)
"The Flight To Bagghar" (3:33)
"The Milanese Nightingale" (1:29)
"Presenting Bianca Castafiore" (3:27)
"The Pursuit Of The Falcon" (5:43)
"The Captain's Counsel" (2:10)
"The Clash Of The Cranes" (3:48)
"The Return To Marlinspike Hall And Finale" (5:51)
"The Adventure Continues" (2:58)
Rating: 4 / 5 Stars