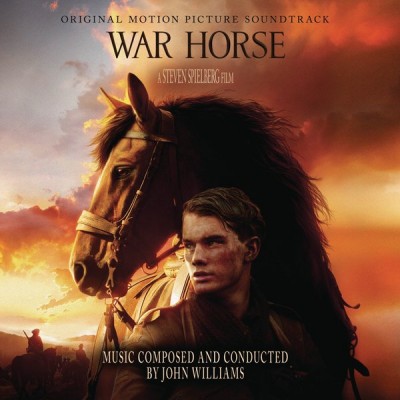 Soundtrack: War Horse
Composer: John Williams
Label: Sony Masterworks
Release Date: November 21, 2011
John Williams has been a busy man, with two Steven Spielberg collaborations set to be released in theaters within a week of each other. The first is The Adventures of Tintin and the second, coming out on Christmas day, is War Horse, whose excellent soundtrack I have the pleasure of reviewing here. Fans of Williams's work don't have to wait for the movie to hear his latest work, however — the soundtrack comes out in just two weeks. Although I don't expect this score to become as well known and popular as Star Wars or Raiders of the Lost Ark, it still contains many of the iconic elements we've come to associate with Williams's compositions.
Like his many other movie scores of the past thirty-plus years, War Horse has definite themes and motives that recur throughout the score. The main theme isn't grand and heroic and highly memorable, but it is a pleasant and melodic tune that brings to mind lilting English folk songs. It is perfect, therefore, for the English countryside setting of the first half of the film, as young Albert becomes fast friends with a horse named Joey. The score is appropriately upbeat, tender, sad, and terrifying as the story progresses and Joey is sold to the army for use near the trenches of World War I France and Albert follows to try to get him back. Those familiar with Williams's other scores will also recognize his hand in the familiar sounds and instrument choices of the orchestrations. Many times the score has a broad, sweeping character that marks it as definitely American in origin, although it often sounds more like something you would expect to find in an epic Western than in a story about World War I-era Europe.
The music of War Horse is more subdued and understated than much of Williams's other material, and it sometimes sounds like it should go with a different type of movie. Still, it is a John Williams score, and as such it is well worth an hour of your time to listen to it. You may not come away from it singing the main themes for days on end, but if you like a solid classical movie score, especially one that stands up very well on its own as a musical work apart from the film, then you will enjoy listening to War Horse's soundtrack.
Track Listing:
"Dartmoor, 1912" (3:35)
"The Auction" (3:34)
"Bringing Joey Home, and Bonding" (4:42)
"Learning the Call" (3:20)
"Seeding, and Horse vs. Car" (3:33)
"Plowing" (5:10)
"Ruined Crop, and Going to War" (3:29)
"The Charge and Capture" (3:21)
"The Desertion" (2:33)
"Joey's New Friends" (3:30)
"Pulling the Cannon" (4:11)
"The Death of Topthorn" (2:45)
"No Man's Land" (4:35)
"The Reunion" (3:55)
"Remembering Emilie, and Finale" (5:07)
"The Homecoming" (8:06)
Rating: 3 / 5 Stars