As a longtime student of film, this list of 100 Greatest Movie Characters is based solely on my visceral reaction plus their unforgettability. Did they seriously scare me? Make me laugh? Cry? Did they become part of the American culture? Are they even more badass than, say, Jack Bauer? Are they so lethal, funny, poignant, psycho, that I couldn't forget them if I tried?
I limited my choices to American films, allowed more than one character from a single film, and stayed away from franchises as much as possible. It wasn't difficult to come up with 100, but it was incredibly difficult assigning numbers; many deserve top 10 but hey, that's not the way lists work.
60. Atticus Finch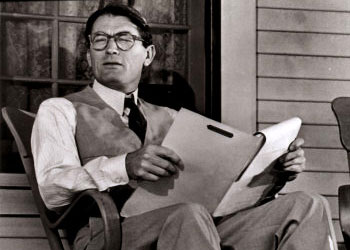 To Kill a Mockingbird, 1962, Robert Mulligan
Lawyer, widower, father of two, Atticus Finch (Gregory Peck) defends an innocent black man accused of rape in a small southern town.
Memorable Moment: Atticus loses his case, wearily packs up his papers, and starts to leave the courtroom. All the black people in the gallery stand up in gratitude and respect for his noble efforts to get justice.
59. Henry Gondorff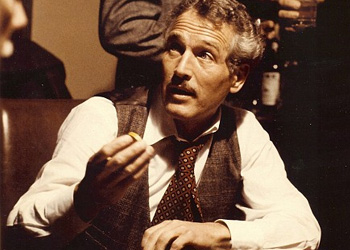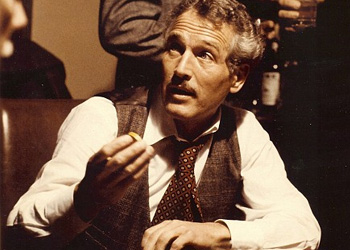 The Sting, 1973, George Roy Hill
Henry Gondorff (Paul Newman), former master of the Big Con, comes out of retirement with a last "long con" to seek revenge for the killing of his friend.
Memorable Moment: Gondorff signaling his scattered former team to join him by laying his finger alongside his nose.
58. Scarlett O'Hara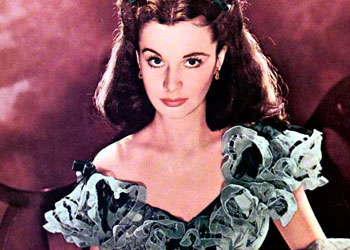 Gone With the Wind, 1939, George Cukor/Victor Fleming
During the Civil War, an independent, tempestuous Southern girl, Scarlett O'Hara (Vivien Leigh) moves Heaven and Earth to gain the love of a married man she yearns for and cannot have.
Memorable Moment: Scarlett, defiant in a crimson ballgown after having been caught with the married man, brazenly stares down gossips and attends a party hosted by the man's wife.
57. Roy Batty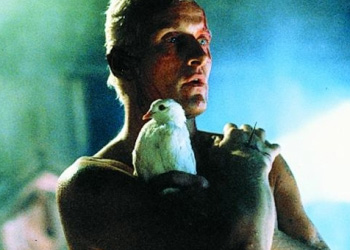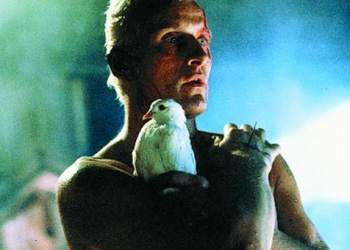 Blade Runner, 1982, Ridley Scott
Replicant Roy Batty (Rutger Hauer) evades capture by Blade Runner Deckard (Harrison Ford), but only for so long.
Memorable Moment: Before he dies, Batty says, "I've seen things you people wouldn't believe. Attack ships on fire off the shoulder of Orion. I've watched C-beams glitter in the dark near the Tannhauser Gate. All those moments will be lost in time, like tears in the rain. Time to die."
56. Indiana Jones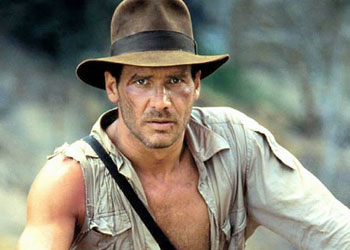 Raiders of the Lost Ark, 1981, Steven Spielberg
The U.S. government hires archeologist Indiana Jones (Harrison Ford) to find the Ark of the Covenant before the Nazis do.
Memorable Moment: In Cairo, Indy is confronted by a Nazi-hired Arab who's brandishing a menacing scimitar to use in decapitating Indy, who watches with interest and suddenly, looking bored, pulls out a pistol, shoots the Arab, and walks away.
55. Osgood Fielding III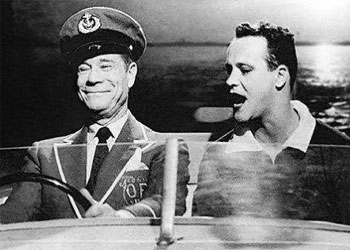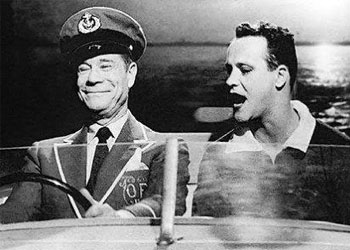 Some Like it Hot, 1959, Billy Wilder
Two musicians on the lam from the mob dress in drag and join an all-girl band. One of them attracts a millionaire, Osgood Fielding III (Joe E. Brown).
Memorable Moment: Osgood in his motorboat, grinning, when finally told that his new fiancée is really a man: "Well, nobody's perfect."
54. Paul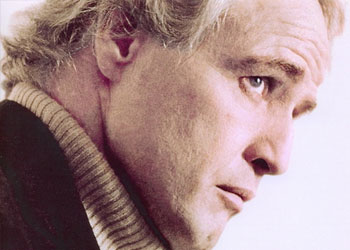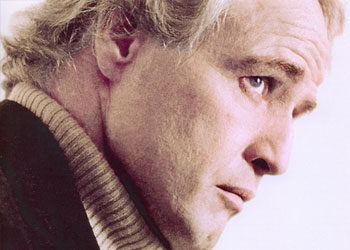 Last Tango in Paris, 1972, Bernardo Bertolucci
Sexual fantasies acted out by a man and woman who don't even know each other's name. Largely improvised from his own life, Marlon Brando gives a searing portrait of Paul, an emotionally damaged man.
Memorable Moment: Butter.
53. Bobby Dupea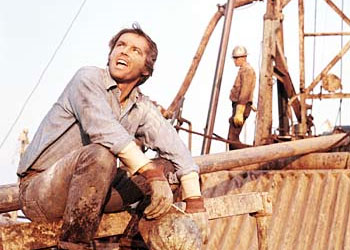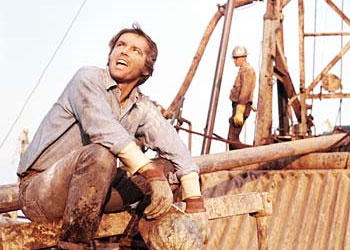 Five Easy Pieces, 1970, Bob Rafelson
Bobby Dupea (Jack Nicholson), a restless, charismatic oil rig worker and former child prodigy leaves his well-off family to hang in saloons and bowling alleys.
Memorable Moment: Jack's trying to order a simple meal but the hostile waitress sticks to the diner's menu of "No Substitutions."
52. Frank T.J. Mackey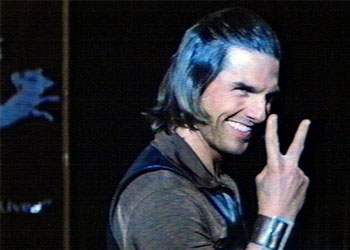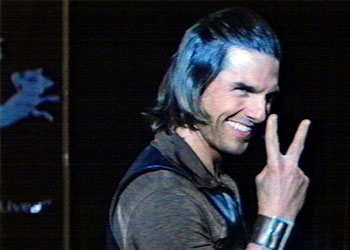 Magnolia, 1999, Paul Thomas Anderson
Frank Mackey (Tom Cruise) is an energetic motivational speaker who enthuses rabid male audiences with his self-help system of "Seduce and Destroy," a seminar on manipulating women into sleeping with them.
Memorable Moment: Mackey visits his dying father (Jason Robards, Jr.) and unleashes a stream of invective and self-loathing.
51. Norma Desmond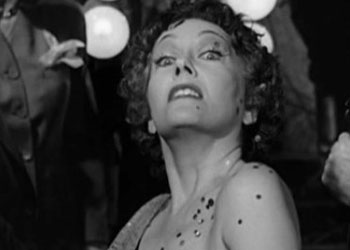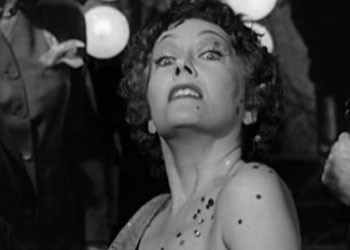 Sunset Boulevard, 1950, Billy Wilder
Norma Desmond (Gloria Swanson), a faded silent film star, kills her young lover for abandoning her, and loses her mind.
Memorable Moment: When she descends into madness, slowly slinking down her grand staircase, believing the news cameras, there to report on the murder, are actually movie cameras shooting her comeback. "Ready for my close-up, Mr. DeMille."
50. Randall McMurphy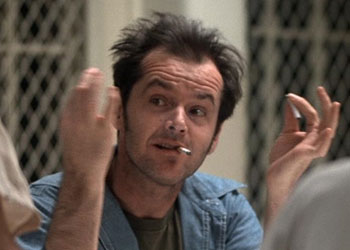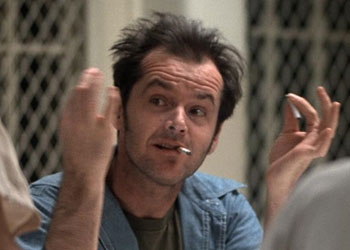 One Flew Over the Cuckoo's Nest, 1975, Milos Forman
McMurphy (Jack Nicholson) is society's rebel who avoids serving a rape sentence by transferring to an asylum for evaluation. He brings life and adventure to the men on the ward but Nurse Rached (Louise Fletcher) gets revenge by ordering a lobotomy, turning his rebellious mind into cottage cheese.
Memorable Moment: While awaiting electroconvulsive therapy with mute Chief, McMurphy offers him a piece of Juicy Fruit gum and he's happily stunned to hear the Chief say, "Thank you."
49. Harry Callahan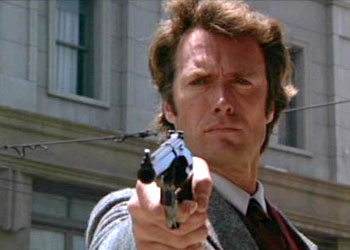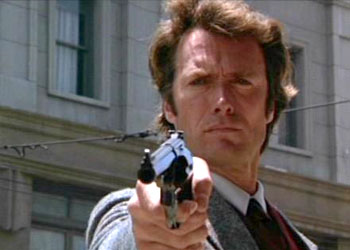 Dirty Harry, 1971, Don Siegel
San Francisco Detective Harry Callahan (Clint Eastwood) explains how he got the nickname Dirty Harry: "I get stuck with every dirty job that comes along."
Memorable Moment: "I know what you're thinking: 'Did he fire six shots or only five?' But to tell you the truth, in all this excitement I've kinda lost track myself. But being this is a .44 Magnum, the most powerful handgun in the world, and would blow your head clean off, you've got to ask yourself one question: 'Do I feel lucky?' Well, do ya, punk?"
48. Tony Montana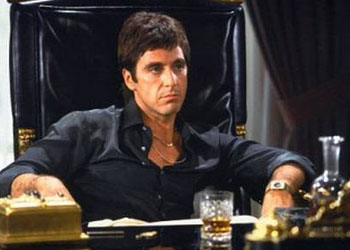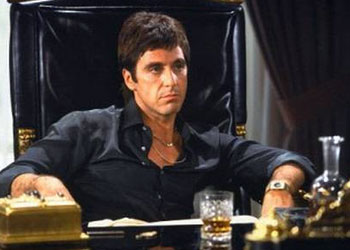 Scarface, 1983, Brian De Palma
Cocky Cuban criminal Tony Montana (Al Pacino) wreaks havoc in Miami.
Memorable Moment: Tony's paranoiac, egomaniacal scream as Sosa's men swarm into his mansion and he lets loose with an M16A1 assault rifle: "You wanna f$#k with me? Okay. You wanna play rough? Okay. Say hello to my little friend!"
47. Luke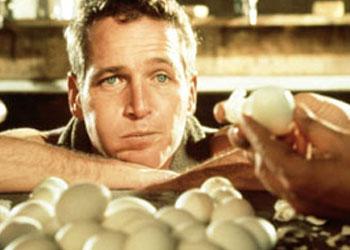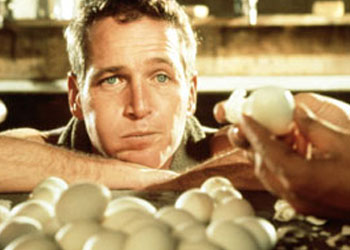 Cool Hand Luke, 1967, Stuart Rosenberg
Non-conformist Luke (Paul Newman) ends up in a Southern prison with hardened criminals fighting boredom and each other. Luke is determined to beat the system at its own game.
Memorable Moment: "I can eat 50 eggs in one hour."
46. Norman Bates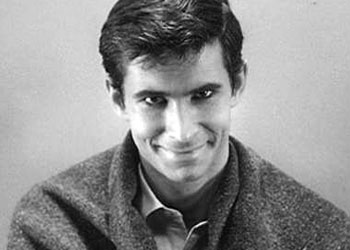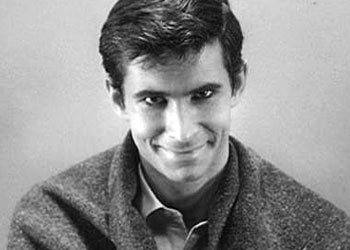 Psycho, 1960, Alfred Hitchcock
Young female thief hides at The Bates Motel, run by Norman Bates (Anthony Perkins) and his unseen murderous mother.
Memorable Moment: The murdered young woman's car with her body in the trunk, sinking below the surface of a nearby lake, with a grinning Norman watching it descend under the water.
45. Dorothy Michaels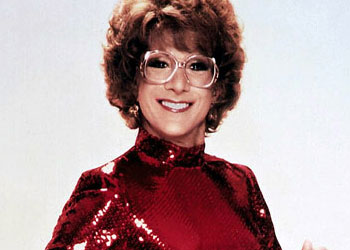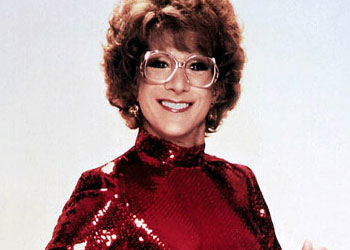 Tootsie, 1982, Sydney Pollack
Difficult actor Michael Dorsey (Dustin Hoffman), desperate for work, disguises himself as a woman, Dorothy Michaels, to land a part on a daytime soap.
Memorable Moment: When a lecherous male cast member tries to kiss Dorothy, she whaps him over the head and calls him a macho s#%head.
44. Nickie Ferrante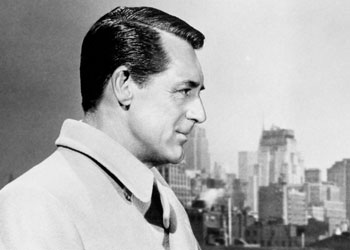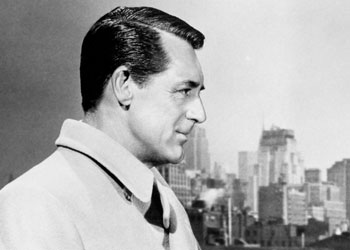 An Affair to Remember, 1957, Leo McCarey
Playboy Nickie (Cary Grant) falls for engaged cruise-mate Terry McKay (Deborah Kerr) and they agree to meet in six months atop the Empire State Building to be sure they're still in love. Nickie waits and waits, not knowing Terry's been hit by a taxi on the way to meet him, paralyzing her for life.
Memorable Moment: Nickie finally tracks her down in a touching Kleenex-worthy tearjerker scene.
43. Thomas Crown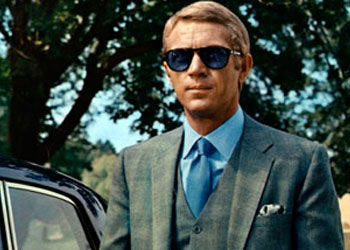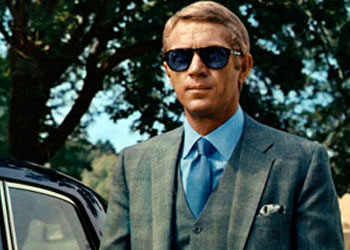 The Thomas Crown Affair, 1968, Norman Jewison
Thomas Crown (Steve McQueen) is a genius businessman in public, and a genius bank robber in private.
Memorable Moment: One last time, Crown outwits his lover, insurance investigator Vicki Anderson (Faye Dunaway) who betrayed him to authorities. Instead, she's left standing there with a bunch of cops while Crown watches from above in his private plane, disappointed, but not surprised.
42. Minnesota Fats and Fast Eddie Felson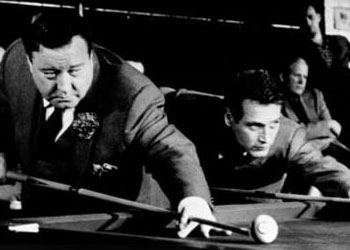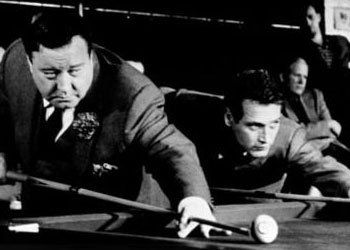 The Hustler, 1961, Robert Rossen
Minnesota Fats (Jackie Gleason) has reached the pinnacle of success in the field of billiards, while pool shark Fast Eddie Felson (Paul Newman) is an up and coming pool hustler who takes him on.
Memorable Moment: High-stakes match between the two men, who both performed all the pool shots in the movie except one: "the massé" (cue ball sends two object balls into the same pocket), which was made by World Billiard Champ Willie Mosconi.
41. Stanley Kowalski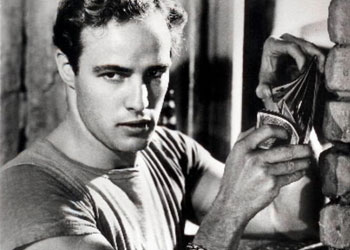 A Streetcar Named Desire, 1951, Elia Kazan
Loutish Stanley Kowalski (Marlon Brando) belittles and rapes his disturbed sister-in-law, Blanche (Vivien Leigh).
Memorable Moment: At dinner, after his wife says he's making a pig of himself and his face and fingers are greasy, Stanley violently brushes all the dishes off the dinner table and says, "Now that's how I'm gonna clear the table. Don't you ever talk that way to me. 'Pig,' 'Pollack,' 'disgusting,' 'vulgar,' 'greasy.' Those kind of words have been on your tongue and your sister's tongue just too much around here. What do you think you are? A pair of queens? Now just remember what Huey Long said — that every man's a king — and I'm the King around here, and don't you forget it."