As a longtime student of film, this list of 100 Greatest Movie Characters is based solely on my visceral reaction plus their unforgettability. Did they seriously scare me? Make me laugh? Cry? Did they become part of the American culture? Are they even more badass than, say, Jack Bauer? Are they so lethal, funny, poignant, psycho, that I couldn't forget them if I tried?
I limited my choices to American films, allowed more than one character from a single film, and stayed away from franchises as much as possible. It wasn't difficult to come up with 100, but it was incredibly difficult assigning numbers; many deserve top 10 but hey, that's not the way lists work.
100. Song Liling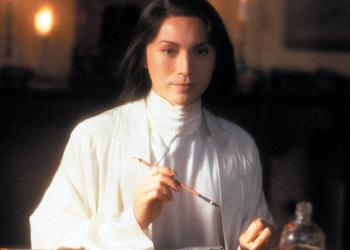 M Butterfly, 1993, David Cronenberg
Married French diplomat René Gallimard (Jeremy Irons) in China falls in love with a beautiful Opera singer, Song Liling (John Lone) who spies on him for the Chinese government. The affair lasts 20 years, with Gallimard never realizing she is a man.
Memorable Moment: When exposed at last, Song says, "Only a man knows how a woman is supposed to act."
99. Det. Graham Waters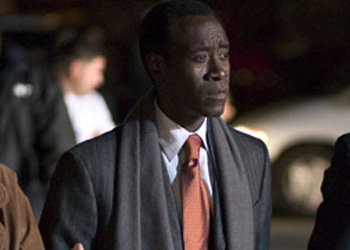 Crash, 2004, Paul Haggis
A serious auto crash flashes back to the lives of those involved.
Memorable Moment: Waters (Don Cheadle) returns to where his dead brother was found and finds the statue of St. Christopher.
98. Noah Cross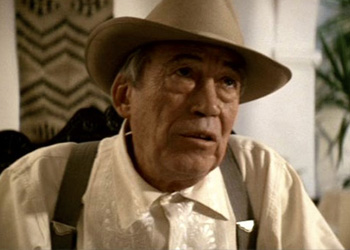 Chinatown, 1974, Roman Polanski
Wealthy landowner Noah Cross (John Huston) seduces and has a baby with his own daughter, then wants to seduce his granddaughter too.
Memorable Moment: After his daughter is killed, Cross grabs their child and you know he'll have her. "I'm your grandfather, my dear."
97. Zhora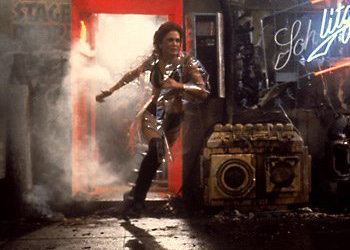 Blade Runner, 1982, Ridley Scott
Zhora (Joanna Cassidy), a replicant with super human endurance, targeted for assassination by Deckard (Harrison Ford).
Memorable Moment: Zhora, in black bikini and clear coat, bursts out of a door through plate glass trying to evade him. He shoots her several times before she dies in a shower of glass.
96. George Hanson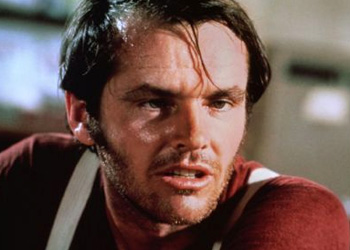 Easy Rider, 1969, Dennis Hopper
Counterculture bikers Wyatt (Peter Fonda) and Billy (Dennis Hopper) travel cross country and meet Hanson (Jack Nicholson) who joins them.
Memorable Moment: Camping, Wyatt, and Billy introduce George to marijuana.
95. Preacher Harry Powell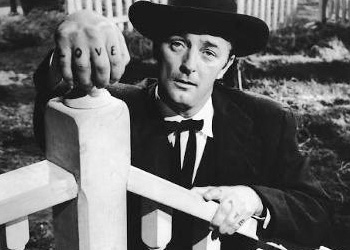 The Night of the Hunter, 1955, Charles Laughton
Children flee from rabid preacher Powell (Robert Mitchum), who killed their mother to find hidden money.
Memorable Moment: Powell's tattooed knuckles: LOVE and HATE. "Would you like me to tell you the little story of right-hand/left hand?"
94. C.C. Baxter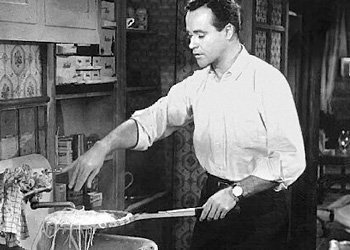 The Apartment, 1960, Billy Wilder
Happy-go-lucky insurance clerk, C.C. "Bud" Baxter (Jack Lemmon), hoping to advance in the company, lends his apartment key to execs for romantic interludes with their girlfriends.
Memorable Moment: Baxter in his apartment cooking spaghetti, using his tennis racket as a strainer.
93. Capt. Virgil Hilts "The Cooler King"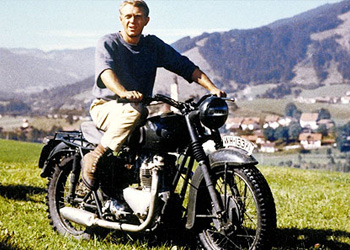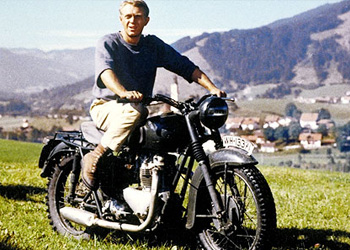 The Great Escape, 1963, John Sturges
A daring escape is planned by 600 Allied POWs in a German camp during WWII.
Memorable Moment: With Nazis chasing him, Hilts (Steve McQueen) jumps his motorcycle over a 60-foot high wire fence. Real-life biker McQueen also rode as one of the Nazis so he was, in effect, chasing himself.
92. Emiliano Zapata
Viva Zapata!, 1952, Elia Kazan
Zapata (Marlon Brando), a Mexican farmer seeking justice from a corrupt government, leads a rebellion against oppression.
Memorable Moment: Zapata has been betrayed and shot to ribbons by federal soldiers, his body tenderly washed by the women of the village.
91. Felix Unger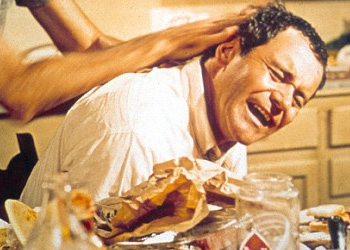 The Odd Couple, 1968, Gene Saks
Felix (Jack Lemmon), a finicky man dumped by his wife, moves in with divorced buddy Oscar (Walter Matthau), a slob.
Memorable Moment: Felix's sinus attack in a restaurant.
90. J.J. Hunsecker and Sidney Falco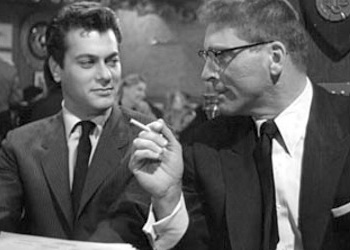 Sweet Smell of Success, 1957, Alexander Mackendrick
Hunsecker (Burt Lancaster), an all-powerful Broadway gossip columnist, intimidates a fawning press agent, Sidney Falco (Tony Curtis) by constantly humiliating him.
Memorable Moment: Hunsecker holds a cigarette and says "Match me, Sidney."
89. Howard Beale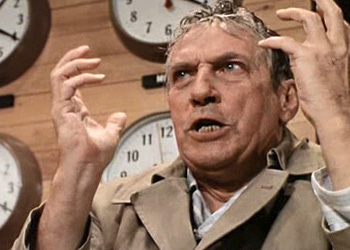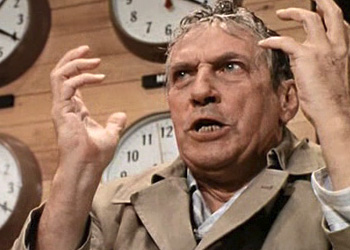 Network, 1976, Sidney Lumet
Behind-the-scenes network TV news commentator, disillusioned Beale (Peter Finch).
Memorable Moment: "I'm mad as hell and I'm not going to take it anymore!!!!!!"
88. Roger Thornhill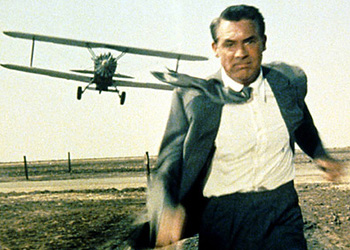 North by Northwest, 1959, Alfred Hitchcock
Ad man Thornhill (Cary Grant) is mistaken for a spy by enemy agents, culminating in a hair-raising chase across Mt. Rushmore.
Memorable Moment: Thornhill on steep rocks reaches down and grabs the wrist of falling Eve Kendall (Eva Marie Saint) pulling her to safety, segueing into pulling her into the upper berth on a honeymoon train.
87. Howard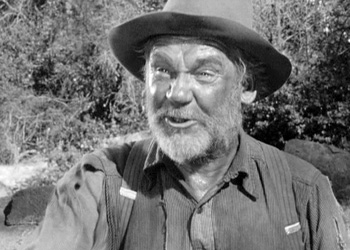 The Treasure of the Sierra Madre, 1948, John Huston
A pair of losers hooks up with a grizzled old man, Howard (Walter Huston), who needs partners for a gold prospecting venture in Mexico.
Memorable Moment: Howard guffaws and does an energetic jig, dancing and kicking up his heels laughing at them. "You're so dumb there's nothin' to compare you with … you don't even see the very riches you're treadin' on with your own feet!"
86. Chuck Tatum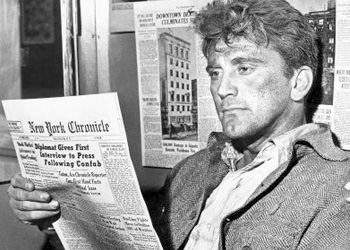 Ace in the Hole, 1951, Billy Wilder
Tatum (Kirk Douglas), an amoral reporter in New Mexico, manipulates a small story into a big one by delaying the rescue of a man trapped in a cave. The man dies with the rescue drill "just ten feet away."
Memorable Moment: Remorseful for what he did, Tatum lets another reporter scoop the story.
85. Joel Goodsen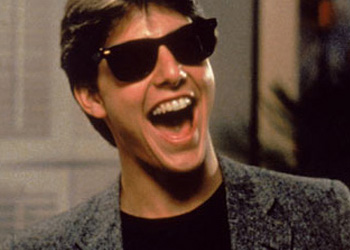 Risky Business, 1983, Paul Brickman
With his wealthy parents away, Joel (Tom Cruise) lets loose from his structured life.
Memorable Moment: Sliding, dancing to an air guitar, and shaking his booty to "Old Time Rock and Roll."
84. Mr. Potter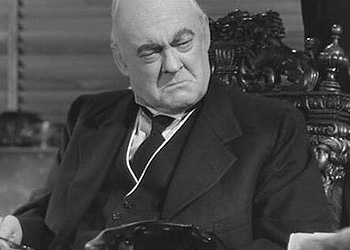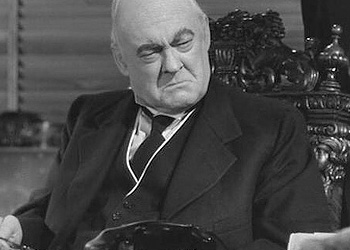 It's a Wonderful Life, 1946, Frank Capra
Without chortling antagonist Mr. Potter (Lionel Barrymore), there'd be no Bedford Falls-cum-Potterville.
Memorable Moment: Greedy banker Potter's fiendishly gleeful grin as he cheats George's absent-minded uncle into thinking he lost an $8,000 bank deposit.
83. Mr. Blonde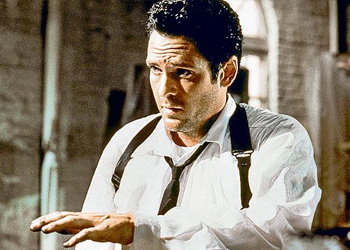 Reservoir Dogs, 1992, Quentin Tarantino
Mr. Blonde (Michael Madsen), ex-con and psycho member of a gang of thieves, opens his car trunk revealing a cop who begs to be let go.
Memorable Moment: Blonde admits he loves torture, dances, then slices off the cop's ear and douses him in gasoline.
82. Tony Manero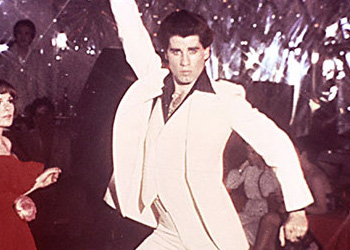 Saturday Night Fever, 1977, John Badham
Teenager Tony (John Travolta) has a dull life working in a paint store, but relieves boredom by being the best dancer in Brooklyn.
Memorable Moment: Tony Manero's epic walk and epic dancing.
81. Chief Bromden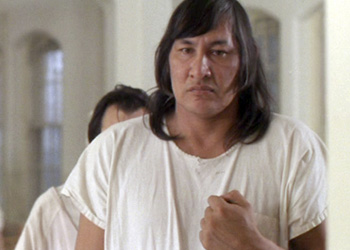 One Flew Over The Cuckoo's Nest, 1975, Miloš Forman
Chief (Will Sampson), a 6'5″ schizophrenic asylum inmate, learns his only friend there (Jack Nicholson) has been given a lobotomy.
Memorable Moment: Chief realizes there's only one way his friend, now a vegetable, will be able to escape this terrible place: death. So he suffocates him with a pillow, rips a sink out of the wall and hurls it through a window, escaping alone.