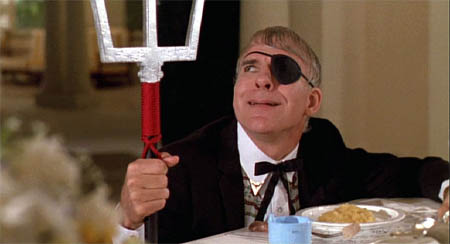 With the number of movies hitting theaters now, it's hard to find true originality. There have been a slew of sequels and remakes that fail to live up to the original films that inspired them, but every once in a while there'll be a remake that equals or surpasses the original. John's back this week with a look at ten movies that fit just such a category.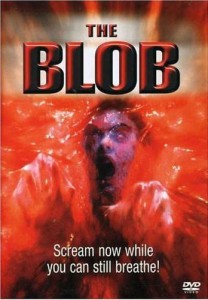 The original film was a textbook example of B-Movie goodness, which evokes many things from us. Unfortunately, fear isn't one of them. Some horror films have longevity, just not the ones that were special effects driven. Today, it just looks like someone is pumping Jell-o through a model, combined with blue screen tricks. It's in this area that makes Chuck Russell's 1980's remake a complete success. The special effects are so effective in this film, that the title character actually feels alive, and the effect is more threatening when it attacks. The most frightening thing about this remake is that you actually see what happens when people get taken by the Blob. Granted, much like its predecessor this remake is special effects driven, but much like his efforts in The Mask, Russell makes them last.
9. The Birdcage (Based on La Cage aux Folles)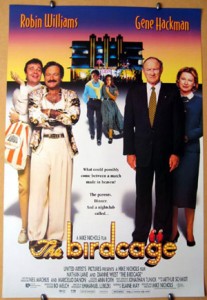 This is one remake where its greatness was inevitable for one simple reason: the material is timeless. La Cage aux Folles has crossed mediums many times over. From stage to screen, back to the stage, and back on the screen across the pond, every time with positive results. The lifestyle of Albert (Nathan Lane) and Armand (Robin Williams) is still a hotly debated subject after all these years, and that debate makes for brilliant comedic cannon fodder. The Birdcage succeeds where many other comedy remakes fail, because there really is no need to change the material. The only thing screenwriter Elaine May needed to do was update the setting and the characters. Because the humor is so timeless, the only thing that is needed is a cast with a fresh approach to the material. Naturally, Nathan Lane, Hank Azaria, Gene Hackman, and Dianne Wiest are the perfect solution. So now, thanks to the dynamism of the script and that cast, we are able enjoy this version and look back on the previous incarnations without the necessity of comparison.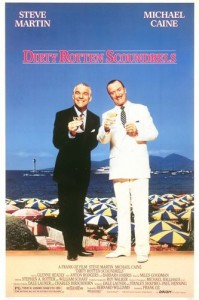 This remake is so good that people forgot entirely that it was a remake! The original film featured Marlon Brando and David Niven. Today little is known about the original film. Obviously, it must have been something special because it warranted the film to be remade. This remake obviously upped the ante on the more farcical elements of the story. Frankly, I don't see Marlon Brando pretending to be Ruprecht: The Monkey Boy. Steve Martin injects the role of Freddy Benson with a kind of manic brilliance. Like any good remake it utilizes the elements of the original story which work and the build on that to create something new. As we can see it accomplished that feat with flying colors because we've practically forgotten about the original, and you tend to not forget about any film with Marlon Brando and David Niven.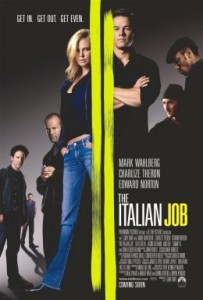 Ironically this version does not follow the story of the original. However, it does have the essential components which made the original a classic–namely a gold heist, Italy, Mini Coopers, and a spirit of fun. This version instead decided to come up with its own heist, its own cast of characters, and its own story, the results of which are surprisingly sharp. Fresh off the heels of the Ocean's 11 remake, the only thing this one is missing is the style. The film does, however, make up for it in other avenues. The cast is definitely a good start. The interplay between Wahlberg, Theron, Mos Def, Green, and Statham never falters and keeps the momentum swift and fun. Then when the heist is underway, it's on a constant adrenaline high for fifteen to twenty minutes, leading to a very satisfying conclusion. Plus, it makes Mini Coopers look cooler than they actually are.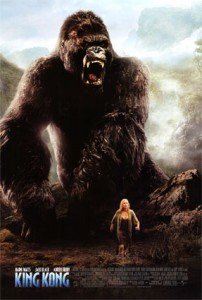 The original King Kong is, without question, the original special effects blockbuster, loaded with a slew of innovative creature effects which became the basis for creature effects to come. Unfortunately, there's another tradition this film established, which has carried over to this very day: big special effects extravaganzas, which completely shroud the heart and soul of the story. That is a problem which Peter Jackson remedies with unrestrained gusto. Between spectacular battles with T-Rexes, bugs, and bats, Jackson takes considerable time aside to allow the characters to develop. He makes Ann Darrow's (Naomi Watts) link with Kong more poignant and more about how she sees past the beast and sees his loneliness, his sorrow, and how they match her own. Another example is how characters like Carl Denham (Jack Black) can be sympathetic despite his obvious failings, or even how seemingly redundant characters like some of the sailors are actually elevated above being the film's equivalent of Star Trek Red Shirts. All around it just seems that Peter Jackson was able to find the heart of the original film, and with his version be brings it out.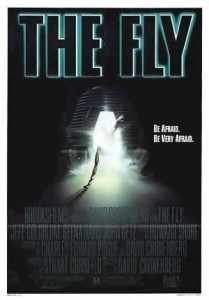 The original film still has extremely chilling moments. Of course the whole "Heeeelp Me" bit still stands out, and is still quite potent on the nightmare factor. What director David Cronenberg achieved with his take was that he stripped the horror to its essence–the horror of seeing your familiar face decay, contort and deform into something monsterous. A carryover from the original film comes with Geena Davis' character as she witnesses a man she knew and loved gradually lose his humanity. She's even more terrified when this horror violates her own body. What Cronenberg accomplishes here is that he doesn't bring the horror to you. He brings it INTO you. He makes you afraid of your own body and how that fear warps your very soul. In essence, he brings a kind of subtle psychology to what appears on the surface to be a creature feature.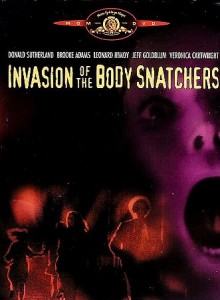 The success of this version of the 1950's original is primarily on the technical side. The story is already quite solid, and in the 1970's the subtext was still quite resonant with the times. What director Phillip Kaufman did with his version was bring out the horror of the invasion through rich atmospheric cinematography, and stellar creature effects enhance what is already a chilling parable about the loss of individuality. As a result the story becomes less of a B Movie novelty and more of a psychological thriller of survival. I will also add that the epilogue of this film is one that will traumatize you for years.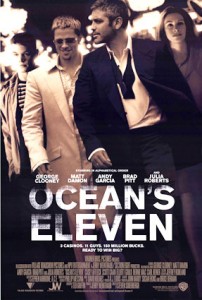 The original Ocean's 11 was a film made simply so the Rat Pack would have something to do during the day while they were entertaining in Vegas. There was no real motive to the film other than to show The Rat Pack in their element, using a heist story as the foundation. The star power of the Chairman and his entourage was enough to make the original an immediate favorite, but it never set any standards in plotting or storytelling. Steven Soderbergh's remake, on the other hand, was the complete opposite. A stylish script by Ted Griffin (Matchstick Men) that combines an old school slickness with a modern day narrative sizzles with wicked wordplay and is delivered by a cast who are the modern day equivalent to The Rat Pack. Only this time Clooney and company have absolutely no problem with letting you in on the fun.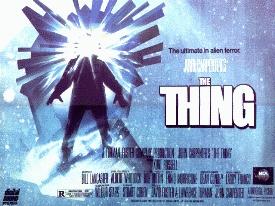 Like the remake of Invasion of the Body Snatchers, this remake takes a well told story and tells it even better. Carpenter utilizes creature effects which, even to this day, are iconic. The creature designs in this remake are so grotesque and so cringe inducing, you won't want to see them again. As a result, they add to the paranoia, which all the characters endure. After seeing what comes from a dog, you really don't want to see the thing again when it emerges from a human disguise. So when things start getting paranoid around the outpost, you begin to become paranoid with them, because when you scratch the surface what you discover underneath is a shapeless monstrosity who could consume anyone.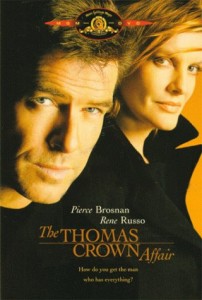 The original film was definitely one of the steamier titles of the 1960's, chock full of memorable moments which have often been imitated and even spoofed. In retrospect, it does seem that the film was a bit restrained. Given the state of things at that time, studios were a bit more conservative. The remake (from "Die Hard" director John McTiernan) doesn't have that problem. The cat and mouse dynamic between Thomas Crown (Pierce Brosnan) and Catherine Banning (Rene Russo) is more irresistible than in the original. These are two people who find themselves on opposite sides of an investigation. They maneuver around each other with equal amounts of caution and attraction, and you're attracted to it for every second. The classic chess scene from the original is replaced by an extremely provocative dance sequence which accomplishes the same thing as the original. But the real effect makes it, for lack of a better word, sexier–a word which is all you need to explain why this version trumps its earlier variant.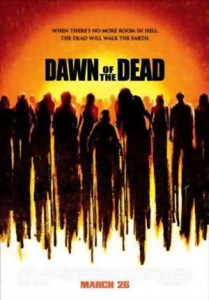 The remake is by no means superior, but credit is definitely due to Zack Snyder's take on Romero's classic, giving it some of his own signature style. Where many other horror remakes fail, Snyder injects this one with a bit more imagination to shake things up. Though the general premise of the original is here, this remake actually does feel like a different film, thanks to a different set of characters and a different story evolution, tagged with the hint of a dire conclusion.