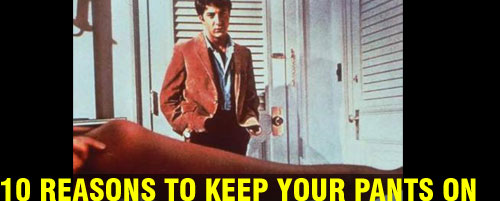 Infidelity is an embarrassingly common plot point in cinema. What's even more embarrassing is that it's a common plot point in real life. With so much public exposure of both the act and the consequences, you'd think that people would be discouraged to indulge themselves in this fashion. There has never been a time where an impulsive frolic in someone else's bed has led to positive results. Presented here are ten cinematic examples of what happens when you let your urges get the better of you.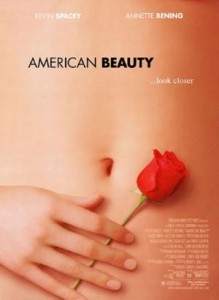 THE CRIME: It's easy to be seduced by success, especially if you're struggling to find it yourself. Carolyn Burnham is a struggling real-estate salesperson who is in awe of the self appointed "Real-Estate King." So when the opportunity comes to get crowned by the king, she wastes absolutely no time jumping onto his throne.
THE PUNISHMENT: Sometimes breaking marital taboos can make someone think they're invincible. So you can imagine how deflated Mrs. Burnham feels when she is caught in the Drive-Thru at Mr. Smiley's by her husband Lester and his manager. Most husbands would go crazy at an incident such as this. Lester has his own way of doing things. Simply by putting her in her place in front of her lover and his manager, he was able to knock Carolyn off the high horse that she seemed to be stuck on during their marriage.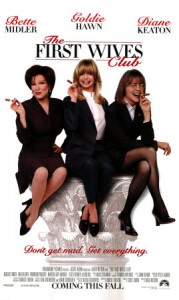 THE CRIME: One husband divorces an actress, Elise Elliott, and demands alimony by taking credit for Elise's ideas. He follows it up by sleeping with the star of his newest film. Brenda's husband Morty succumbs to a savage mid-life crisis and leaves her for a younger woman. As for Annie, her husband files for divorce after treating her to a romantic night out and accidentally follows it up by revealing that he was sleeping with her therapist!
THE PUNISHMENT: Like the tagline said, the ladies don't get mad… They got everything. Elise discovers that her husband's hot little starlet is actually a sixteen-year-old high school dropout. Brenda uncovers that her husband is selling stolen merchandise from his electronic appliance store. And Annie, aided by her two friends, usurps control of her philandering husband's company. As a side note, Annie's daughter reveals to her father that she is a lesbian, something he's none too happy about. They bring all three husbands to their knees and make them pay, both literally, and figuratively.

THE CRIME: The life of Hogan's Heroes star Bob Crane proves that Newton's Law of Gravity is not restricted to physical objects. Bob Crane's life was at an all time high. He had a loving family, and he was working on a highly acclaimed sitcom. Unfortunately a friendship with an unsavory man brought out some equally unsavory urges in Bob Crane. In no time flat he became an unstoppable sexaholic and voyeur.
THE PUNISHMENT: Firstly his wife leaves him and takes the kids with her. Then, after Hogan's Heroes is canceled, his reputation is tarnished by his habits. So much so that many directors refused to work with him. All he could get was a generic father role in a cheesy Disney family flick. Inevitably his career disintegrated, and his second wife bailed on him for the same reasons as his first wife. Crane attempted to pick up the pieces of his life, but it was too little too late because the next morning he was found in a motel bludgeoned to death. There were suspects but never any convictions.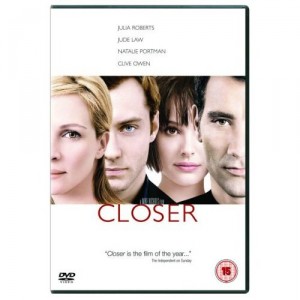 THE CRIME: This is a complicated love rectangle revolving around Dan, Larry, Alice, and Anna. Dan hooks up with Alice, but then he finds himself instantly attracted to Anna and begins to pursue her. Larry is conned by Dan to go on a blind date who never shows up. Instead, Larry ends up meeting Anna and falling for her. Larry and Anna get married. Years later Anna succumbs to Dan's advances and leaves Larry for him, while Dan bails on Alice. Larry, in a fit of jealousy, winds up in Alice's arms. When Larry meets with Anna to sign the divorce papers, they decide to have closure sex so Larry can exorcise his demons. Dan, disgusted at Anna's actions, leaves her, and returns to Alice, contrite but insecure. Meanwhile, Anna returns to Larry.
THE PUNISHMENT: Dan, who is essentially the instigator of this whole debacle, is left broken and sober. He is full of regret for his actions, and is left alone with his guilt. He returns to a park that he and Alice walked through on their first date and sees a memorial stone with her name on it. He realizes that she lied about her identity when they met, but because she fell for him, she kept the illusion alive for him. Dan is left with the foreboding realization of what he lost.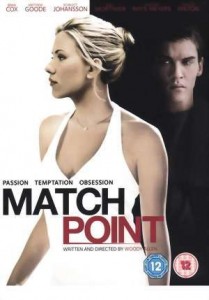 THE CRIME: Chris Wilton, a former tennis pro, hooks up with, and ultimately marries, his best friend's sister. All the while, Chris engages in a relationship with his best friend's fiancee! Time goes on, and so does the affair. Chris' best friend inevitably breaks up with the fiancee. Soon she tries to get Chris to leave his wife. Unfortunately, Chris is all too comfortable in his legitimate life. He's married to an rich woman, and her father set Chris up with a high paying job with a successful company. He only sees his other relationship as a bit of excitement in an otherwise bland existence.
THE PUNISHMENT: Inevitably Chris' squeeze-on-the-side becomes discontent and threatens to spill the beans after she becomes pregnant. Not willing to let a lifetime of security go, Chris stages a break-in scenario which leads to the brutal murder of his mistress and her landlord. The police investigation sways in Chris' favor and he gets away scot-free. In the end he lives the perfect life at the cost of his soul.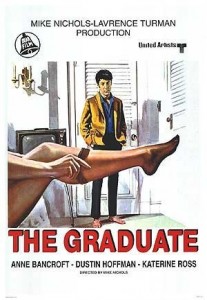 THE CRIME: Mrs. Robinson is a bored housewife with a workaholic husband and a daughter in college. She needs something fresh to spice up her life. Lucky her, the son of her husband's work partner, Benjamin Braddock, is back in town after graduating from Grad School. He seems ideal, especially since he seems emotionally vacant and thus susceptible. Mrs. Robinson proceeds to seduce Benjamin, and pretty soon he is totally wrapped around her finger, to the point that he doesn't want to do anything else but sleep with her.
THE PUNISHMENT: Mrs. Robinson's oblivious husband and Benjamin's equally oblivious parents, decide to set up Benjamin with Mrs. Robinson's daughter Elaine. Benjamin promises Mrs. Robinson to deliberately botch the date, but he begins to fall in love with Elaine. He decides to tell Elaine the truth, which blows up in his face. Mrs. Robinson then resolves to keep Elaine away from Benjamin, but Benjamin won't be deterred. He pursues Elaine to the point that he crashes Elaine's forced marriage. Elaine defies Mrs. Robinson and runs off with Benjamin.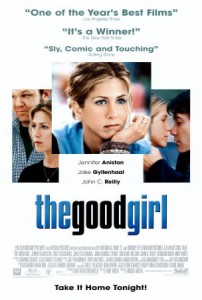 THE CRIME: Justine is a bored woman living in a po-dunk town, working in a tedious po-dunk retail job, living with a bland husband. One day a new employee named Holden arrives. He's enigmatic, poetic, and thinks he's Holden Caulfield. Justine finds him alluring, and as these things go, she winds up having an affair with Holden between shifts in cheap motels.
THE PUNISHMENT: Justine probably shouldn't have put the motel room on her credit card, because her husband sees the statement, and it turns out he's not as dumb as she thought he was. She begins to feel guilty for her infidelity and attempts to break it off with Holden. Naturally, Holden is quite disturbed by this, and things don't turn out too well for him, as he commits suicide in their motel. However he lives on in her, literally as it turns out; she is having his baby. Justine claims it is her husband's, but she knows the truth.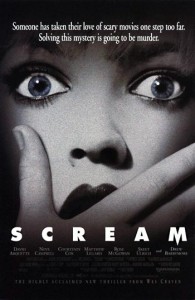 THE CRIME: Maureen Prescott was a branded woman in Woodsboro, California, and the brand is entirely justified. Maureen was a notoriously loose woman who got it on with practically every guy in town. Single or married, it didn't matter to her. The origins of her behavior stemmed from a hidden past as an aspiring actress named Rina Reynolds in Hollywood. In her efforts to make it big, she wound up being seduced by producer John Milton. All she got for her troubles were some bit parts in a series of B movies. She returned to Woodsboro with a stain on her soul and illegitimate child she put up for adoption.
THE PUNISHMENT: Her illegitimate son (named Roman Bridger) grew up and attempted to reunite with his mother, but she cast him off, declaring that his real mother was dead. That gave him an idea. Roman followed her as she proceeded to have a variety of affairs, filming all of them as they happened. The one that proved to be fatal was her affair with Mr. Loomis. Mrs. Loomis left her husband and her son, Billy. Roman proceeded to show Billy the video, implicating Maureen in the affair which destroyed Billy's family. Enraged, Billy murdered Maureen Prescott and framed her current lover, Cotton Weary. Maureen's actions set off a chain reaction that would proceed to torture her daughter, Sidney, and her friends, as Billy (amongst others) went on a series of killing sprees, utilizing horror movies as an inspiration.

THE CRIME: Connie Sumner has the ideal life, with the ideal family, and no reason whatsoever to ask for anything more. That doesn't stop Connie from overindulging when she meets Paul Martel, a veritable scoundrel who never hides his true intentions. That doesn't stop Connie from sowing her wild oats. Unfortunately, you can have too much of a good thing, because you tend get too sloppy after a while.
THE PUNISHMENT: Inevitably, her husband Ed gets wise to what's going on and does some investigating. Ed decides to pay his competition a visit. The scene is tense as Ed calmy interrogates Paul. Then Ed discovers a treasured snow globe he gave to Connie. It was a symbol of his love to her, and she gave it to her lover without a thought. In a flash of temporary insanity, Ed bludgeons Paul to death with the snow globe and then clears his tracks. Ed didn't do a very good job because the cops are at their door shortly afterward. The police have their suspicions, but they've got no evidence. After a confrontation between husband and wife, Connie finds herself chock-full of regret for her actions. The film ends on an ambiguous note as both Ed and Connie are parked in front of the police station debating whether they should run or turn themselves in.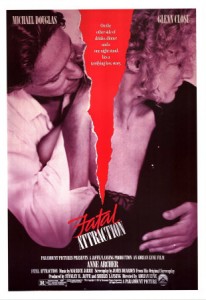 THE CRIME: While his wife is away, Dan decides to play, and play he does, with Alex Forrest, a woman he knows absolutely nothing about. He mindlessly plunges himself into an fling with Alex. Dan views this as nothing but a bit of innocent fun with no victims. Dan's a bit naive, isn't he? If you're gonna have a bit on the side, you'd better be ready for the consequences. In the case of this film, these are the kind of consequences which caused the rate of adultery in America to plummet.
THE PUNISHMENT: Alex becomes possessive and demands for Dan to stay with her, especially when she finds out she is pregnant with Dan's child. Alex resolves to have the child since it may be her last chance. After Dan shuts her out, Alex goes off the deep end and decides to destroy everything Dan cares about. She causes Dan's wife to end up in a car accident. She even goes so far as to mutilate the pet rabbit belonging to Dan's daughter. Finally Alex crosses the line by invading Dan's home and attempting to kill Dan's wife. Though Dan and his family are safe, this is one indiscretion that is gonna linger with them forever. It lingers with all of us forever as a reminder that there is a price for a bit of fun.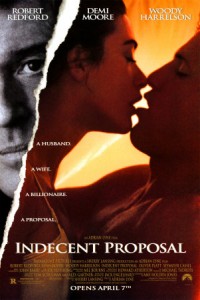 Here's an interesting query. Is it an infidelity when both husband and wife consent to it? This film illustrates that question perfectly when a husband and wife are given a close to irresistable offer from a wealthy playboy. He wishes to spend the night with the wife, and he's willing to pay one million dollars to do so. If you were a happy couple, what would you do?