The statues have been given out and Danny Boyle has cause to celebrate, because his opus Slumdog Millionaire has taken Best Picture. Now, like clockwork, the forums explode with constant debate as to whether or not the film actually deserved to win. The fact that we never agree tends to get infuriating, doesn't it? It's with that in mind that we look back on the history of the little gold statue and point the spotlight on some of the films whose Oscar recognitions were not only deserved, they were inevitable.
10) Lord of the Rings: Return of the King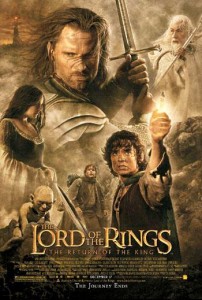 This film is more than just the conclusion of the sweeping fantasy epic. And, contrary to popular theory, it's definitely more than a film with a lot of walking. Rather, it is a testament to the vision, the passion, and ambition of everyone involved. Peter Jackson accomplished the impossible, and never once did he shirk from the pressure. Every frame of film, every angle, every pixel of CGI, even the emotional tears of every audience member — all of these are the products of Peter Jackson's achievements. There has never been a studio endeavor on this scale. There was no indication that this film would be a financial success, let alone a critical success. But look what happened, for three years we immersed ourselves in the gargantuan world of Tolkien and it didn't take a wizard to realize that Oscar gold was inevitable.
9) Rain Man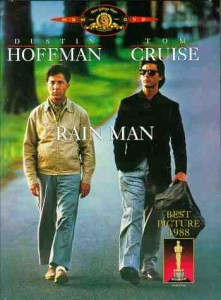 It's a relatively simple film about Charlie Babbitt — a cold, ambitious man who regains his humanity through the bond he develops with the autistic savant brother he never knew he had. On the surface, it looks like a film trying to bank on Tom Cruise's celebrity. Once audiences meet Raymond, played with zen-like precision by Dustin Hoffman, we finally get where this film is going. Using a basic road movie as the foundation for the development of these two polar opposites, it never comes as a surprise to audiences that Charlie begins to embrace the idea of actually having even a little piece of the family he failed to connect with in his youth. We've seen films that have attempted to replicate this formula, but Rain Man is the only film that feels genuine. Tom Cruise nails Charlie's development throughout the film, and the performance could only be possible with his outstanding chemistry with Dustin Hoffman. This is a film that is confidently directed by Barry Levinson, who knew how to balance the heart and the humor, and all he needed was two guys in a 1948 Buick to score the much-deserved statue.
8) Casablanca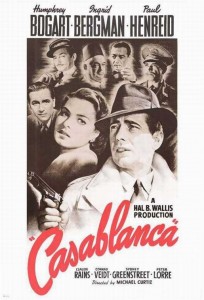 Let's face it, this film is virtually perfect. There's not a single line of dialogue that is wasted on horrible performances — largely because there isn't a horrible performance in the lot. As cliché as it is to praise it, Casablanca justifies its hype with its multi-layered plot mixing themes of rekindled love, political intrigue, and bittersweet sacrifice. In one of his career-defining performances, Humphrey Bogart puts his range as an actor on full display as he portrays Rick's disaffected attitude towards life, and how it very quickly gets turned upside down upon the return of the woman who got away. Casablanca dared to stray from the standard romance formula: instead of the typical ending with the lovers' reunion, Rick makes an even bolder statement of love by letting her go, knowing that Ilsa's life with her husband is far more significant. The final scene is a flat-out masterpiece of screenwriting, and for that matter, so is the rest of the film. You could try and analyze this film to find its flaws, but it may take you a while.
7) Annie Hall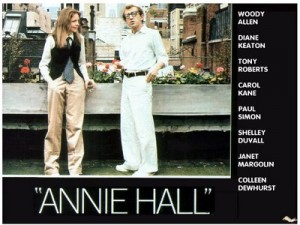 If ever there were a film that understood the intricacies of human psychology in the midst of love (and neuroses), it's Annie Hall. Annie Hall really is Woody Allen's masterpiece, simply because it's not driven by a traditional romantic comedy formula. It's not about whether or not he'll get the girl. It's about the things about a person that we fall in love with: their silly quirks and their insecurities. The film never promises a fairy tale ending; it just reassures us that no matter where a relationship goes, you should always cherish the memories. There's something so refreshingly right about the relationship between Annie and Alvy. They are an outstanding couple who genuinely get — and complement — each other. Through Allen's extremely sly script and unconventional approach to the narrative, the audience gets to peer into what feels like a real relationship. Annie Hall is definitely the most inviting of all of Allen's films, and has some of the most often imitated scenes in romantic comedy history. Allen proved that it doesn't take high production values or special effects to win the Oscar. Instead, it all starts with a great script and a unique approach to what could have been just another love story.
6) The Godfather: Part II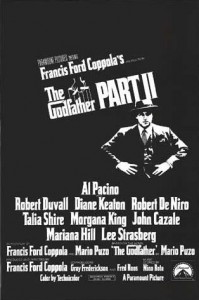 The first film saw Michael Corleone sacrificing his innocence for the family, but the second part of Coppola's seminal mafia trilogy shows the real monster underneath that Michael had always tried to keep hidden. The film is vivid in its strong character-driven narrative. Pacino takes Michael Corleone to a point where we see that the man Michael was is beyond salvation. Michael's story is counterbalanced oh-so delicately with the story of Vito Corleone and his rise to power, an ascension driven by personal rage and the cold desire for revenge. At the end of it all, Coppola shows how far Michael has surpassed his father. Not because of the prosperity, not because of the power, but because of how ruthless Michael has become in comparison. Always the wizard with a camera, Coppola never disappoints. The Godfather: Part II is just as visually graceful (if not more so) as its predecessor, and the dramatic punch of the story is sold with total conviction. The evidence shown by the efforts of the stellar cast and crew put this film in the exclusive pantheon of superior sequels. However, The Godfather: Part II has the prestige of being the only sequel to win Best Picture.
5) The Departed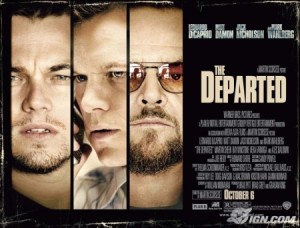 Scorsese has been passed over for the Oscar so often that it has become infuriating. Though many of his films contended for the gold, Scorsese still went home empty handed. That all changed when he directed The Departed, a hardcore crime drama akin to the films that have made Scorsese the beloved filmmaker that he is today. Scorsese wrangles his actors like a lion tamer as each of them dominates the screen with unbridled, animalistic ferocity. Beginning with Frank Costello's callous monologue at the start of the film, we are hooked by the raw, unrestrained power of this urban parable about the illusions of loyalty and the pursuit of justice through deception. There is never a dull moment in this film, and while that's largely thanks to Scorsese's solid direction, credit can also be directed towards William Monahan's intense script adapted from the Asian film series Infernal Affairs. Then there's the impressive cast, consistently unpredictable in their performance choices. Leonardo DiCaprio's portrayal of a undercover cop is the most competent psychological dissection of a man forced to constantly put his life on the line to bring down the big boss. Matt Damon is fearless in his willingness to make audiences absolutely despise his character, a mob rat positioned in the state police. What makes him such a disgusting character is that his ambition even leads him to betray the very man who put him where he is. Frank Costello may be a monster, but at least we have no delusions about what he is capable of. When a director is passed over for award after award, it leads one to think that when the filmmaker finally wins, it screams "Pity Oscar." But that is definitely not the case with The Departed. This is a film that demanded the Oscar — at gunpoint, no less.
4) The French Connection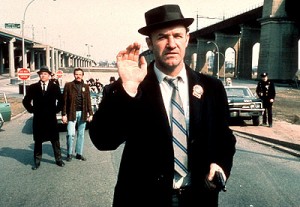 Do you ever pick your feet in Poughkeepsie? Well, I pick my feet (who doesn't?), but I can't say I've been to Poughkeepsie. This is the question that Detective James "Popeye" Doyle asks petty thugs in order to shake them up. Before Director William Friedkin made horror history with The Exorcist, he set the ultimate standard in the cop genre. Gritty and uncompromising, The French Connection dared to portray police work in a totally unglamorous light. With "Popeye" Doyle, Friedkin wanted to deliver a cop who was, above all, real. He is a street detective resolute in his pursuit of cleaning the streets, a dedication which is tested to its limits when he finds himself challenged by an elusive drug smuggler. Friedkin's achievements on the film are not restricted to the story and directing relative newcomer Gene Hackman to instant stardom. He also set bold new standards in filming action sequences, the most notorious of which is the El Train chase through the streets of New York, which is still an element of study in many film schools. There have been many imitators who have made attempts to replicate what worked in The French Connection, but the main problem with those films trying to be The French Connection is that they'll never be The French Connection. It's too iconic, and far too unique, to ever be replaced.
3) One Flew Over The Cuckoo's Nest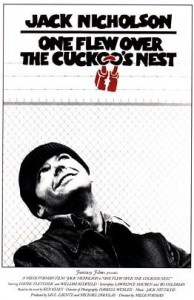 What is it that qualifies a man as insane? Whatever those qualifications are, it seems R. P. McMurphy fits them. Milos Forman brings a foreboding elegance to the screen with this incendiary dramedy. When you see the patients before McMurphy's arrival, it appears as a purgatory, a place where no one changes. Patients never improve, and it seems that Nurse Ratched likes it that way. Nicholson delivers a bravura performance as McMurphy. In the beginning he is  just a petty criminal looking to get out of some jail time, but under Forman's elegant direction, McMurphy is presented as a rebel against the tyrannical establishment. When he comes to live with the inmates he sees them as the human beings they were meant to be. He sees men who have been demeaned to the point of complacency by a domineering devil in a nurse dress. McMurphy starts a little rebellion in the institute, and everyone's invited. Even with the somber conclusion, audiences just can't help but cheer for this beautiful parable about true sanity in an insane world.
2) The Silence of the Lambs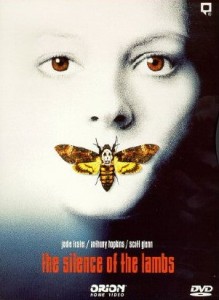 The Silence of the Lambs is a terrifying film that seduces audiences one minute, then throttles the life out of them in the next. Jonathan Demme shed his Married to the Mob directorial image and delivered his career-defining masterpiece based on Thomas Harris' bestseller. Through his fearless vision we, the audience, are dragged into the dark recesses of the human soul. As the all-too-eager FBI trainee Clarice Starling descends into the maximum security wing you almost feel like you're walking into the first level of hell. Then you reach the last cell and there's the devil staring right at you. Demme has crafted a psychological thriller that pierces into your soul via stellar camera work and a claustrophobic atmosphere combined with a seductive adapted script by Ted Tally and, of course, the unsettling (albeit alluring) performance by Anthony Hopkins as Hannibal "The Cannibal" Lecter. Demme never holds back on the disturbing content and never shows leniency towards his audience, making this film one of the most finely crafted psychological thrillers of all time.
1) On The Waterfront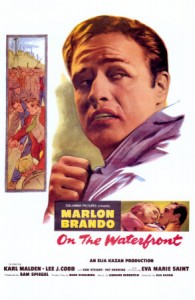 Waterfront is, without a doubt, one of the boldest, most triumphant films ever made. The story makes you wonder what it would take for you to finally stand up and do what's right. Before he won fans' hearts as Jor-El or as Don Corleone, Marlon Brando was delivering one powerhouse performance after another. The most powerful is the one here, as the morally conflicted Terry Malloy, the simple dock worker/former prize fighter who spent most of his life sacrificing his principles in order to secure stable employment every day. In these times of economic uncertainty we can definitely empathize with Terry's plight. We all can't afford to risk our stability. Unfortunately we know that there are those people who take full advantage of that and gain power through fear. Brando is absolutely riveting as we see the strain of his conflict writ large across his face. He sees the pain caused by his boss's actions. He himself has even suffered for them, but it's common knowledge that everyone has their breaking point. So when Terry finally makes his final stand you feel this incredible surge of electricity coming from the ideas portrayed in this film: that no one should ever be exploited regardless of their position in the world.
Honorable Mention: Chicago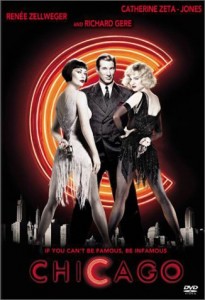 It had been four decades since a musical had taken best picture. Why was it Chicago? It really is no mystery; it is sexy, scandalous, jazzy, salacious, and hotter than the era which it portrays. Chicago is a triumph of cinematic technique. It's filmed, edited, choreographed, and directed to within an inch of its life, and with that it became the first real declaration of the movie musical's return to artistic integrity and, more surprisingly, box-office success.