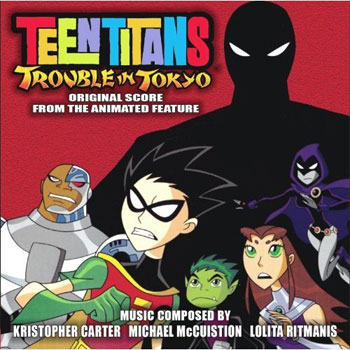 While I have never been a die hard fan of Teen Titans, I have always really enjoyed it when I got the time to see it.  I had always found the theme catchy and sometimes I have found it stuck in my head for days after watching a few episodes.  Before listening to the soundtrack I wondered if it would keep up with the upbeat theme or if the composers would try and take it in a different direction. I was not disappointed at the result.
The theme was present throughout, and it's energetic and catchy and, as I said, sticks in your head.  However they have managed to engender a feel of the exotic by straying from the traditional sounds and encompassing the thematic styles of the foreign land they are going to.  As with the Batman soundtrack, where you expect dark deep tones, with Teen Titans you expect upbeat, fast paced, driving music and in that you will certainly not be disappointed.  It's original and entertaining, exactly what I want out of Teen Titans.  Kristopher Carter, Michael McCuistion and Lolita Ritmanis certainly did their jobs in representing the music to truly fit the subject.
The composers do however know that if it was upbeat all of the time, you'd have a soundtrack that would ring flat (ha… ha… music puns…).  They have done an amazing job of making sure that the mood is appropriate and the soundtrack is cohesive.  If you like Teen Titans there's absolutely no reason why you couldn't listen to this soundtrack by itself and completely enjoy it.  It was a very fun listen, and I'm glad to see new Teen Titan happenings and hope there will be more in the future.
I think the one point on which I would offer any criticism is that it could do with a broader range of instrumentation which would enhance the flexibility of the sound.  That being said, for what they did utilize it was incredibly enjoyable to listen to and could be listened to as a stand alone album or in the context of a soundtrack.  I would definitely give this a fun 4 1/2 out of 5.