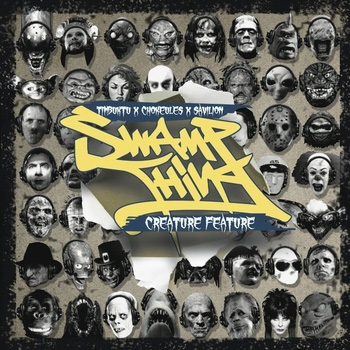 I included a brief review of this album with my most recent Halloween list, mainly to make sure that I mentioned it before Halloween, but I just listened to the album again, and it deserves a much fuller review. I didn't really do it justice in my attempt to get it out quickly. I love every song on the album, so I'll use this review to give a tour of each of the thirteen tracks.
Starting off, we have "123," which was also on the previous Grindhouse EP. I particularly love the rhyme of the chorus on this one: "It goes one, two, three, and a million. Timbuktu, Chokeules, and Savillion. It goes three, two, one, in the building. Swamp Thing, stomping, crashing through your ceiling." Next up is "B-Movie Monster." Not too difficult to figure out what this one's about. Moving away from the monsters, "8-Track Playback" instead focuses on '70s movies with epic car chases and great soundtracks (a quick Google search assures me there are plenty of these, and also tells me that I have missed quite a few great movies like The French Connection and Bullit).
"Time Machine Massacre" continues the '70s B-movie vibe with an exploration of what the crew would do if they managed to get an H.G. Wells style time machine. They travel backwards and forward in time, visiting prehistoric dinosaurs, the Morlochs, and even Timothy Leary. Speaking of drugs, I mentioned "Reefer Vendetta" in the brief review, with its riff based on the Leave it to Beaver theme song. The song itself is basically a take on the anti-drug propaganda film, Reefer Madness. Another favorite is the Star Trek based "First Contact" which features More or Les. Actually, I've been trying to get back into Star Trek again, especially in light of the ridiculousness of everything that's going on with Star Wars (yes, I'm trying to develop a Star Trek is better than Star Wars attitude. Yes, I realize how ridiculous that is, but that's how disappointed I am in Star Wars. I have a feeling that won't last knowing me, but it's how I feel right now).
Back to the monsters, zombies make an appearance in "All About the Brains." Apparently zombies don't like famous people: "It ain't about the fame or your name, it's all about the brains." Not quite monsters per se, but certainly monstrous, aliens show up in "Red Planet." Combining elements of War of the Worlds, Blade Runner, and Total Recall, the song details why anyone would want to go back to Mars. The Swamp Thing makes his first official appearance in the "Swamp Anthem." And possibly the scariest of all, "The Damned" describes the creepiness of possessed children with their pale faces, silver hair, and weird powers. Several of the songs end and are followed by movie dialogue and sometimes set up for the next song. I particularly find the end of "The Damned" amusing with "Swamp Thing" replacing "Wild Thing" in a brief parody of the latter song.
Of course no celebration of '70s horror would be complete without a reference to John Carpenter and his many movies. Wordburglar joins the Swamp Thing crew on this one. "Never Return" relates the story of any number of men who somehow unintentionally get turned into monsters (like Darkman or Dr. Jekyll) who can never return to their previous lives no matter how much they want to. And rounding out the album is the title track, "Creature Feature," with Modulok, Ghettosocks, Jesse Dangerously, Mikal kHill, More or Les, Ambition, and Wordburglar. Each rapper describes a different creature, from the Invisible Man to the Stay-Puft Marshmallow Man. It's a fitting end to the album, and a truly great collaboration.