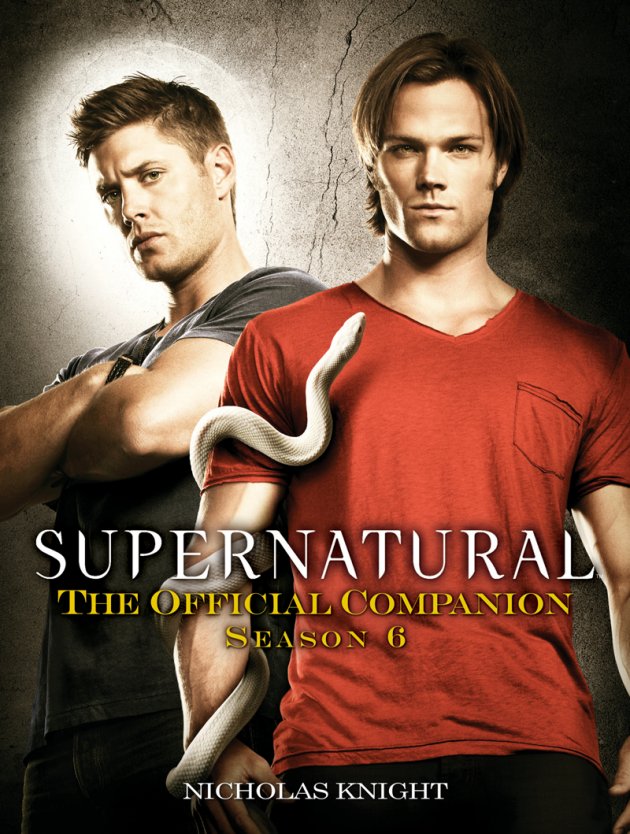 Title: Supernatural: The Official Companion Season 6
Writer: Nicholas Knight
Publisher: Titan Books
Release Date: September 27, 2011
We have just started the seventh season of Supernatural, but fans can also take a look back at the year that was with the new Supernatural: The Official Companion: Season 6 out this week. Filled with behind-the-scenes tidbits, trivia, and further information about what made the episodes as meaty as they were, this book is a must-have for any Supernatural fan.
There's a nice forward by Adam Glass, where he thanks the fans for bringing them back for a sixth season, and we're enlightened on how the show transitioned from Eric Kripke being the showrunner to having Sera Gamble take over the role. Also, if you're looking on who to blame or cheer for coming up with the Soulless!Sam storyline, that would originally be Bob Singer. It's a season about the souls, so what if Sammy didn't have his?
After that introduction, we dive into an episode-by-episode guide for the season. Each episode of Season 6 is richly covered, first with a summary and then with behind-the-scenes information on how the scripts were created, how the visuals were achieved, and even some insight into what the actors and writers were thinking when they brought each story to life. I found the factual asides to be very entertaining. Did you know that Eric Charmelo and Nicole Snyder wrote the Ringer spec script and that's what got them hired as staff writers on Supernatural? And now their spec script has been made into a weekly show airing on the CW. Or how about the first pitch Adam Glass did for Supernatural? He wondered "What if Sam and Dean had a baby? How funny would that be?" Turns out, it could be very funny and a bit frightening, too. That idea became the episode "Two and a Half Men." From a writing standpoint, I was sad to see that the ghouls in "Caged Heat" were originally supposed to be tentacles that Dean fought against, but they had to be cut for scope and budget. I will mourn the loss of tentacle horror. Maybe we'll get to revisit it again this year?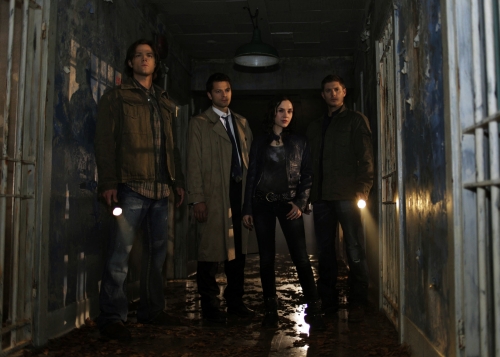 We also got to learn more about what was and wasn't allowed on the show. According to Chris Lennertz, a composer for Supernatural, bagpipes were not allowed for the musical score in "Weekend at Bobby's." And the group at Standards and Practices was looking closely at the episode "All Dogs Go to Heaven" to make sure they didn't show any naked guys or show any dogs getting shot onscreen. Priorities, they have them. And, as I'm always fascinated by the props created for the show, it was interesting to find out that Bobby's description of the Purgatory manual being made out of skin wasn't too far off. It was actually made of pigskin.
Readers even got some insight into the actors themselves. Scattered throughout the pages are quotes from the actors on what they thought of storylines and what they were up to behind the scenes. Turns out, everyone loved the sword in the stone scene from "Like A Virgin." Jared and Jensen watched it together on set and kept rewinding it and laughing. Bob Singer, Phil Sgriccia, and Alan Ackles laughed at the end result, which proved to Jensen it was a winner all around. Adam Glass praised Jensen's comedic timing and I have to agree. Jensen Ackles can do comedy very well and I would love to get to see him explore that genre even more in the future. And the fan-favorite "The French Mistake" got an in-depth 9-page section in the book. Kripke had to do some convincing to make Jensen understand what a genius idea it was, but soon both the boys were on board. I don't want to quote anything out of that section because it's worth it to read without any spoilers. Everyone had fun on that episode.
There were also Closer Look sections throughout the book that detailed more on the Okami, The Goddess of Truth, Skinwalkers, Fairies, Alpha Monsters, Dragons, Arachnes, The Fates, The Phoenix, and The Mother of All. If that doesn't tickle your mind, there's also character pages on all the key players of Season 6, wonderful color pictures of the cast as well key props from the show, and two essays written by Dean Winchester to end the book: "11 Clues Your Brother Might Not Have A Soul" and "11 Signs Something Scarier Than The Apocalypse Is Coming." They were a delightful read.
So be sure to pick up your copy of Supernatural: The Official Companion Season 6 and prepare to be enlightened about your favorite show. I will be referring back to it again and again as I rewatch the season. How about you?
Rating: 5 / 5 Stars