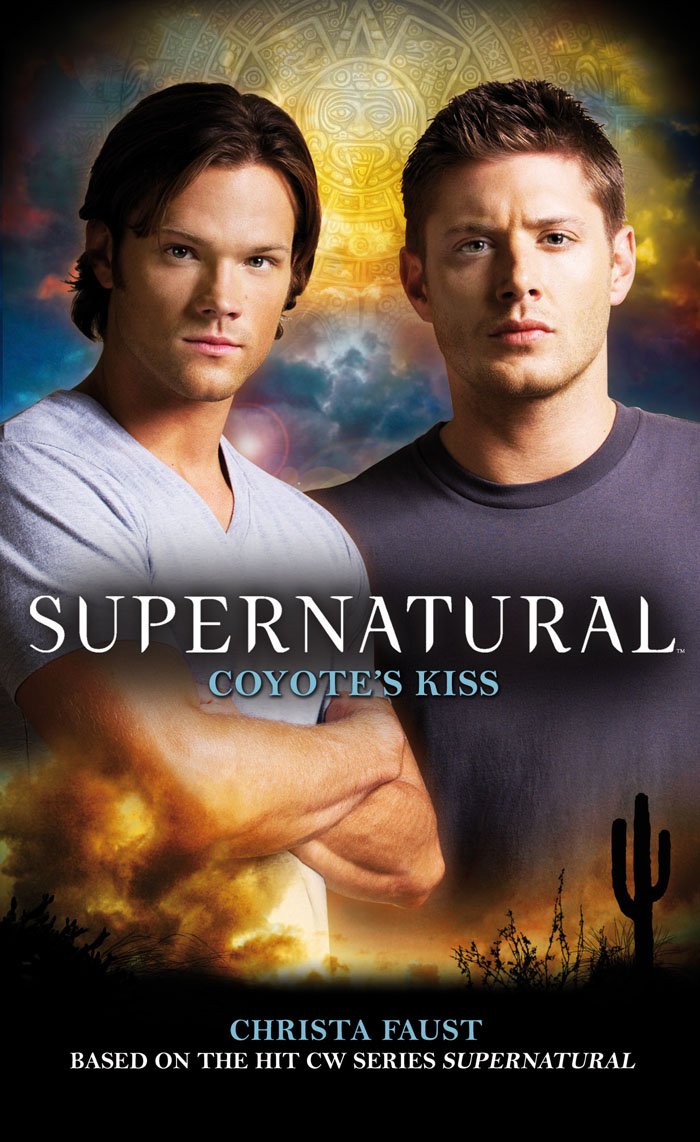 Title: Coyote's Kiss
Author: Christa Faust
Publisher: Titan Books
Release Date: July 12, 2011
The new Supernatural novel Coyote's Kiss holds much potential for readers. Set between the episodes "Caged Heat" and "Appointment in Samara", that meand it's supposed to be pure Soulless!Sam. Additionally, the case they're chasing takes them across the border into Mexico, a journey that is few and far between for the Winchesters. So, yes, it's set up to be a great filler for the boys. Whether it provides that entertainment flawlessly is debatable.
I will commend Christa Faust for the case that was created in this novel. It's rich and complex and had me engaged the whole way through. Immigrants are trying to cross the border into the United States, but many of them have come to violent ends. That's when the Winchesters get involved, as they head down south and run into another hunter by the name of Xochi. A strong female hunter — they do exist! And Dean's attracted to her, being that she's essentially the female version of him, but the interrelation of the two works well in the novel, as does the progression of the case and how each issue was uncovered and dealt with in a manner fitting a strong hunter. If you're going into the novel solely for the richness of the case, you're not going to be steered wrong.
However, the characterizations of Dean and Soulless!Sam felt a bit problematic to me, mainly in the latter. Dean was mostly canon compliant. His comments and actions towards others appear to be exactly what I've come to expect from him on the show. His relations with Soulless!Sam, however, didn't reflect the actions I saw Dean have towards his soulless brother on the show. The fact that you're seeing the plot through Dean's eyes may color Soulless!Sam's characterization a bit, too, but I don't think that should be used as the baseline of forgiveness for the inconsistency seen. I'm a big fan of Soulless!Sam. His humor and actions were quickly my favorite of this incarnation of the younger Winchester. But I feel that Faust relied on the brothers' prior interactions a little bit too much, which meant the novel's version didn't ring true. We know from the show that Dean didn't trust this version of Sam. In fact, he felt creeped out by him. Soulless!Sam, on the other hand, didn't feel anything for Dean. He knew he should care, but he just didn't. Their brotherly bond wasn't the same as before. In this novel, there seemed to be way more trust and caring than should be present at this stage of their lives. I didn't get the richness of Soulless!Sam out of this, but instead I felt like I was seeing Sammy with some flat jokes thrown in. It could have been worse, but it could have also been better.
But don't let the minor flaws dissuade you from reading this novel. It's a great addition to the Supernatural tie-in market and it's one of the better ones to come out so far. I commend any writer who seeks to take on Soulless!Sam's characterization. He's a hard one to pin down. Thankfully, his brother's there to pick up the slack in terms of canon characterization and there's a case that could very well be featured on the show. No book is perfect, but this one tries hard. I'll keep it on my shelf and probably re-read it again. It's the Winchesters, for better or worse.
Rating: 3 / 5 Stars