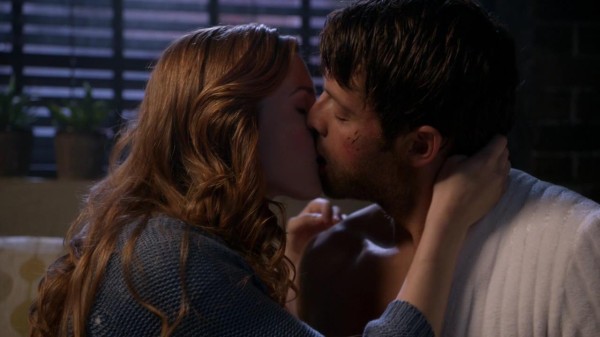 So far, this season of Supernatural has been hitting it out of the park in terms of character development. Between Human!Cas, Ezekiel!Sam, and Lying!Dean, it's been a fun ride. However, once these three characters all get on the same page, there's bound to be some drama to come. For now, though, we all live in a blissful state of happiness.
Note: This recap may contain spoilers!
Angels are evil (with a few exceptions). That's pretty much what we've been taught on this show. Remember in the good old days when we had Balthazar and Gabriel and Cas… the nice ones? Now we have every angel imaginable out to kill either the Winchesters or Cas or both. For all their dirty deeds, though, I am enjoying the new leader who is taking Naomi's place. Bartholomew is going to be an interesting character to watch because he not only has a drive to be the ultimate leader, he doesn't really have ties to Castiel that would make him diverge from his plan. He's mostly no-nonsense, this is the way it is, and everyone should be in awe of the power he wields because he can break you just as easily as he can elevate you. I'm sure Buddy Boyle didn't know quite what he was getting into when he teamed up with his angelic partner in crime. Seeing your young assistant explode with the power of Heaven inside her is bound to cause some mental trauma.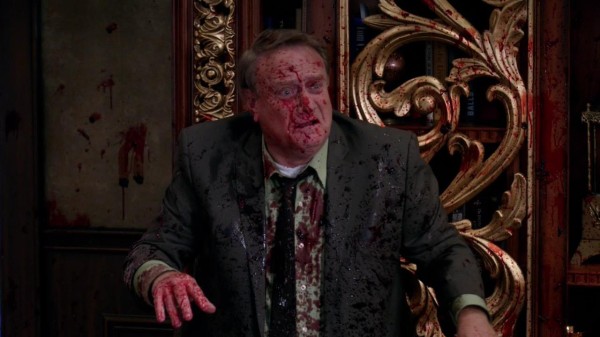 Perhaps Human!Cas is in a better position now. At least he's not bound by the rules of Heaven — though he is now mortal and having to learn all about what that means. I have always preferred Cas more the closer to human he has gotten. When he was losing his powers in earlier seasons, I could feel my enjoyment level going up. Now that he's lost his grace and is completely human? My enthusiasm is through the roof. He's naïve, but trying to learn. Plus, he's apparently able to pick up ladies even when he's digging through the trash for food. Yes, this was a big sticking point for me, as was the whole sexual encounter he had with Reaper!April. The girl takes him home like a lost puppy so that he's not stuck out in the rain, bandaging his wound and showing compassion. Why is Cas's first instinct after that to learn what the whole sex thing is all about? This is someone who has remained a virgin for longer than anyone can count, yet he's human for a few weeks and he falls into bed with a woman with no hesitation? There was no awkwardness, no debating, just straight to the sexy times. I mean, I'm both confused and turned off by that characterization. Yes, Dean would be proud of his success, but he couldn't even figure out how to brush his teeth a few days ago. What in the world is going on in his head?
And we haven't even gotten into the Ezekiel side of the whole situation yet. When finally Cas has been found and has been brought back to the safety of the bunker where his two (only) friends welcome him with open arms, he is suddenly cast out again without a real explanation. It's not like Dean would ever tell him the truth. No, Dean's whole life lately is about how many lies he can tell to cover the ever-increasing impossible situations he seems to get into. At some point, the whole "Sam, you went unconscious" thing is not going to work. There are gaps in Sam's awareness, in his conversations. Suspicion is going to rise as time goes on, but what can Dean say? If he tells the truth, Sam gets mad and casts Ezekiel out. If he doesn't tell the truth, he's just prolonging the lies and dragging more and more people in until something breaks. Also, he and Zeke need some kind of code word or something because Sam's going to start thinking Dean's having a mental break with the way he's acting. Their exchange in the car was hilarious, though. Poor Sam, so unaware.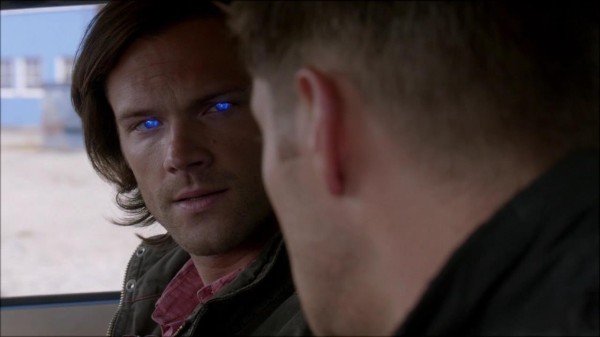 I am highly suspicious of Ezekiel, and continue to be so. He goes on and on with his "I'm helping" spiel, yet he does things that make you wonder what he's hiding. He doesn't want Cas to stay in the bunker because the angels will find them… or is it that he doesn't want Cas to learn the truth, and thereby Dean will find out the truth? That Zeke isn't really a good guy. That Dean just condemned his brother because he couldn't let Sammy go. I feel it's coming. Giving Dean the ultimatum was a guaranteed win for the angel because he knows that Dean would never choose anyone else over Sammy. What will Ezekiel do with this knowledge? How far is he going to push Dean before it's all over with?
However, despite me being continuously creeped out by Ezekiel, Jared is doing a great job portraying him. I love that he switches back and forth mid-conversation and that you can tell when he's changed by just the way he carries his body. Dean's bound to get whiplash with all this back and forth, but I'm loving it. I'm also loving the brotherly banter that we're getting, like the pie conversation, and the continuance of Dean's settling in to the bunker with his coffee and dead guy robe. He loves that robe, even if Sam wants to banish it. I hope we get to see more brotherly back and forth, and more bunker exploration, this season. There are so many mysteries contained in their home. Let's see what they can find!
Rating: 4 / 5 Stars
Screencaps by spn-caps