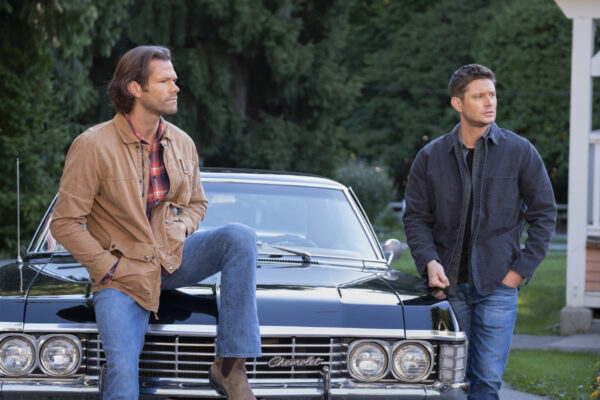 The end of the road has come for the Winchesters and the fans. For fifteen years, we've watched Sam and Dean grow, change, and survive against the worst odds. And in this last story, we were brought onto a roller-coaster of emotions before reaching the final ending. It was a love letter to fans and a fitting ending to the road we've been on.
Note: This recap may contain spoilers!
Now that the boys are free of Chuck's control, they can do anything. The path ahead of them is filled by their own choices. And they seem to be enjoying that freedom quite well. Dean is reveling in just being happy, waking up without the threat of impending doom looming over him. Plus, he got to keep Miracle the dog, so for that I'm very happy. We were treated to a collection of shots of the Winchesters just enjoying domestic bliss. Sam gets to go running and enjoy the beauty of nature around him. They get to make breakfast together, do laundry, clean the guns. It's a wonderful feeling.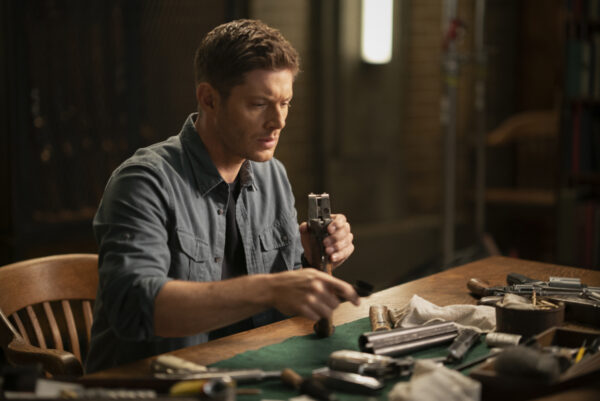 I absolutely loved that, with no weirdness around or cases to head out to, Dean got to experience the joy of a pie festival. And the brotherly banter throughout the visit, from the wealth of food to Sam throwing the piece of pie in Dean's face, was such a feeling of love and a throwback to the simpler times when the weight of the world wasn't resting solely on their shoulders. As Dean said, even though they miss Cas and Jack, they have to go on living. It is a tribute to those who they've lost to carry on, else the sacrifice would be for nothing. Sad that this was an unknown precursor to what was to come.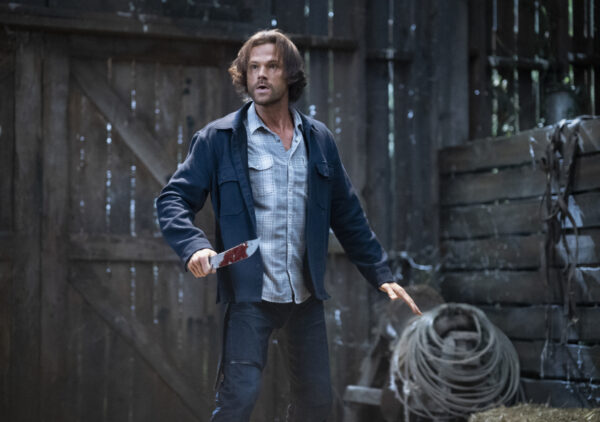 They do find a case, which mirrors one their dad journaled about back in 1986. A group of vampires with skeleton masks on break into a home, torturing the parents and kidnapping the kids. Dean's enthusiasm for the case just brought back the nostalgia of Season One's approach to "Saving People, Hunting Things, The Family Business." And we even get a connection to that season, with the inclusion of Jenny in the vampire nest. You would think they'd easily take care of the case, considering they very quickly kill two of the vampires before they can kidnap other children and also manage to get the original children free before taking on the vampire nest. Yes, it was a rough fight, but they have come out the victor in much more dangerous circumstances. But, alas, this time is the final fight for one of the Winchesters.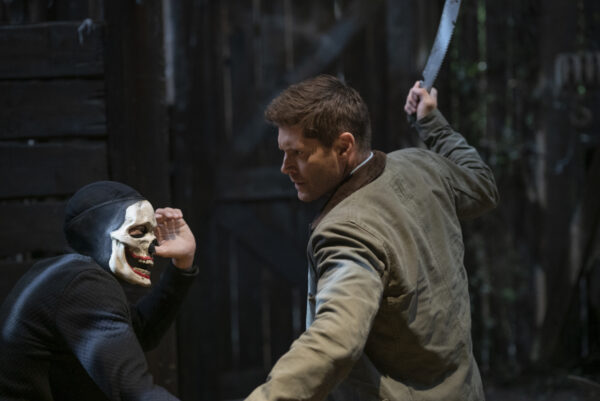 I have a lot of feelings about Dean's death. That he was impaled during the fight, rather than being killed by a monster directly, was very satisfying to me. And his death mirrors Sam's back in Season Two, so it was poetic in a way. But that doesn't mean it wasn't hard to take. I started crying during that scene and did not stop the rest of the episode. I still haven't stopped as I'm writing this. Dean knew he was going to die and the fact that he doesn't want Sam to leave him, for fear he will die without his brother there, was so hard to take. But he got to tell Sam how proud he was of his little brother, how much love he has for Sammy, the fact that it's always been "you and me." And he got to request reassurance that Sam would be okay without him. The exchange was verbatim from the pilot, which was a touching tribute as well. Sometimes, the hardest thing isn't to die for someone, but to go on living for them.
Sam: I can't do this alone.

Dean: Yes you can.

Sam: Yeah, well, I don't want to.
And Sam does try. After giving his brother a hunter's funeral, he tries to carry on, but the depression and grief is often overwhelming. He goes through the motions of daily life, but there's no passion in it. And when he goes into Dean's room to just surround himself with the memory of his brother, that almost broke me, too. But time doesn't stop and neither do the hunts. Sam receives a call from someone Donna knows, a lead on a possible werewolf case, and he has to push on. With one last glance at the home he built with Dean, he turns off the lights in the bunker and heads out to a reality of being without his brother by his side.
Meanwhile, Dean is getting a taste of peace and serenity in Heaven. And it's a changed Heaven, too, thanks to Jack and Cas' intervention. No longer is Heaven about reliving old memories, but instead it's about making new ones. He's greeted by Bobby out in front of Harvelle's Roadhouse. Rufus is living around there, too, as well as John and Mary. Plus, Baby is there with her original license plates. It's almost perfect, except for one thing. But that will be made right eventually. Time works differently in Heaven and, when it's Sam's time, he will join his brother. In the meantime, Dean gets to ride the roads with "Carry On Wayward Son" playing on the radio and enjoy the peace of knowing he no longer has to fight for the world's survival. He has earned his rest.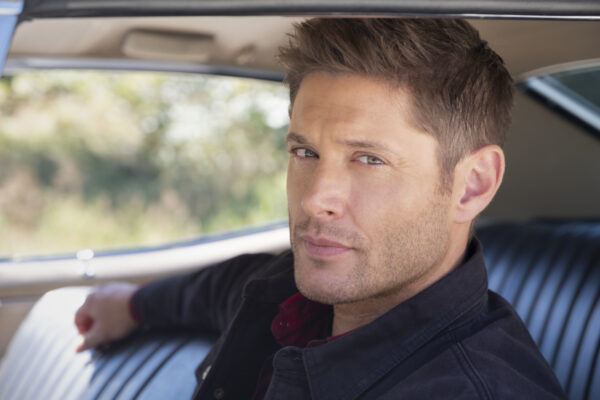 We get to see Sam as he journeys through life without his older brother and it's a lovely tribute to him nonetheless. Sam has a son who he names Dean, gets to see him grow up and become a man. And it's implied that the line of hunting carries on through Dean Jr., as he has the protection tattoo on his arm. But despite the life Sam has lived, he has always carried his brother with him. He wears Dean's watch and takes solace by sitting in Baby when he needs to feel a connection; placing his hands on the wheel where Dean's once were. And on his deathbed, surrounded by pictures of his family, Dean Jr. speaks the words that Sam did once long ago. He tells his father it's okay, he can go now. And with that earthly release, and a haunting rendition of "Carry On Wayward Son", he is free to rejoin his brother once again.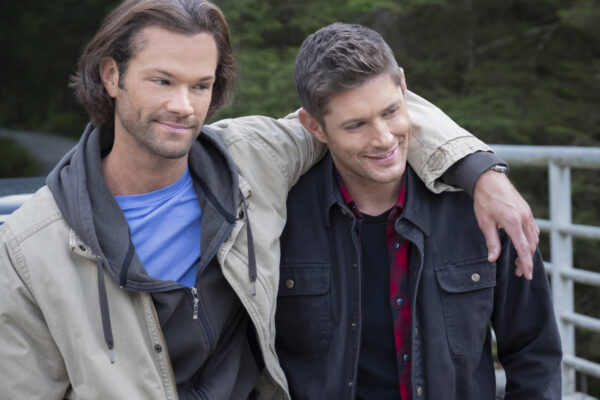 We get a final scene of the Winchester reunion and it's an overwhelming emotion for the audience, to say the least. Dean's driving towards a bridge, then stops to look around. It's then that he feels a presence and knows that his perfect Heaven has finally come to be. Time, for him, hasn't passed as much as it has for Sam, but whether it's a few minutes or a few decades, the Winchester bothers are together again. And their outfits are a callback to the pilot, where we began the journey with them. It's been a wonderful fifteen years and the boys are finally happy and free to ride the roads together for all eternity. Thank you Sam and Dean, Jared and Jensen. There is truly peace when you are done.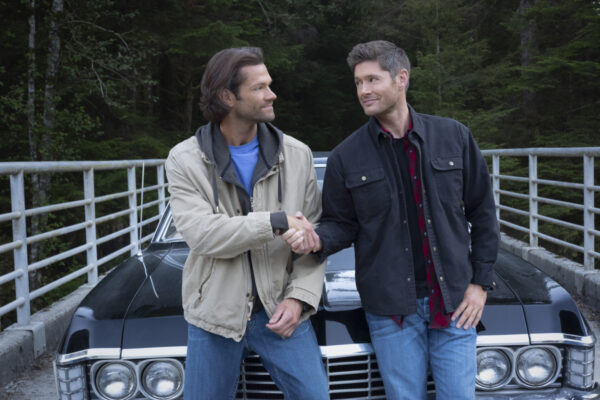 Rating: 5 / 5 Stars