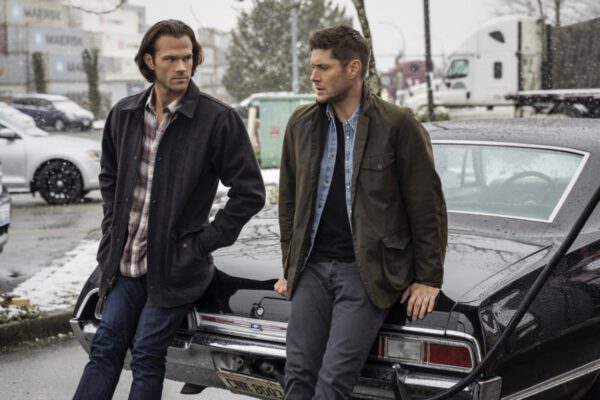 We had an even split this week, with Dean and Sam focusing on Amara while Cas and Jack took on a case involving ritualistic murders. And we even got to see some familiar faces in new roles, while learning some truths behind the mission to kill God. The end is coming soon.
Note: This recap may contain spoilers!
The episode kicks off with the case that Cas and Jack will eventually pick up. Centered around a church community center that serves the homeless, we meet a non-traditional preacher and a group of teens that are not as accepting as they could be. And they will play a larger role in the case itself, as the first victim is Conner, a boy who is attacked as he walks home. Hearing shouts from an alley, he is tripped and faced with a talking teddy bear before being strangled. He is ultimately marked with the words Liar carved into his body, with his fingers stuffed down his throat. Bloody ending for a seemingly okay young man.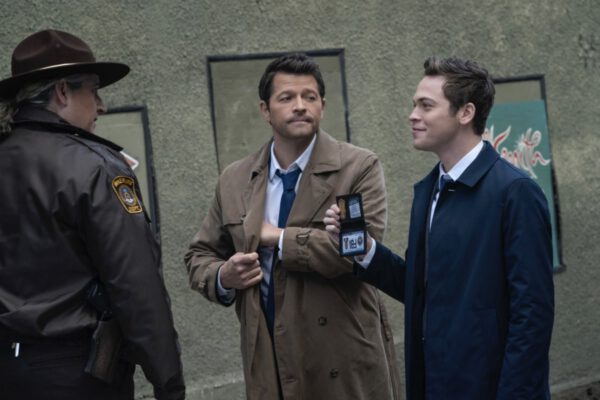 I like that Sam suggested Cas and Jack take the case, much to Cas' objection. They could help solve a murder and ultimately help distract Jack from the impending mission he's set upon. And he's such a cute FBI agent, trying hard to do good even when he's awkward. Kind of like one of his adoptive fathers when he first started learning hunting. And Jack has a lot weighing on his mind, as we soon learned. Being tasked to kill God and his sister in order to save the world is a tall order, but one that Jack is carrying because he thinks it's the right thing to do.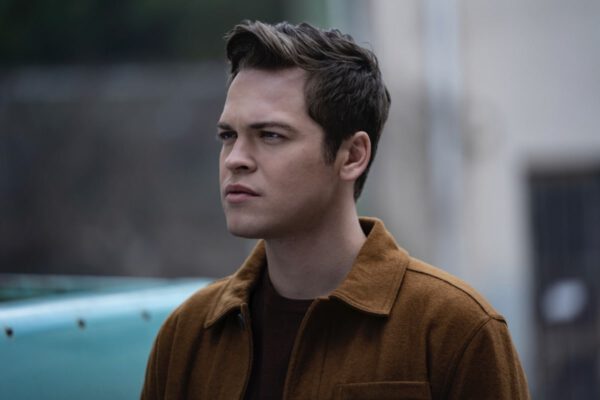 The case itself was intriguing as it unfolded. Someone was punishing people in the community for their sins – Conner as a Liar, Brother Rudy for Lust, and the last victim was Valerie for Greed since she was stealing donations from the community center. Her slow torture of getting a finger cut off every three hours, with her destruction being broadcast as well, was an interesting glimpse of horror. And it was a cool twist to have it be the preacher's daughter, Sylvia, who was dealing out the punishment in a way to avenge her mother's death. Her outcome doesn't look too bright, especially since the police officer that drove her away was the Crossroads demon Cas and Jack met prior. I wonder if she or he will play into the plot moving forward.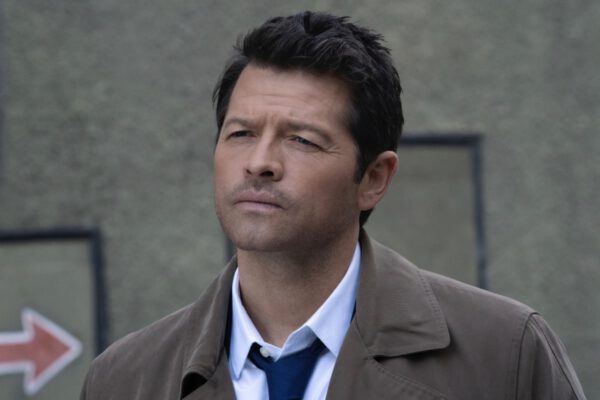 As a result of the investigation, we did learn a few more things that may have a lot of significance for the final outcome. We found out that Cas found his purpose again when he became a father to Jack. And we also learn that Jack feels like he's often letting his fathers (Dean, Sam, and Cas) down. The latter is probably why he's so committed to what will ultimately be a suicide mission to take down God and Amara. He finally admits to Cas that he knows that will be his outcome, as Billie made him into what is essentially a bomb. He will be able to take out the Heavenly duo, but he will die in the process. Knowing Cas, as well as the boys, I don't think they're going to take that outcome quite so easily. We also found out that Rowena's instituted a no new deals policy, as she believes that people will end up where they belong. So, should Sam or Dean or their extended family die, there will be no trading of the souls for their return. I hope that's not the outcome, but I fear it might well be.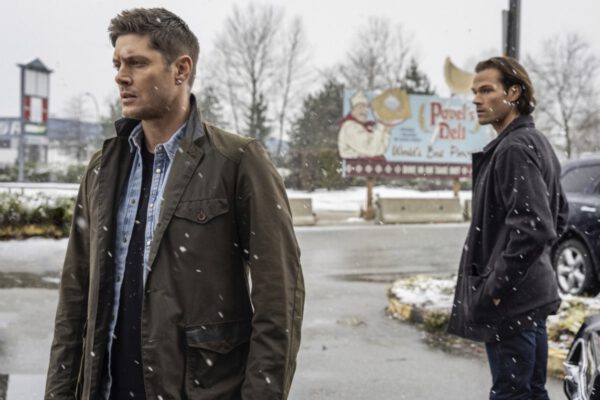 Turning to the boys and their pursuit of Amara, Dean's lead was what split them up from Cas and Jack in the first place. There was an unexplained blackout in Atlantic City and Dean thinks it's the work of Amara. Perhaps it is, but the only way they'll find out for real is if they investigate, so on the road they go. They don't quite make it all the way there, since Amara finds them. She knew they were looking for her and here she is. Her brother's been busy destroying the other worlds and she says there's nothing Dean or Sam can do. But don't count the boys out just yet. The question is whether Amara will help them carry out their plan.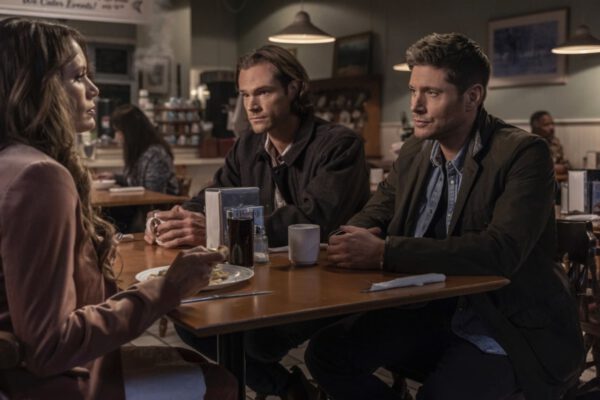 At first, she's not on board. Amara doesn't want to help Chuck, but she also doesn't want to betray him. However, a little one-on-one conversation with Dean seems to change her mind and also offer us insight into her reasoning for bringing Mary back in the first place. While it was a gift, she also wanted Dean to see that Mary was just a person, not the myth he hung onto his whole life. And perhaps it would help quench the fire of anger that always burns inside him, but that didn't work out quite like she planned. Dean's still angry and the boys are still determined to take down Chuck. Hopefully Amara is on their side when it's time to do so. Whatever the outcome, I'm sure it's going to be sad and bloody. The end is coming and we can't stop it, so enjoy the terror-filled ride until it's all over.
Rating: 5 / 5 Stars