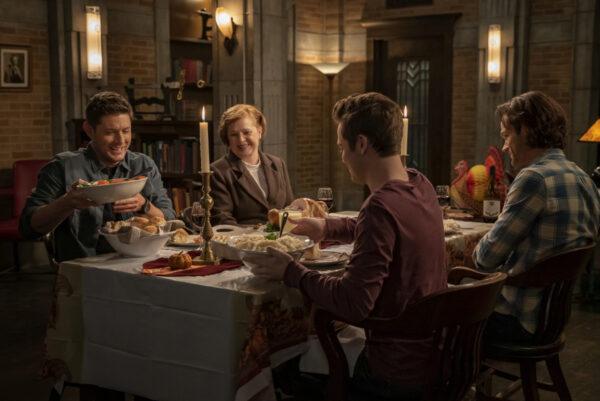 The boys are back! After seven long months of dealing with the pandemic-related hiatus, we are are heading into the last episodes of the show ever. And this returning episode was a nice, light storyline to get us back into the swing of things.
Note: This recap may contain spoilers!
We are treated to a bunker-centric episode this week. The boys are settled into a domestic scene, with Sam doing research and Dean making burgers. However, all is not well in their home. First off, Jack's been holed up in his room dealing with the return of his soul. He's been having to acknowledge and accept everything he has done, including killing Mary, as well as everything he has to do in order to save the world. It's hitting him very hard. Added to that, the bunker's been having some issues of its own. They keep hearing weird noises throughout the bunker and Dean noticed other odd things over the course of the week. What could be going on?
As the air goes out, that is the final straw for Dean. Along with his brother, they head down to the basement to try to fix the pipes. Hey, they've saved the world. Surely they can do a few home repairs. Well, maybe if they weren't living in a supernatural secret bunker. And Dean's method of computer repair is not easily applied to the bunker system, as we soon see. Instead of fixing all their problems, Dean actually released Mrs. Butters, the wood nymph that's been locked in stasis since 1958. She had placed the bunker and herself in standby mode when the Men of Letters never returned from the ceremony.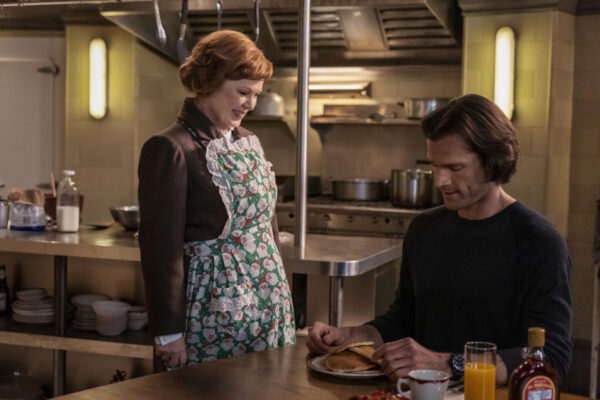 On the plus side, Mrs. Butters' re-entry into the bunker has some positive benefits. Her power gives the bunker an extra boost so it can run at full capacity. That means the interdimensional geoscope works, as does the map table radar that helps them track monsters. The latter is quite a nice tool, since they can identify vampire nests and other monster locations. Easy hunts, easy outcomes. Plus, Mrs. Butters is determined to take care of them, so there's home-cooked meals and holiday celebrations galore. Quite a lovely change from the always-on-the-go, world-ending life they have had to live.
On the downside, Jack's presence does not sit well with Mrs. Butters. She couldn't identify what he was when they first met, but instantly was on guard. Though she appeared to be accepting of him, and welcomed his halting admission over the guilt he carries for Mary's death, she was also wary of who he is underneath. But Jack's suspicious of her, too. After finding her going through some files late at night, he reads them and discovers who she really is. In actuality, the Men of Letters made her into a violent tool to destroy all who were seen as monsters in the world, human or supernatural alike.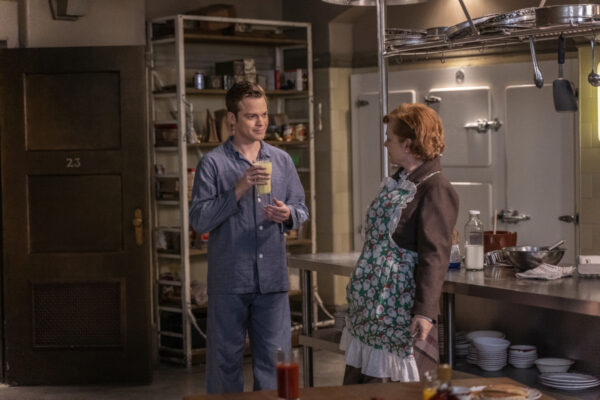 The expected confrontation comes and we find out that Mrs. Butters has been dosing Jack with the smoothies he's grown to love, stripping him of his powers. Defenseless, she cuffs Jack and keeps him in the dungeon before going upstairs to take care of her boys. She gives Dean a sandwich and tells him he will need his strength to kill Jack, then offers him a knife. Not so fast! Dean's not keen on killing his adopted kid, so Mrs. Butters throws him in the dungeon as well. One brother lost, maybe she'll have more success with Sam.
Of course, Sam's not on board with the killing either, and he gets tortured as a result. Poor Sam and his fingernails. Dean and Jack have to deal with their own rescue, which involves throwing Jack through the door. Come on, walk it off, you're an adopted Winchester! And, once again, Dean tries the whole reset solution to take care of Mrs. Butters, which does nothing but energize her even more. However, I'm glad to see that Sam could finally get through to her and make her realize that the Men of Letters had only been torturing her, using her for their own gains. So, with a lot of apologies and a healing hand over Sam's injuries, Mrs. Butters departs and the bunker is back to half-power once more.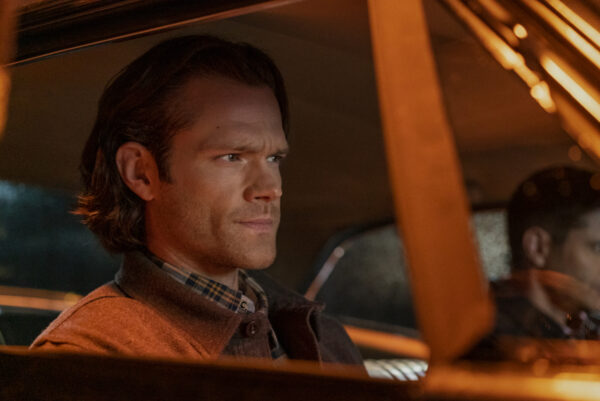 Now it's back to saving the world yet again. I worry about Jack and his mental state. It's a lot of pressure to be under, tasked to save the world and kill both God and the Darkness. Plus, the fractured relationship with his adoptive fathers is still healing. While I have confidence that Jack will try his best in all that he's asked to do, I just hope it's enough to achieve the outcome they all want. Or that we want, for that matter. The end is near. Let the countdown and tears begin.
Rating: 5 / 5 Stars