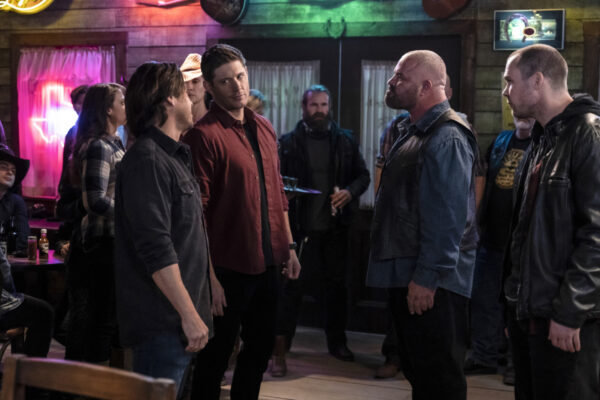 Dean works a case and meets an old friend who is more than he seems. Sam gets blasted and is on the verge of death. A typical day in the life of the Winchesters.
Note: This recap may contain spoilers!
First off, I have to say that I loved everything about the Dean storyline of this episode. That may be due to the fact that I adore Christian Kane and have been waiting for him to appear on the show for years. Whatever the reason, those two clicked and gave us an hour filled with love and laughter and some harsh realizations about the burden the Winchesters carry. No matter what path others take, it's always up to Sam and Dean to save the world.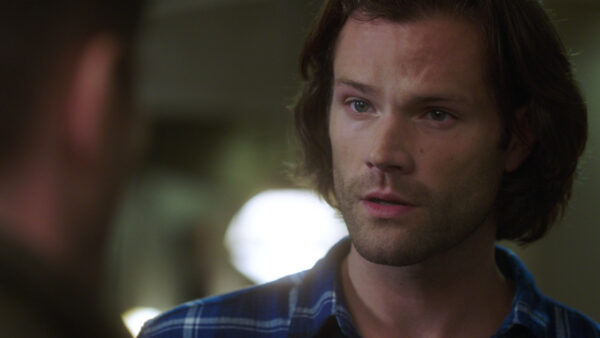 We start off in Texhoma, Texas over at B's Sugar Bar with two girls emerging from the bar, one of whom is very drunk. While the inebriated girl, Sally, goes off to throw up, her friend Angela disappears, along with her car. While Sally is convinced her friend got raptured, something much more sinister is going on. Angel wakes up tied to a chair and is being drained of her blood, while a monster lurks in a cage in front of her. Thus begins a potential case.
Back at the bunker, Dean's making headway on lots of beers in his room. He has not been able to find any supernatural incidents until he happens upon the girl's disappearance. This gives him something to focus on, which is good because he's been drifting a bit with the hopelessness he's felt over the whole Chuck situation. However, he doesn't want to work the case with Sam. Instead, he insists that Sam stay behind with Eileen and enjoy her company. It does seem like Sam's enamored with the back-from-the-dead young lady. Nice to see the potential there.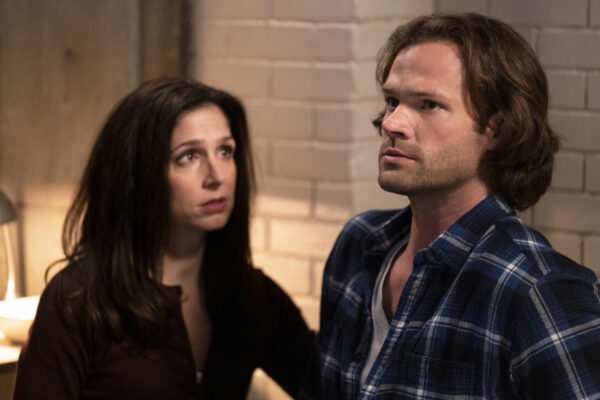 That's where the storylines split and we get to enjoy a wonderful walk down memory lane with Dean. While the sheriff seems to think Angela left on her own and the case is not a disappearance, he does point him in the direction of another local drinking establishment – Swayze's bar. As Dean arrives, we get a nice soundtrack of Christian Kane's "House Rules" and once inside he finds his old friend Lee Webb, played by Kane, singing onstage. Turns out Dean's old hunting buddy owns the place and thus begins a lot of drunken reminiscing of times gone by.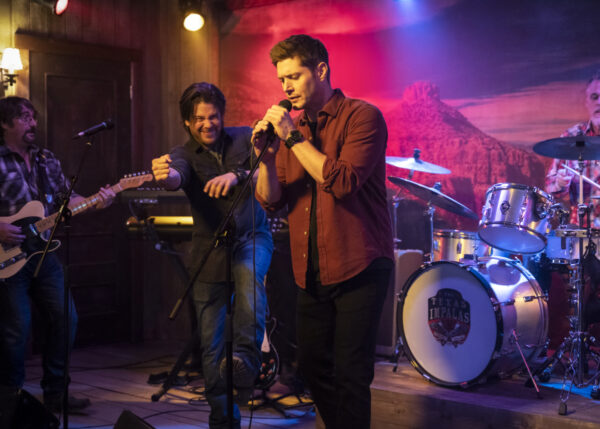 After recalling past times with John and once again seeing the pain Dean carries for his lost father, we get a bit more background on what Lee's been up to. Dean hasn't seen Lee since Sam went to college. The last hunt they did together was a cult thing in Arizona and then Lee did one more case after that, but then he decided to quit and build a life for himself with the bar. Dean does not have that luxury, despite Lee's insistence that Dean deserves a break after all the lives he's saved.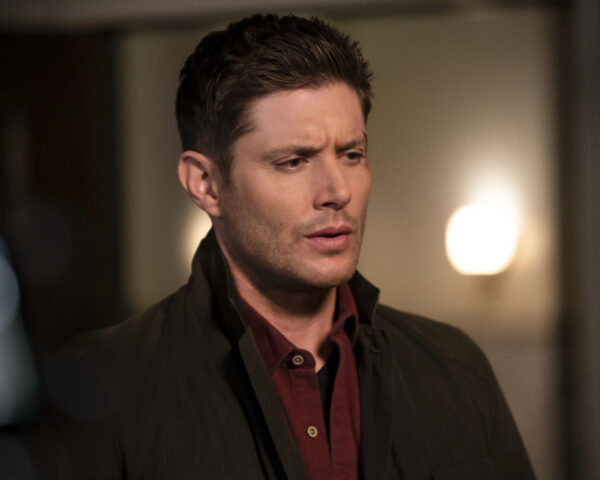 Focus turns to the current case Dean's working. Lee claims he doesn't recognize Angela, but the waitress, Lorna, reminds him that the girl is in there all the time. Lee covers his memory lapse, but I grew suspicious of his slip-up. However, there were more fun times to be had, so I let it slide. After all, anyone who can get Dean up on stage to sing a rendition of "Good Ol' Boys", the song John used to play for them before they headed out on a hunt, couldn't be bad, right? As an aside, I really loved that we got to see Christian and Jensen singing together. I love both their singing talents, so getting to feature it in the show was wonderful.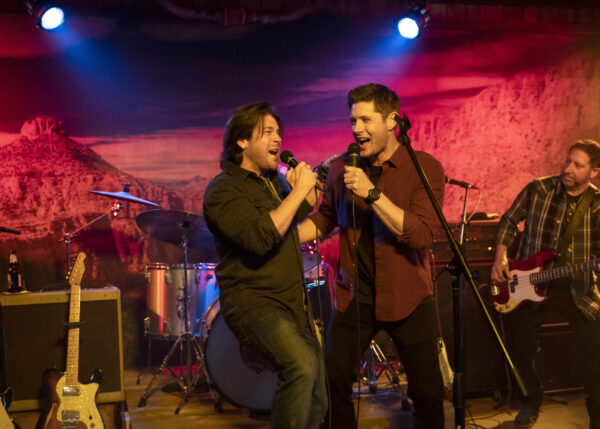 What was also wonderful was that we got to see Dean and Lee invoke Road House rules when a couple of bikers start harassing Sally. Hey, the bar is named Swayze's, what else did you expect? After that, Dean gets to talk to Sally about the night her friend disappeared. While Lee thinks Sally's talking crazy over the whole rapture thing, he goes agree to work the case with Dean. It could be like old times! Or maybe not, since Lee has a second round of acting suspicious. With the idea of tracking down Angela's car, Lee says the most likely place to dump a car would be the lake. Lorna the waitress disagrees. The most logical place would be Merle's scrapyard. So, the two split up – Lee to the lake and Dean to the scrapyard.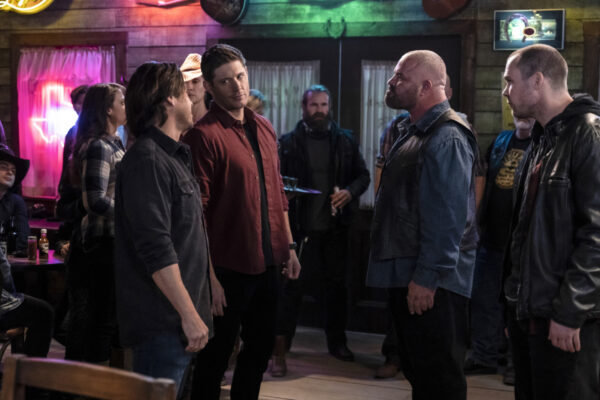 Sadly, my instincts were right. Dean finds Angela's car at the scrap yard, but it's been stripped, and Angela's laying dead in the trunk. It's then that the whole case kicks into high gear. Suddenly, Lee's there with a gun pulled on Dean and then he hits him over the head. When Dean awakens, he's tied up and being drained of blood, just like Angela was, and the monster's waiting to be fed his blood. The truth of the situation quickly comes out. The Arizona hunt messed Lee up and he found the monster, a marid, on that last hunt he did. As long as you feed it, the marid gives you money and health, both of which Lee's benefiting from now. And while Lee regrets the fate that lay ahead for his friend, if it's a choice between him and Dean, he's going to choose himself.
Thankfully, after Lee leaves, Dean manages to escape, but the fate of Lee will not be so positive. Dean kills monsters, and Lee has become one. Dean arrives at the bar, throwing the head of the marid out towards Lee before making his entrance. First a shootout commences, then a hand-to-hand fight. Quite nice fight choreography, too. And finally Dean stabs Lee in the stomach with a broken pool cue. While Lee's glad it was Dean who finally took him down, it does reiterate the notion that the Winchesters cannot have friends because they either go evil or die or both. Sad times.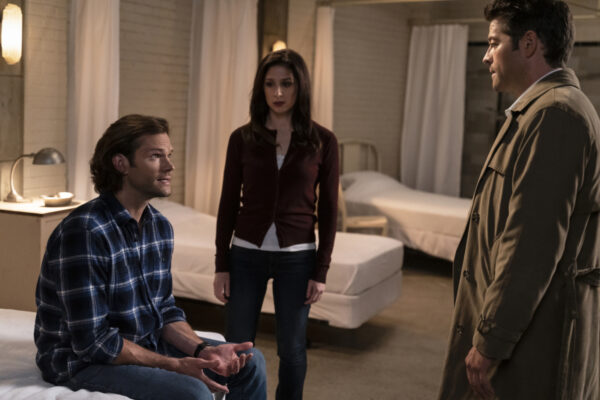 While all this went on, we had the play-through of Sam and Cas trying to probe his wound and feel out the connection to Chuck. It did not go well, resulting in Sam being thrown against the wall and rendered unconscious. And we find out that the connection is pulled so tight that it's possible at some point it will snap and kill Sam. Not a good thing to look forward to, but Sam does realize that he managed to get into Chuck's head and see what he's experienced, so maybe they can use it to their advantage and actually defeat God. A lot is riding on this possibility, but I fear it will be at the cost of Sam's health before it's all over. But that's the path they're on and one we're pursing right along with them.
Rating: 5 / 5 Stars
Screencaps by SupernaturalWiki