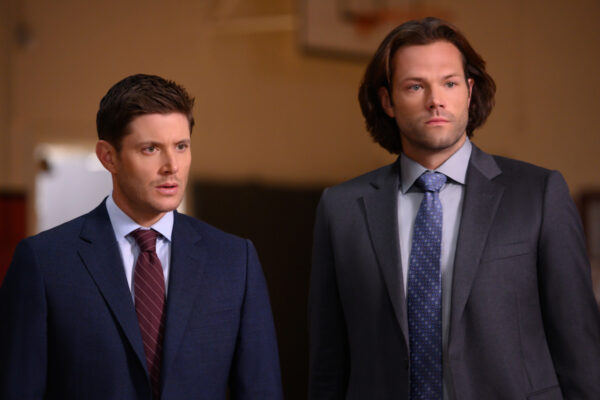 For Jensen Ackles' last go-around as a Supernatural director, we got a nice combination of interesting visuals, a wonderful soundtrack, and a storyline that was an ominous hint of some depressing outcomes that may be in the Winchesters' future. We're on this journey to the very end!
Note: This recap may contain spoilers!
Starting off the episode, we got a violent nightmare scene with Dean making his way through the bunker as he fights against his attackers and witnesses his comrades-in-arms fall around him. We even got a glimpse at Benny! As always, nice to see some familiar faces even if it's just briefly before they die.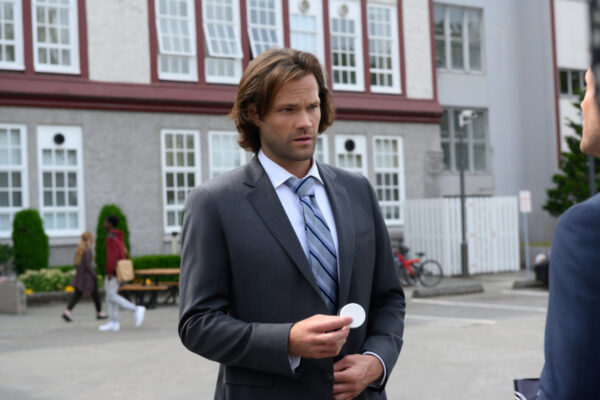 It soon becomes clear that the mastermind behind this bloodbath, and one that has extended even beyond the bunker itself, is a possessed Sam who is powered-up from his demon blood. Even his brother's pleas do nothing to stop his destruction and he ultimately snaps Dean's neck. We then find out that it's not Dean's nightmare playing out, but rather Sam's. He is not doing okay and that fact is very evident throughout the episode.
To help Sam deal with not only Rowena's death, but the entire situation they are in, Dean tries to take his mind off of things for a while by suggesting a hunt involving a couple of cattle mutilations and a dead cheerleader. Just the two of them, on the road, doing what they do best. It seems like a good plan. And I appreciated the brotherly caring and banter that Dean extended to Sam during breakfast as well. No matter what, Dean wants to take care of his little brother.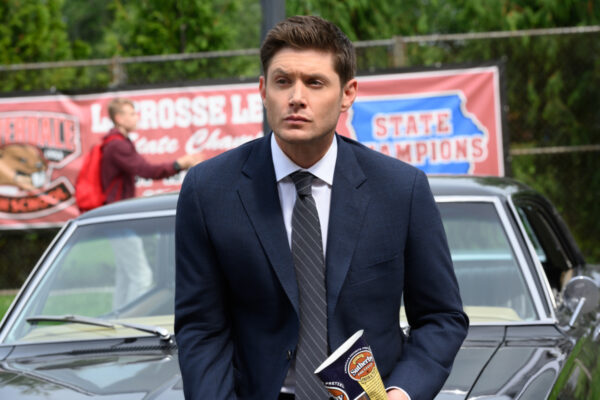 The case was indeed pretty straight-forward, as they figured out it was a vampire as soon as Dean found a fang on the body at the morgue. What became the real mystery was who among the high school students might have been the culprit. After a second cheerleader was killed as well, as it seemed to be going down the scale of popularity, the boys zero in on the new queen bee of the cheer-leading squad. Too bad it couldn't be her, though, since she wears braces and could not fang-out. Back to the drawing board!
The hints were very obvious that the killing centered around Billy, the football star, and his parents. While the Winchesters thought it was Billy's dad, and there was a girl tied up in the garage getting her blood drained, I clued in that it was Billy before Sam figured it out. His parents were overbearing and trying to force him into some type of normality, while he kept trying to get them to understand that was a dream that they would never get to have. He knows he's a monster and cannot stop killing, and he certainly cannot have his parents continue to help him find victims just so he can survive. There's only one way out of this and it's through his death. I have to say that I really, really liked that we got to have Jensen singing as a soundtrack to the case wrap-up and subsequent killing of Billy. Not a pretty sight, but a very nice audio accompaniment.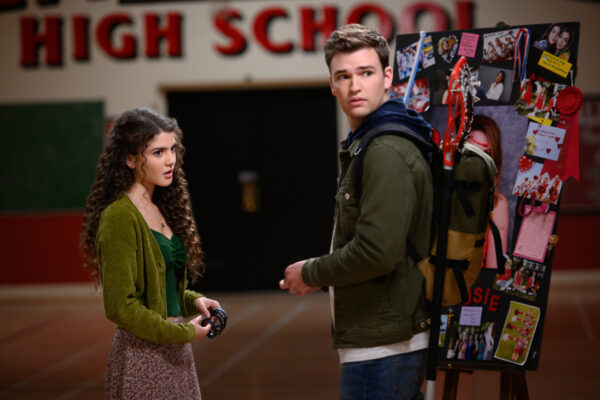 As the boys head home, they talk a bit more in the car. Dean admits that he felt like cashing out after Chuck, but Sam brought him back. Saving the world still matters and now that Chuck's not pulling the strings they are finally free to make their own choices. They have to keep going for all the ones they lost. Unfortunately, Sam is not yet in that mindset. He doesn't feel free and doesn't think he can move on. He's weighed down and this depressive state is looking like it will follow him and impact their future in multiple ways. I fear for both their safety and their sanity before all is said and done.
But the case and that situation is almost a backdrop to the other storyline going on in the episode, one involving Chuck and Becky. Yes, we get to revisit the superfan one more time before the series ends and I have to say I like the progression she's made in the years away. She's married now, has kids, and has found happiness. She's still writing fanfiction and now she's making handcrafted minatures based off the Supernatural books, garnering a nice profit on Etsy. She's not as obsessive anymore and has found a true sense of self and balance now that she's not so close to the situation. I loved seeing her redemption in that sense.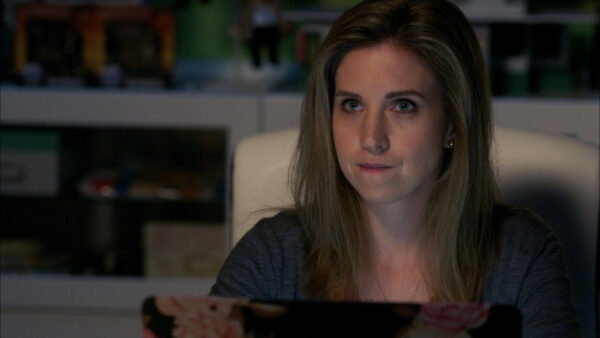 Of course, she's still kindhearted as well and with Chuck showing up suddenly with a tale of woe, she tries to help him through it. Chuck admits that writing, creating, is what makes him happy, so Becky says that's what he should do. While the intentions are good, it could turn out to be a very bad outcome since we know Chuck's true self. His stories aren't just recollections of things the Winchesters do, but instead manipulated by Chuck himself as the grand puppet-master.
It also becomes clear that Chuck does not take criticism well. After completing a draft, Becky tries to encourage him and says it's good, but Chuck doesn't want to take straight-out praise. Instead, he wants to know what she really thinks. When he pushes Becky to give him some notes, she does. Becky says the villain doesn't seem very dangerous, the story's a bit thin, and there's no jeopardy. This angers Chuck enough to go in and make things much more dangerous. We get a hint that things took a turn for the worse with Becky's reaction to the new draft. She's not okay with the ending Chuck wrote. It's dark and disturbing. Death is coming for the Winchesters. And what Chuck writes has the potential of coming true, putting the boys in ultimate peril.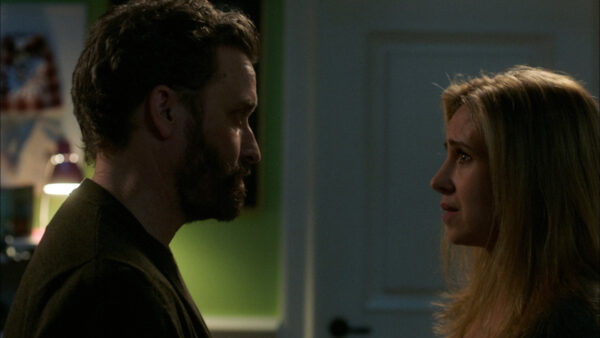 We end the episode with Chuck basically going fully off the rails. After Becky's husband comes home, Chuck snaps him away along with the kids. He assures her they're not dead, just away, but where that mysterious destination is was never revealed. And then he admits that he's God before snapping Becky away, too. Chuck's a very messed up man and as he returns to the computer to keep working on his story I am left disturbed and wary of things to come. The Winchesters are not getting a happy ending.
Rating: 5 / 5 Stars
Screencaps by SupernaturalWiki