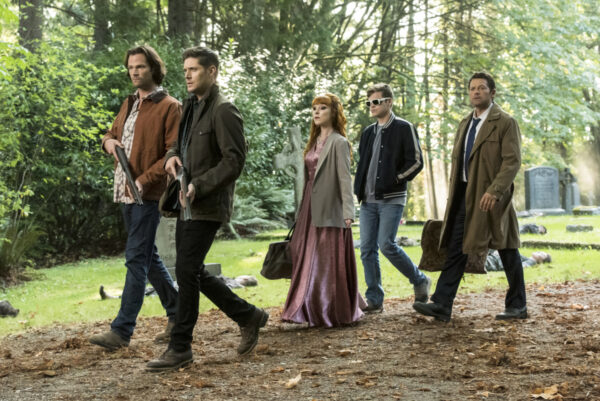 As we continue on with the last season, we are left wondering what familiar faces we might see again and which of those will still be around as the episode ends. Death is coming for Supernatural and no one is safe.
Note: This recap may contain spoilers!
The ghosts are still trying to break through the barrier and eventually it will give out unless the Winchesters figure out a way to strengthen it. And perhaps they do stand a chance. Along with Rowena, Demon!Jack, and Cas, Dean and Sam retreat to the graveyard and give another spell a try. Rowena is a powerful witch and surely she's got a way to fix the barrier. It all seemed so simple and so hopeful until Rowena freaks out and admits defeat. It's too late. The ghosts are too strong, the wall will fall, and they are all doomed.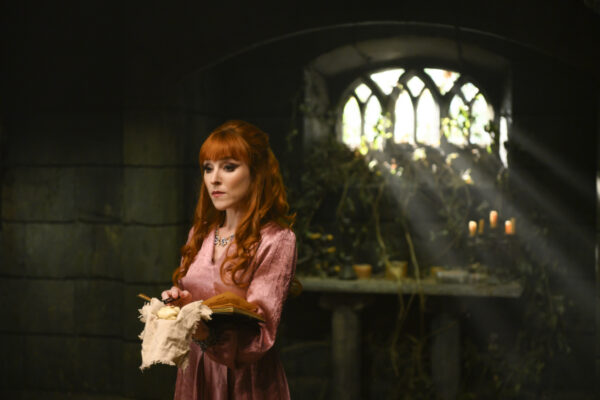 Impossible odds are something the Winchesters have dealt with often, so it's natural that Dean doesn't want to give up in this instance either. And there may be one last chance to fix this, but it's going to take everyone doing their part. The hole where the souls are escaping Hell is a bit like a tear, a wound. So, if they can call all the souls back and heal the wound, they can close the door and save the world. First up, finding a way to get the souls back into Hell.
They can achieve this with a tool found down in Hell – Lilith's Crook. It's a bit like a horn, which they can sound off and call all the souls back, and Demon!Jack knows where to find it. So off he goes, with Cas ordered along to serve as protection. The angel is not a willing participant in this journey. He will never accept Demon!Jack as anything other than an abomination who has tarnished the image of his adopted son. While I do love the snarkiness of Demon!Jack, I miss the old Jack.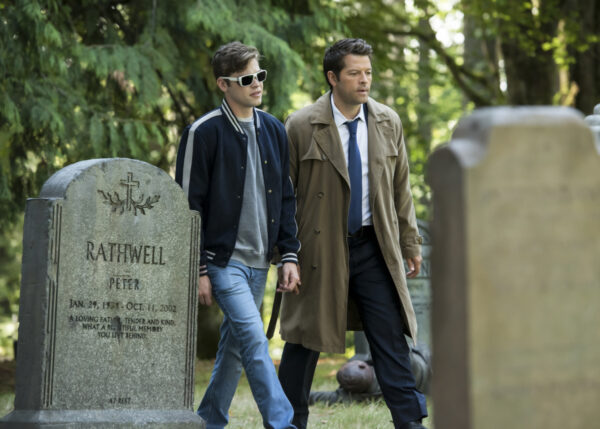 Meanwhile, we get to visit Ketch in the hospital where he's recovering from his injuries. And just like other hunters we know, as long as he's conscious he thinks he's ready and able to hit the road and get back to the job. Trouble is, the job came to him. Ardat possessed one of the doctors and now she's ready to confront Ketch over his failed mission of taking down Demon!Jack. And she soon figures out that he's staying silent on the location because he's protecting his friends. Too bad that silence would be his downfall. When he won't give up the information, she reaches in and pulls out his heart. Poor, dead Ketch. I am going to miss him.
Back to the Hell mission, Demon!Jack and Cas finds Lilith's chamber, but they also find another demon scavenging for treasures. It really says something about Cas' single-mindedness of his mission that he simply kills him and moves on. They came here for one thing and he will not abide distractions. Thankfully, the crook is still there, sealed away in a box protected by Enochian. Cas recites, then sings, the verses in order to release the protection and allow them to get inside. And then Demon!Jack tells Cas to go get a head start to escape Hell before he starts blowing the horn and calling back the souls. It was all going so well, according to plan. But, like all things involving the Winchesters and the end of the world, it has to get worse before it can succeed.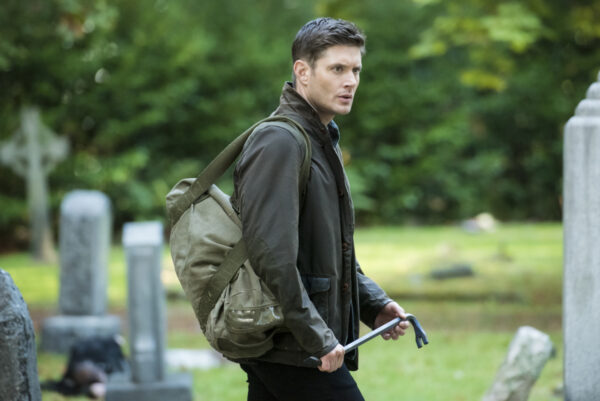 Ardat shows up, still focused on killing Demon!Jack. And she reveals a few truths, too, like the fact Demon!Jack wants to rule Hell. Cas helping him retrieve the crook will bring him that much closer to achieving his goal. But even after Demon!Jack stabs her in the back, it still doesn't change the fact that Ardat might have been speaking the truth. That was indeed Demon!Jack's plan all along. He is going to suck all the ghosts and demons, all the souls, back into him. He will be all-powerful, ruler of Hell and all else, with just a blow of the horn. And then it begins.
Topside, Dean, Sam, and Rowena doesn't know what's going on down below. All they know is that the ghosts seem to be going back into the hole, so it's time to start the spell and get ready to toss in the bomb to close the tear forever. They're all doing their part, even if the plan has gone off-track elsewhere. Because, Cas is determined to end Demon!Jack and his mission. He knocks down the demon, hitting him repeatedly before putting all his power into burning Jack's body and killing Demon!Jack. A sad ending to the vessel, but more so a sad ending for the plan that could have succeeded without too many other deaths.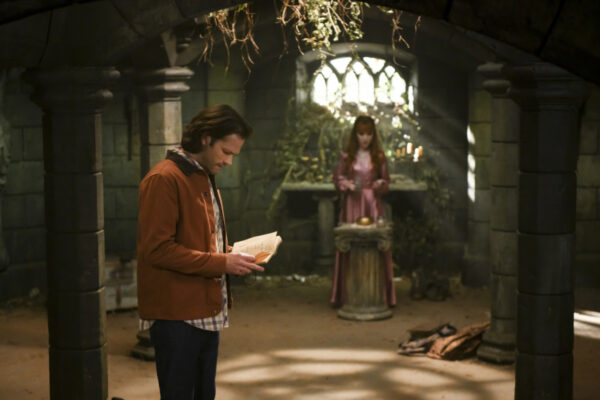 I adore Rowena. I love that she has grown and changed, proving herself to be such a powerful witch who does want to do the right thing when it comes down to it. And now she's got to make one last sacrifice in order to save the world. She stabs herself in the shoulder, digging out her last resurrection satchel. She's going to die to finish the spell, sucking up all the ghosts and demons to close up the hole forever. In order to do so, though, Sam must kill her. It was written in Death's book and so it must be done. It takes some convincing and a whole lot of tears, but the ultimate sacrifice was finally given.
Rowena takes one last walk, gathering up the souls within her as she marches toward the tear. And she gives a last word of "Goodbye, boys" before jumping in and sealing away Hell and its inhabitants. I am so, so sad to lose her, but I knew it had to happen sometime. Sam's not dealing with her death any better than I am, and neither is Dean. While Sam's depressed over what he had to to, Dean's mad that Cas forced them into this situation. If the angel had stuck to the game plan, they could have dealt with Demon!Jack and not lost Rowena. The relationship between Dean and Cas is very fractured and not looking like it will be repaired anytime soon. Cas leaves as he's got not place there now and it's down to Sam and Dean, like always. The Winchesters against the world.
Rating: 5 / 5 Stars
Screencaps by SupernaturalWiki