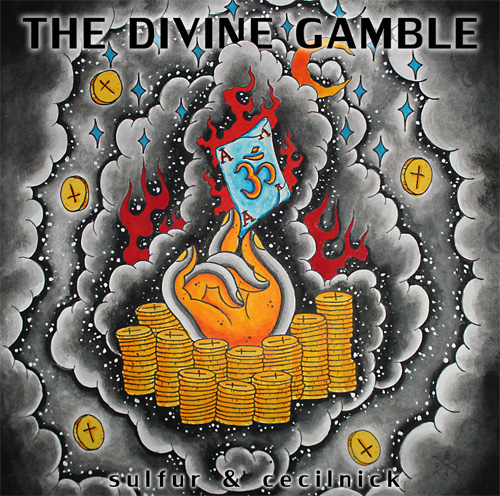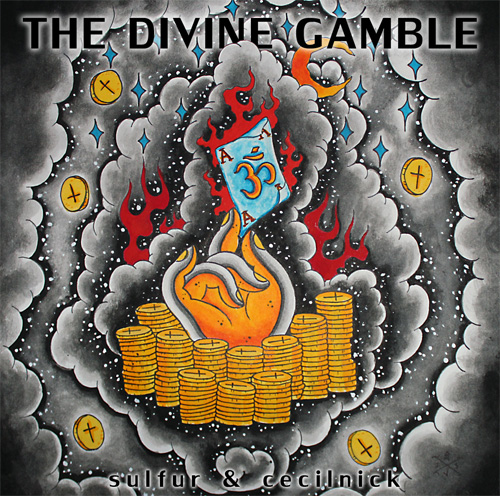 With The Divine Gamble, Sulfur and cecilnick deliver a philosophical and theological album (no surprise, given the title). This might seem to present a problem or a challenge to an atheist like me, but I have absolutely no problem with anyone else's spiritual beliefs. There's no attempt at coercion on the album, just an honest expression of a deep passion for a realm "beyond what lies outside of science's bounds" (as the song "A Good Day's Work" puts it). I can appreciate this sentiment, having been on a spiritual journey in my life, as well (although I ended up in a different place).
Probably the two most powerful tracks on the album are "Wait" and "Question Everything." "Wait" expresses an anguished sense of grief after losing someone close. Rather than let that person go, Sulfur (or the narrator if it's not meant to be Sulfur himself) wants to come along, pleading for the ferryman of the river Styx to take "just one more passenger." It very much reminds me of Orpheus and Eurydice, which I have a feeling is quite intentional.
The chorus of "Question Everything" pretty much sums up the rebellious attitude, with the repetition of "question everything" and the lines "The more I learn the less I know," and "I want answers before I go." It's a familiar attitude for skeptical atheists as well, although we may end up with different answers. It's also in this song that it becomes clear that Sulfur is not anti-science; the line "All I know is before I go I want it solved, the reason we're here or reason we evolved" doesn't sound like something that would come from a science denier, with its invocation of evolution.
Of course all of this would be moot if the music wasn't any good, but that's simply not the case. I've mentioned before that Sulfur is one of my favorite vocalists, and that's the biggest reason that I can enjoy the album even though my own beliefs differ from the lyrics. Again, I can appreciate the sentiment behind them (heck, I still love the songs "Spirit in the Sky" and "Walking in Memphis," so why not this album? It's much more interesting musically than either of those tracks). In fact, I find it interesting to hear what people with different beliefs than mine think, especially when the ideas are set to such amazing music. So even if you are not spiritual yourself, and most definitely if you are, I would highly recommend that you check out The Divine Gamble.