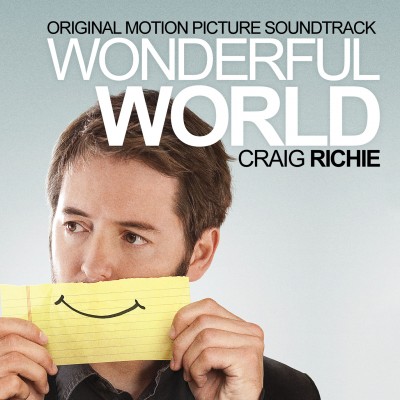 Soundtrack: Wonderful World
Composer: Craig Richey
Label: Lakeshore Records
Release Date: June 14, 2011
Lakeshore Records has just released the soundtrack for the 2009 film Wonderful World, and it would be a wonderful addition to anyone's soundtrack collection. The film stars Matthew Broderick as Ben Singer, a divorced dad and generally unhappy man who soon finds himself unemployed as well. When his Senegalese roommate Ibou (Michael Kenneth Williams) suddenly falls ill, however, he meets Ibou's sister Khadi, and she helps Ben see that he can be happy instead of miserable and cynical — it's all a matter of perspective. Craig Richey (misspelled on the soundtrack's cover) composed the delightful score for this movie, and he does a masterful job of conveying the tone of the movie through music.
Overall, the score is very gentle and smooth. On the several occasions that the music is more upbeat, it can best be described as whimsical, conveying an uplifting feeling while remaining in the relaxed spirit of the soundtrack — the "Main Title" (track 1) and "It Rains Fish" (track 21) are good examples of this. These two tracks are also good examples of Richey's use of the kalimba, or thumb piano, a metal percussion instrument common throughout sub-Saharan Africa, and the kora, a string instrument played much like a harp that is common in Senegal and other places in West Africa. Richey does not include any examples of actual Senegalese music in the score and nothing about it makes the listener think of any kind of multicultural music at all. The African instruments do help to give it a fresh sound, however, and separate it from the usual orchestral film score. The score also relies heavily on piano and saxophone sounds in addition to the orchestra, which tends to take a back seat most of the time, although Richey makes heavy use of the string sections when moods of intensity or sadness are required.
This is a most enjoyable soundtrack, and certainly ranks high among my music collection. Although Richey's other credits are mostly documentaries and short films, I hope he will compose more feature-length film scores in the future. Whether you are looking for something mellow and relaxing or you just want a soundtrack that doesn't sound like every other soundtrack, then this is a good choice. I highly recommend that you check it out!
Track Listing:
"Main Title" (1:57)
"Ben Meets 'The Man'" (2:10)
"Ibu Lies In The Street" (2:07)
"Ben Finds Khadi's Picture" (1:42)
"Ben Gets Fired" (1:34)
"My Name Is Khadi" (0:39)
"Khadi Buys Shoes" (1:04)
"Sandra At The Window" (1:02)
"Ben Makes A U-Turn" (0:40)
"Khadi's Ritual" (2:54)
"Ben & Khadi's Kiss" (0:51)
"Ben Confronts His Ex" (2:07)
"Out Of Gas" (0:51)
"You Wore Her Out" (1:29)
"I Am Greedy" (1:53)
"Ben's Closing Argument" (1:43)
"The Note" (0:20)
"A False Accusation" (2:07)
"Ibu Dies" (2:00)
"Goodbye Khadi" (1:58)
"It Rains Fish" (2:42)
"What About The Man" (1:21)
Rating: 5 / 5 Stars