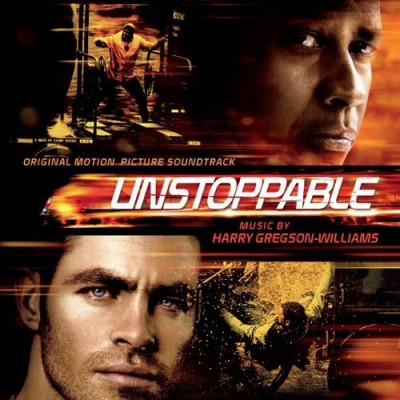 Soundtrack: Unstoppable
Composer: Harry Gregson-Williams
Label: La-La Land Records
Release Date: December 7, 2010
More than likely, you've heard Harry Gregson-Williams's music before. Having composed for several, much-loved modern films, including 1998's Antz, 2001's Shrek and each of the three films in the Chronicles of Narnia franchise, Gregson-Williams is no stranger to cinema soundtracks — or soundtracks in general, for that matter; he's also the man responsible for much of the phenomenal music in the Metal Gear Solid series. Known predominantly for meshing elements of electronica with more classical, orchestral sounds, one would more than likely expect a similar style to resonate throughout the soundtrack to 2010's Unstoppable. Not so, it seems. Foregoing an orchestral direction in favor of one that is, almost-exclusively, ultra-electronic, Gregson-William's score is certainly adequate for the subject matter, but, beyond that, achieves little else. Ultimately disappointing, Unstoppable's soundtrack is a mediocre collection of music that simply fails to inspire.
Unstoppable's main fault lies in its incessant similarity; each track flows to the next, with little to differentiate the two. While recurring motives are, of course, common practice in the realm of soundtracks, it's also nice to hear variety, too; each track should, by its own artistic merits, stand on its own, allowing for the scenes they depict to take on unique characteristics of the accompanying music. Sure — reprises are fine, and do well to harken back to earlier themes, motifs, and significant plot events. But Unstoppable has no such reprises — only dull, monotonous and frankly repetitive sounds.
While fueled mostly by strong, techno-rock undertones, Gregson-Williams does allow time for more classical instruments to creep in every so often; soft, piano keys may dance by, and the sound of strings can often be heard juxtaposing — or complementing — a bass line or guitar riff. Sometimes (like in "Who Do I Kiss First?"), Williams lets these softer instruments lull solo, allowing for a pleasant — albeit late — switch from the majority of the soundtrack's almost too heavy sound.
Unstoppable's 13-piece soundtrack is by no means bad. It's just not terribly good, either. In the end, the talent of Gregson-Williams fell victim to the norms of the genre (and, also likely, the vision of the film's producers), where such unoriginal and bland sounds are all-too-frequent. A bass line here, a heavy hit there, and a middling orchestral serenade peppered sparingly, Unstoppable's soundtrack is full of noise, but altogether lacking in substance.
Track Listing (with individual ratings):
"Stanton, PA" (3:32) – 3/5
"Frank Barnes" (2:10) – 3/5
"Will's Story" (1:56) – 2/5
"Ned" (2:08) – 3.5/5
"Dewey" (2:24) – 3.5/5
"Not A Coaster" (2:17) – 3/5
"Are You In Or Are You Out?" (6:13) – 3/5
"Realign The Switch" (3:10) – 3.5/5
"Galvin's Strategy" (2:25) – 3.5 (recommended)
"Playing Chicken With Trains" (1:35) – 1/5
"Will Guides 1206" (4:04) – 3.5/5
"The Stanton Curve" (6:02) – 2/5
"Who Do I Kiss First?" (4:19) – 3.5/5 (recommended)
Overall Rating (not an average): 2.5 / 5 Stars