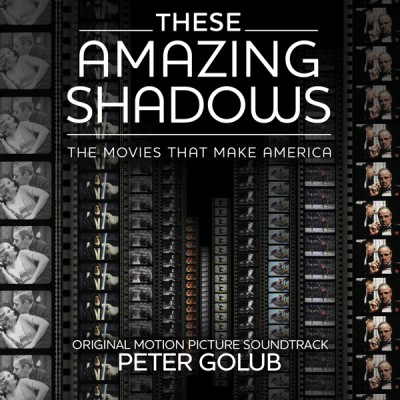 Soundtrack: These Amazing Shadows
Composer: Peter Golub
Label: Lakeshore Records
Release Date: May 10, 2011
The National Film Registry is a list of movies kept by the Library of Congress that currently consists of 550 titles that the Library considers "culturally, historically, or aesthetically significant." The list includes not only film classics like Casablanca and West Side Story but also documentaries, home movies, and newsreels. These Amazing Shadows is a documentary film that explores the list and its contents, and through interviews and film clips it shows how the list is truly a scrapbook of the American experience. The musical accompaniment for this journey through American cinema was created by Peter Golub, director of the Sundance Film Music Program and composer of scores for documentaries, independent films, and theater. For this soundtrack, he has done a good (albeit sometimes a bit clichéd) job of capturing a "Classic American Movie" kind of sound.
My first impression when listening to the soundtrack was that it reminded me of the music that you hear played over the film montages they like to show by the handful during the Academy Awards telecast — you know, the salute to however many years of film making (depending on how many times previously the Oscars have been handed out up to this point), the ode to the importance of the cinematographer (or the editor, or the composer, or the key grip, gaffer, and best boy) through the Academy's history, and the all-important "In Memoriam" segment where we grieve over those who have died since last we gathered around our televisions for such a session of celebrity gawking (the vast majority of whom it turns out we never knew existed in the first place). Expect to hear the gamut from grand sweeping string melodies with piano and/or flute accents to gently flowing brass and woodwind lines accompanied by either piano or pizzicato strings, depending on the mood that needs to be conveyed.
Clichés abound, but that does not make it terrible, per se. In fact, I found it to be an enjoyable listen. Although there are 23 tracks on the album, most are quite short, with over half of them coming in at under a minute in length. They flow well from one to the next, however, so it gives more of an impression of one 30-minute-long whole than a bunch of short, choppy segments as one might fear while looking over the track list. The one exception that jumped out at me every time was the fifth track, "Into West Side Story." I recognized the compositional style and orchestration immediately as Bernstein-esque, as Golub has created a very good imitation without copying directly from the other movie's score. Why imitate, however, instead of just accompanying the movie clips with Lenny's original magnificent score? Golub states that he was presented a challenge in coming up with a score that had to go with so many famous movies with equally famous soundtracks and themes, and that instead of using the existing music, he tried to compose pieces that were reminiscent of the originals in order to give this film its own score. I think that is a noble goal, but if it ain't broke…. This is mainly a nitpicky quibble from a music nerd, however. I am glad this soundtrack came my way — if nothing else, it has piqued my interest in the film itself. It has also expanded my soundtrack collection with a nice piece that I will enjoy listening to again, and I don't think that anyone else who acquires this album will be sorry to own it, either.
Track Listing:
"Main Titles" (2:04)
"Protecting Our Films" (1:45)
"Creating the National Film Registry" (0:52)
"Preserving Our Cultural Heritage" (1:38)
"Into West Side Story" (0:32)
"To Kill A Mockingbird Montage" (1:36)
"These Amazing Shadows" (2:05)
"The Land of Nitrate" (0:40)
"Dorothy Opens the Door to Oz" (0:40)
"2001 and Beyond" (0:52)
"With Every Laugh, A Tear" (1:09)
"Japanese Internment During WWII" (2:59)
"The Kennedy Assassination" (0:51)
"Gender Bias" (0:33)
"Vision of Women Directors" (1:13)
"Back to the Future Montage" (0:59)
"Harlan County Montage" (2:30)
"Race and Politics" (0:40)
"The Danger of Cinema" (0:43)
"Exiles" (0:53)
"Race Issues" (0:53)
"The Effects of War" (0:56)
"Final Montage: The Power of Movies" (4:08)
Rating: 3 / 5 Stars