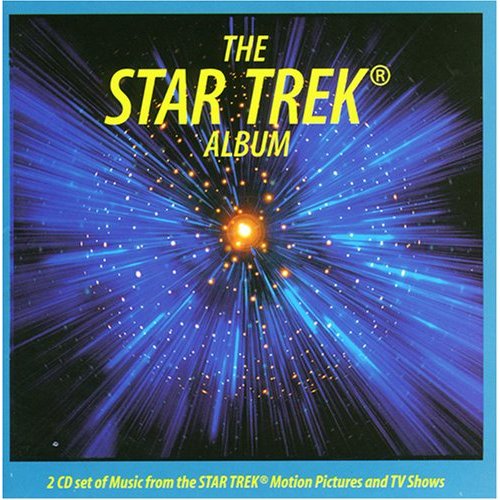 Review: The Star Trek Album
Composers: Alexander Courage, Jerry Goldsmith, Joel Goldsmith, James Horner, Leonard Rosenman, Ron Jones, Dennis McCarthy, and Cliff Eidelman
Label: Silva America
This 2-disc album covers just about everything from the Star Trek universe (with the exception of the 2009 movie), and has 24 tracks with a running time of 1.6 hours. It's got some medleys and sound effects and a sense of wonder and adventure only Star Trek can give you. Let's kick this bird into Warp 5 and get on with the review! Number One, make it so.
I always wanted to say that. Anyhow, I'll be upfront with you: I'm not the world's biggest Star Trek fan. Well, not big enough to get the label of "Trekkie." Because of this, I don't think I'm the target audience for this soundtrack. Much like with the Batman compilation soundtrack, I figured if you had the original albums for all the Trek movies you wouldn't really need to pick this one up (unless you were an uberfan). So I did a little research and found out that this album actually has a few tracks you can't find anywhere else. That alone could be a selling point for fans of the series, but the quality of the sound here is fantastic and markedly better than previous soundtracks may have.
That being said, there's only so many times I can hear the "Star Trek March" before I get tired of it. Boy, that theme is in just about every track here! Yes, it's varied from movie to movie or show to show, but there's a bazillion movies and shows and it gets repetitive really quick. The other thing that I felt "meh" about on the album were the sound effects. Again, I did some research and found out that they aren't even original sound effects for any of the movies or shows. They pop up in odd places and take you out of the experience and mood the rest of the tracks build up.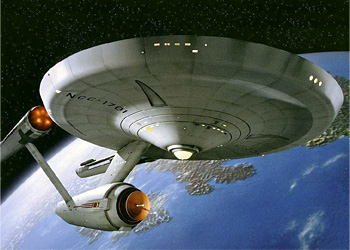 Overall, if you're a fan of Star Trek you'll need to add this to your collection. For the rest of us laymans, maybe just sampling a few tracks on Amazon before buying the entire album would be a good start.
Track Listing:
Disc 1
1. Star Trek – Original TV Version (2:23)
2. Star Trek – The Motion Picture (3:53)
3. Star Trek: The Motion Picture – Klingon Attack (5:23)
4. Sound Effect – Warp Drive (0:45)
5. Star Trek II – The Wrath Of Khan (6:35)
6. Star Trek III: The Search For Spock – Bird Of Prey Decloaks (3:36)
7. Star Trek IV – The Voyage Home (3:35)
8. Sound Effect – Transporter Crew (0:54)
9. Star Trek: First Contact (5:11)
10. Star Trek – The Next Generation – Tasha's Farewell (9:14)
11. Star Trek – Deep Space Nine (3:54)
12. Star Trek – Deep Space Nine – He's Toast (3:40)
13. Star Trek V – The Final Frontier (4:07)
Disc 2
1. Star Trek VI – The Undiscovered Country (6:31)
2. Star Trek – Voyager (2:00)
3. Sound Effect – Battle Stations (0:31)
4. Star Trek – Generations (4:41)
5. Star Trek:deep Space 9-one Last Visit (3:11)
6. Star Trek: Insurrection – End Titles (5:06)
7. Sound Effect – Space Dogfight (1:29)
8. Star Trek: The Menagerie – Suite (8:29)
9. Star Fleet Academy (4:03)
10. Sound Effect – Crash Landing (0:47)
11. Star Trek: Nemesis (7:43)