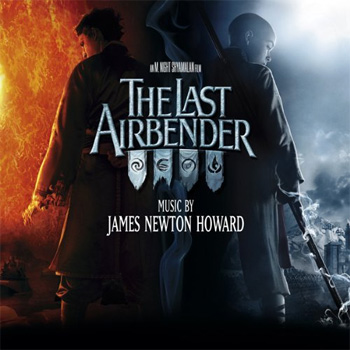 Soundtrack: The Last Airbender
Composer: James Newton Howard
Label: Lakeshore Records
Release Date: June 29, 2010
Poised (in my opinion) to become one of the big summer movies of the year, The Last Airbender is releasing to theaters on July 2, 2010. Based on the animated Nickelodeon series Avatar: The Last Airbender, the movie is set in a fantasy world where "benders" control the four elements of water, earth, air, and fire. The Fire nation launches a war to gain control of the other nations, and the hope for peace lies on the shoulders of Aang, the last of the Airbenders and the Avatar, meaning he can control all elements instead of just one. M. Night Shyamalan directed and produced the movie, which stars Noah Ringer, Nicola Peltz, Jackson Rathbone, and Dev Patel, among others. I'm not going to lie — the movie looks kind of cool and I kind of want to see it. I probably won't since I don't have any kids to take to it, but maybe I'll catch it on TV sometime.
Anyhow, on to the music! This score was composed by James Newton Howard, who has scored all of M. Night Shyamalan's thrillers: The Sixth Sense, Unbreakable, Signs, The Village, Lady in the Water, and The Happening. Howard is a prolific composer; besides doing Shyamalan's movies, Howard has scored for television and many movies including The Fugitive, Wyatt Earp, I Am Legend, and Blood Diamond, and collaborated with Hans Zimmer on Batman Begins and The Dark Knight. He has had an impressive number of nominations for Academy Awards, Grammys, Golden Globes, and Emmys, and has won one Grammy (2009, The Dark Knight), one Emmy (2001, Gideon's Crossing main theme), a Critics Choice Award (The Dark Knight) and a Classical Brit Award for Blood Diamond. Early in his career, Howard toured with Elton John and Crosby, Stills & Nash, and also played keyboards and synthesizers for a few of Elton John's studio albums.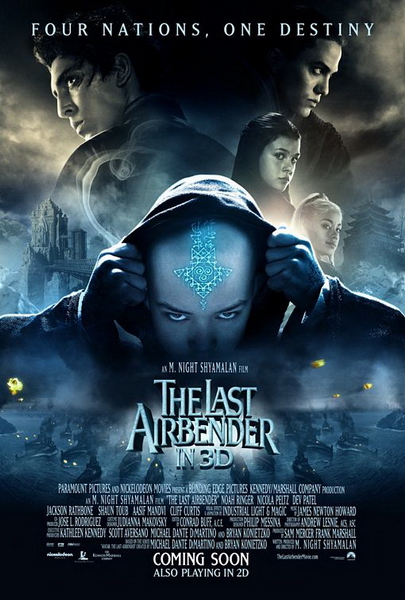 After realizing the album was a score, not a soundtrack with separate songs and artists, I was pretty excited to listen to it. Howard has, in my opinion, produced really good theatrical music, and the movie looks epic — epic movies always make for good score music, as long as you have a good composer. This album has 12 tracks on it for a total of about an hour's worth of music.
The first track, "Airbender Suite," is the longest at just over 11 minutes. It starts out as a haunting melody played by a lone flute, and slowly builds as more parts of the orchestra come in. Lots of drums and brass give it substance, and a solemn strings melody develops over the first few minutes. About three and a half minutes in, the music lightens and quickens somewhat to a more triumphant tune, rather than the solemn feeling of the beginning of the track. It slows down to a thoughtful strings melody about a third of the way through, then halfway through starts to feel a little suspenseful again, and crescendos into what sounds like a "bad guy" theme. Brass, fast strings and a marching snare drum mark this part of the track, and some vocals come in for added effect. At about nine and a half minutes into the track, it slows down again and the flute from the beginning comes back in with some pretty chimes to end the track. Very nice.
After this solid start, the album goes on to a series of shorter tracks (not short, but shorter than eleven minutes!) that are mostly of a similar vein to the first track. Several melodies are picked up throughout the rest of the album off and on, and the flute and chimes are a common thread. Track four, "The Four Elements Test," has some nice violin parts in it. Track six, "Hall of Avatars," picks up the soft, flowing strings melody heard at the beginning of track two, "Earthbenders," and builds into a beautiful variation of the original melody.
The real "bad guy music" track seems to me to be number eight, "The Blue Spirit." This track picks up the sinister sounding melody introduced in the middle of track one and for lack of a better description, is very cool. Full of hammering drums and suspenseful brass and strings, this part actually reminds me a bit of some parts of the score from The X-Files: Fight the Future when Mulder & Scully are running through the cornfield away from the helicopters. Yeah, I'm a nerd. Anyway, great track. At the end, it weaves in the mellow melody from tracks two and eight.
Track ten, "We Could Be Friends," is more "bad guy" music, but not quite as sinister as in the opening track or "The Blue Spirit." The album slows down and picks up the slow melody from tracks two and six again for the final track, "Flow Like Water," a soaring, melodic piece that builds to a triumphant finale, fading out into chimes at the end.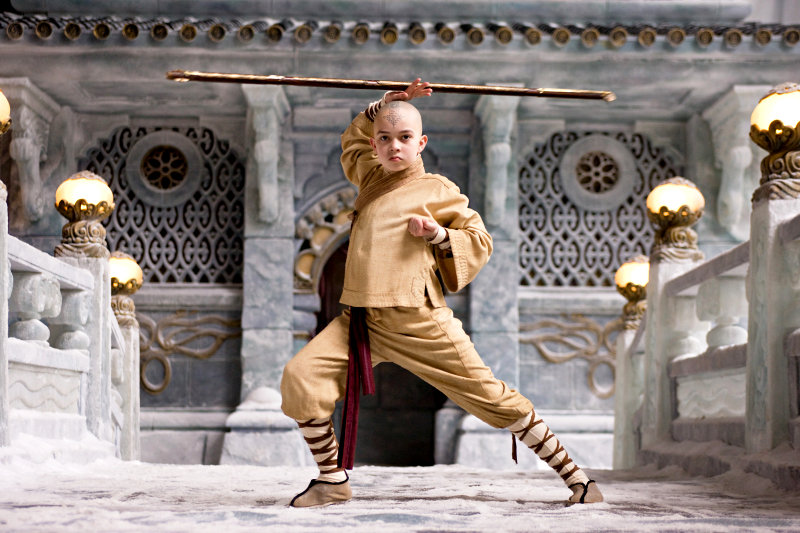 I haven't seen (or paid enough attention to) any of Shymalan's other thrillers to be able to compare this music to Howard's other scores for him, but I really like this. A few of the tracks are heavy on the flute and chimes, which I like. The "bad guy" parts are great and very dynamic, and the few recurring melodies are wonderful. A lot of the music is very march-like and solemn and it's easy to picture an epic adventure unfolding while listening to it. My boyfriend's 14-year-old brother came in while I was writing this to see what I was doing, and commented on the music being "scary" — I was listening to track three, "The Avatar Has Returned." As a comparison for him, I put on the first track about halfway through, and he said "Now that is just creepy! Man, I wouldn't want to be listening to that music in a dark alley!" That sums up the "bad guy" parts pretty nicely, and also reinforces how well music can set moods.
To summarize, this is a great orchestral score written by a talented composer. The movie looks good, and the music sounds like it should complement the movie nicely. An enjoyable score I'm absolutely likely to listen to again.
Track Listing:
"Airbender Suite" (11:17)
"Earthbenders" (5:54)
"The Avatar Has Returned" (4:43)
"The Four Elements Test" (5:31)
"Journey to the Northern Water Tribe" (4:02)
"Hall of Avatars" (3:40)
"Prologue" (2:43)
"The Blue Spirit" (7:17)
"The Spirit World" (5:19)
"We Could Be Friends" (4:09)
"We Are Now the Gods" (5:47)
"Flow Like Water" (6:33)
Rating: 5 / 5 Stars