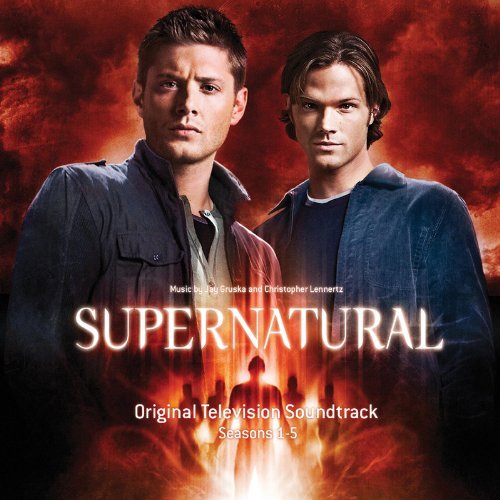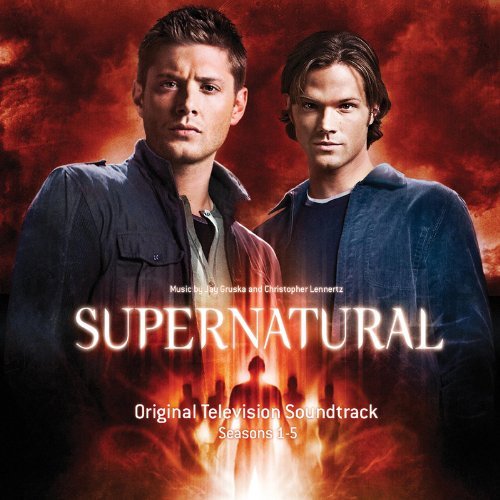 Soundtrack: Supernatural: Original Television Soundtrack (Seasons 1-5)
Composers: Jay Gruska and Christopher Lennertz
Label: Watertower Music
Release Date: September 7, 2010
Let me get this out of the way first, since every Supernatural fan around probably said the same thing when the announcement of this soundtrack came out. It's not a "true" soundtrack of all the songs from the show, as it doesn't include hits by AC/DC or Kansas or Bad Company. The fees would be too cost-prohibitive for anyone to afford it. What this soundtrack does include is a collection of original instrumentals written for the show by Jay Gruska and Christopher Lennertz. And the song titles alone reveal the tongue-in-cheek humor that we've come to know and love from Supernatural.
Most of the songs are typical high-action instrumentals that put you on the hunt with the Winchesters. However, there are a few that I want to single out. The "Isn't It Bromatic?" track has violins that just cry when telling the story of these two boys and their lifelong devotion to each other, despite all the tragedy that has befallen them. "Dean's Dirty Organ (Brother's Guitar Theme)" has been a particular favorite of mine each time I hear it. You can feel Dean's personality coming through those chords. He's a sneaky boy.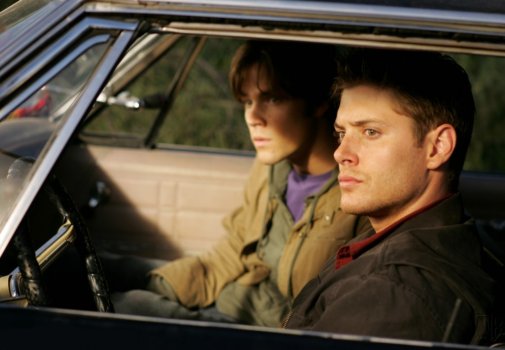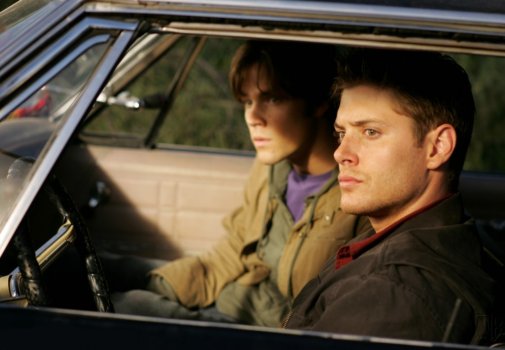 "Americana" is almost whimsical, with a small town feel of all the little things in life that Dean and Sam often miss out on. From one of our favorite episodes comes "Old 'Monster Movie'" which is both a throwback to the old monster movies and a tribute to the updated version that Supernatural provided us. And "Tears In My Beers" is another where the violin serves to convey the loneliness and despair that follows the Winchesters wherever they go. At least they have each other, right?
If you're a Supernatural fan, this soundtrack is a must-have. Pop in the CD and put yourself in the mood for some Winchesters. It's bound to make you want to re-watch an episode or two.
Track Listing:
Christopher Lennertz – "And So It Begins" (3:32)
Jay Gruska – "Luci'fer, You Got Some 'splainin' To Do!" (5:44)
Christopher Lennertz – "Isn't It Bromatic?" (5:14)
Jay Gruska – "Demon Agitato, Mr. Ostinato" (5:03)
Christopher Lennertz – "Dean's Dirty Organ (Brother's Guitar Theme)" (2:20)
Jay Gruska – "Americana" (4:06)
Christopher Lennertz – "The Grateful Undead" (3:37)
Jay Gruska – "'Salmon Dean' In The Heartland" (3:57)
Christopher Lennertz – "Blood Drops Keep Falling On My Head" (4:25)
Jay Gruska – "Old 'Monster Movie'" (3:38)
Christopher Lennertz – "Decapitation Variations" (2:59)
Jay Gruska – "Tears In My Beers" (2:54)
Christopher Lennertz – "Gratuitous Sex and Violins" (4:46)
Jay Gruska – "Ruby: So Cute, So Creepy" (3:23)
Christopher Lennertz – "The Family Business / Elegy for John" (4:27)
Jay Gruska – "The Meatsuit Mambo" (2:05)
Christopher Lennertz – "Lilith Unfair" (4:00)
Jay Gruska – "End Credits & Mo' Guitar Grit" (3:35)
Rating: 4 / 5 Stars