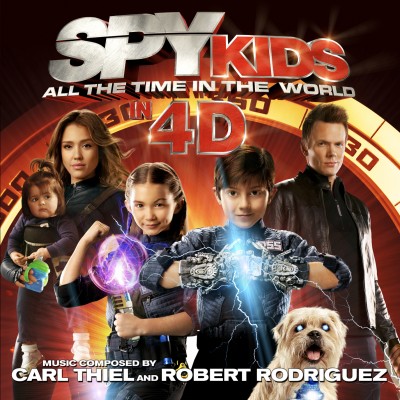 Soundtrack: Spy Kids: All the Time in the World in 4D
Composers: Carl Thiel and Robert Rodriguez
Label: Lakeshore Records
Release Date: September 13, 2011
In this fourth installment of the Spy Kids movie franchise, a former spy marries a man with twins and has a baby before being called back to save the world from the evil Timekeeper, gaining the respect of her stepchildren in the process. Accompanying the action is a score that might be described as Mission: Impossible meets The Pink Panther, with a bit of James Bond thrown in for good measure. In addition to directing the movie, Robert Rodriguez reprises his role as Spy Kids composer, joined in the effort by Carl Thiel, who also has sound department and soundtrack credits from the second and third Spy Kids movies.
Musically, the soundtrack has nothing that makes it stand out from other similar soundtracks. You can expect to hear the same types of action movie music clichés you've heard over and over again in other scores. Don't let that put you off, though — it is a really fun soundtrack to listen to, alternating between driving rock and upbeat jazz. The composers created different motives for the major characters, and it is fun to listen for the subtle changes each time those themes appear. There is just the right amount of slow and suspenseful music to contrast with the more upbeat tracks, but nothing too scary as befits a family movie. Whether you plan to check out the movie or not, definitely check out this soundtrack. It is well worth 45 minutes of your time to give it a listen.
Track Listing:
"Spy Mom" (2:29)
"Rebecca and Cecil" (0:48)
"Panic Room" (3:46)
"Jet Luge Chase" (3:10)
"Carmen Cortez" (2:22)
"Spy Baby" (2:48)
"Argonaut" (1:57)
"T.O.O.T." (1:58)
"Big Time Watch Shop" (1:05)
"Wilbur Wilson" (0:56)
"The Timekeeper" (2:10)
"Hammer Hands" (2:43)
"O.S.S." (1:15)
"Juni Cortez" (0:33)
"Danger D'amo" (2:18)
"Spy Kids 2.0" (2:19)
"Time and Time Again" (1:57)
"Danger's Past" (3:33)
"Time's Up" (3:36)
"Spy Hunter" (1:06)
"You Have Been Activated" (1:15)
Rating: 4 / 5 Stars