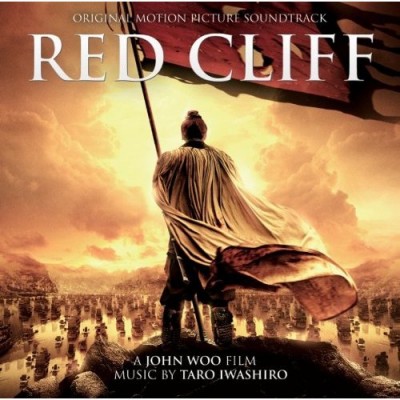 Soundtrack: Red Cliff (Original Soundtrack Recording)
Featuring: Tarō Iwashiro, Tokyo Metropolitan Symphony Orchestra
Label: Silva America
Release Date: November 10, 2009
John Woo's epic Chinese film, Red Cliff, probably has one of the best orchestral soundtracks I've ever heard. This comes as no surprise, since Red Cliff is officially the most expensive Asian-financed film in movie history. Composer Tarō Iwashiro did an absolutely great job with the score for this epic film.
The soundtrack starts off with some excitement. "The Battle Of Red Cliff" and "On the Battlefield" both pump you up for the action that takes place in the film. The hard thumping tracks are indeed aimed to excite for what's next. The next couple of tracks calm the audience's mood down a bit for a more gentle sound, but are immediately picked back up with "Shooooot!". "Decision For Justice" again calms the mood down, delivering a very beautiful and mellow type sound, full of very soft strings and gentle volume.
"Secret Stratagem" is a favorite of mine from the album, and features a playful plinking kind of sound that's quite pleasant. Another favorite of mine, and I might even say it's be the best track on the album, is "Sound Of Heartstrings." With its insane warlike percussion and its evil sounding guitar, it definitely brings in overall feeling of intensity.
The last couple of tracks are very calming. "In Loneliness" and "Beyond the River" are two beautiful tracks. The overall ending of the album is grand and definitely does not seem any weaker than the first couple of tracks.
This soundtrack really doesn't have many weak points. The score seems to hold strongly all the way through and doesn't break its grasp on you. Intense when it needs to be and calm when it can be, the Red Cliff soundtrack is one of the best I've ever experienced.
Rating: 4.5 / 5 Stars
Track Listing:
1. "The Battle Of Red Cliff" (03:05)
2. "On The Battlefield" (08:43)
3. "Light Of The Evanescence" (02:32)
4. "Shadow Of The Evanescence" (02:26)
5. "Shooooot!" (01:43)
6. "Decision For Justice" (03:58)
7. "Secret Stratagem" (01:51)
8. "Closing In Upon The Enemy" (04:13)
9. "Unseen Locus" (03:01)
10. "Precious One" (05:22)
11. "Sound Of Heartstrings" (01:35)
12. "In Loneliness" (05:35)
13. "Beyond The River" (04:19)
14. "心 · 战 ~RED CLIFF~ (End Roll Version) / Theme Song of Part I" (07:12)
15. "Outroduction Of Legend" (05:16)
16. "赤壁 ~大江东去~ (End Roll Version) / Theme Song of Part IId" (03:32)