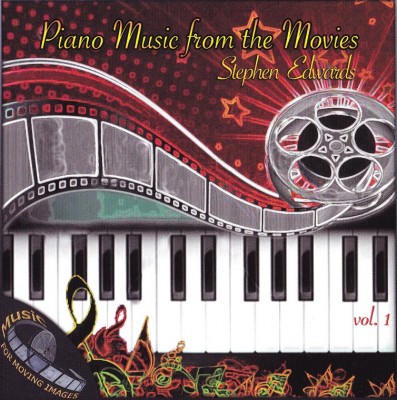 Soundtrack: Piano Music from the Movies, Vol. 1
Composer: Various
Artist: Stephen Edwards
Label: Music for Moving Images
Release Date: April 26, 2011
Although the Internet Movie Database lists around eighty movie scores to his credit, you probably have not heard of composer and pianist Stephen Edwards. At best, you are familiar with some of the films to which he's contributed as a music producer or performer, like The Prestige and The Men Who Stare at Goats. That's OK, though, because for this album he has collected his favorite film score moments and adapted them for piano. Edwards plays with great skill music written by the likes of Elmer Bernstein, Ennio Morricone, James Horner, and John Williams, among others.
I have to admit that of the eighteen movies represented here, I had only heard of about half of them — in other words, don't expect the usual blockbuster-filled collection of well-known movie themes that you normally get with similarly-titled albums. In the album notes, Edwards explains that he has chosen some of his favorite pieces that he first heard in films and learned to play on the piano. As someone who has quite a few movie scores and theme songs represented in my own piano music collection, I can certainly identify with his motives, even if only one of the melodies was immediately recognizable. Edwards is a skillful pianist and the selections are varied enough in style and sound to keep the listener's interest while still being accessible to the non-musician.
The sources of arrangements are varied as well, including piano reductions of orchestral scores, adaptations of prominent piano parts from the orchestral score for solo piano, and some pieces that were actually written for solo piano. Regardless of whether the pieces were originally written for piano or for larger instrumental ensembles, all of the arrangements are very good and sound very natural played on the piano, and unless you are already familiar with the score in question you cannot tell which pieces are which. If you like to know the details, however, the liner notes very helpfully provide this information and more for each track.
As I mentioned above, this is not your run-of-the-mill movie music compilation album. If, however, you want a different take on movie music and would like to hear some of your favorite composers in a whole new light or if you are a fan of easy-listening piano, then it is an album you should take a closer look at.
Track Listing:
Elmer Bernstein – To Kill a Mockingbird – "Main Title" (2:27)
Alex North – Cleopatra – "Antony and Cleopatra's Love" (2:34)
Johnny Mandel – Being There – "The Room Upstairs" (3:25)
Johnny Mandel – Being There – "Goodbye, Louise" (3:44)
Vladimir Cosma – Diva – "Sentimental Walk" (2:13)
Marvin Hamlisch – Sophie's Choice – "Main Title" (1:53)
Ennio Morricone – Once Upon a Time in America – "Main Title" (3:01)
Gabriel Yared – Betty Blue – "Le Petit Nicolas" (3:25)
Ennio Morricone – Cinema Paradiso Medley (3:38)
James Horner – Field of Dreams – "Night Mists" (2:34)
Angelo Badalamenti – Cousins – "Main Title" (1:51)
Thomas Newman – Shawshank Redemption – "New Fish" (1:38)
Thomas Newman – Shawshank Redemption – "Brooks Was Here" (2:26)
John Williams – Sabrina – "Main Title" (2:41)
James Horner – Titanic – "The Portrait" (1:49)
Ennio Morricone – The Legend of 1900 – "Playing Love" (2:48)
John Williams – A.I. Artificial Intelligence – "The Reunion" (2:52)
John Williams – Munich – "End Credits" (1:32)
Thomas Newman – Little Children – "2 Hillcrest" (1:23)
Franz Schubert, arr. Edwards – The Mechanic – "Piano Trio no. 2 in E flat, Op. 100, D. 929: 2. Andante con moto" (1:15)
Rating: 3 / 5 Stars