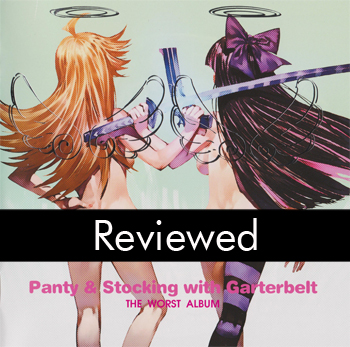 Soundtrack: Panty & Stocking with Garterbelt – The Worst Album
Artist: TCY FORCE, TeddyLoid, Various
Label: flying DOG
Release Date: July 20, 2011
Panty & Stocking with Garterbelt is an extremely irreverent piece of television. It can also be wildly amusing, provided one is not easily offended. The music for the series has been a recognizable component of its success and is very contemporary with a lot of Auto-Tune and electronic beats. As someone who hasn't watched a new anime series since 1988's Aim for the Top! Gunbuster, it made for quite a change to the soundtracks I was used to. The first album was surprisingly to my liking considering the type of music featured, although my opinion may have been tempered somewhat by my affection for the series.
Considering the subject matter of the show, it mostly goes without saying that the OST isn't one for the kiddies — just to get that out there. Familiar artists from the first album return, including TeddyLoid, TCY Force, and Hoshina Anniversary. (To be perfectly honest, my familiarity with these artists is limited to their contributions to the first OST so I may not appreciate them as fully as some.) I generally expected to get about the same level of enjoyment out of Panty & Stocking with Garterbelt – The Worst Album. Did I? Not as much as I might have liked. I certainly wouldn't say it lives up to its title, but of the two Panty & Stocking soundtracks released thus far it would definitely be my second choice.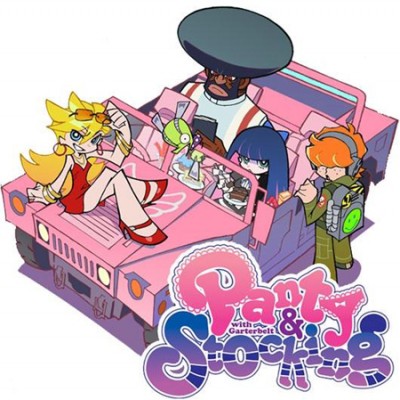 At first glance, the CD is a pretty good deal coming in at 24 tracks. Not all of those are new material, however, which may turn off some potential buyers. The distribution of material works out like this: 7 remixes of existing tracks, 2 "sequels" to tracks from the first disc, 10 segments of an audio episode that will be easier to enjoy if one speaks Japanese, and 5 new tracks. Of the new tracks, "Milky Way" is by far my favorite and likely the stand-out song of the album. Like "Champion" on the first soundtrack, it's something that slips in out of nowhere and suddenly becomes one of the most played tracks on the disc. Fans of "D City Rock" may be pleased to hear that the abrasive censored beep is gone from the song, but the change in tempo of the remix may take some getting used to. Oddly, there is nothing replacing that beep or any indication of whether anything was actually intended to be under it in the first place or if it was just there to suggest something naughty. There are a few other noteworthy inclusions on the disc such as "Jumping Mole", the remixes of "CHOCOLAT" and "Champion", and the El Poco Maro Dubstep Remix of "Fly Away" (which is surprisingly less harsh on the ears than the original). Honestly, there were only two songs that I did not enjoy to some capacity: "Beverly Hills C*** Part 2" and the "Theme for Panty & Stocking" remix, both of which are bad enough that they no longer reside on my iPod.
I suppose in the end, my reduced enthusiasm for the second OST comes down to the fact it's simply more of the same. Instead of taking what worked from the first soundtrack and expanding on it, the whole thing was basically duplicated — flaws and all. If the first soundtrack didn't appeal to you, this one likely won't either. But if it managed to tick a few boxes for you then you'll find something to love about Panty & Stocking with Garterbelt – The Worst Album.
Track Listing:
"Milky Way" – TeddyLoid featuring Mariya Ise (Stocking)
"Cherry Corrida I" – TCY FORCE presents TeddyLoid
"D City Rock (TeddyLoid Live Remix)" – TeddyLoid featuring Debra Zeer
"Cherry Corrida II" – TCY FORCE presents TeddyLoid
"Fly Away (Taku & TeddyLoid For the Club Edit)" – TeddyLoid
"S-Trip" – TCY FORCE
"Cherry Corrida III" – TCY FORCE presents TeddyLoid
"Ghost Town" – TeddyLoid
"Cherry Corrida IV" – TCY FORCE presents TeddyLoid
"Beverly Hills C*** Part 2" – TCY FORCE
"Theme for Panty & Stocking (Hoshina Anniversary Remix)" – Hoshina Anniversary
"Cherry Corrida V" – TCY FORCE presents TeddyLoid
"Jumping Mole (Nerdcore Switch)" – Booty Bronx, Mitsunori Ikeda & TeddyLoid
"Cherry Corrida VI" – TCY FORCE presents TeddyLoid
"Cherryboy Riot Part 2" – TeddyLoid
"Cherry Corrida VII – TCY FORCE presents TeddyLoid
"Yesline Dub" – TeddyLoid
"CHOCOLAT (TeddyLoid Remix)" – TCY FORCE featuring Mariya Ise (Stocking)
"Cherry Corrida VIII – TCY FORCE presents TeddyLoid
"Fly Away (El Poco Maro Dubstep Remix)" – TeddyLoid
"Cherry Corrida IX" – TCY FORCE presents TeddyLoid
"Champion (TeddyLoid Remix)" – TCY FORCE featuring Emyli
"Cherry Corrida X" – TCY FORCE presents TeddyLoid
"Fallen Angel (El Poco Maro Drum'n'Bass Remix)" – Mitsunori Ikeda featuring Aimee B
Rating: 3 / 5 Heavens