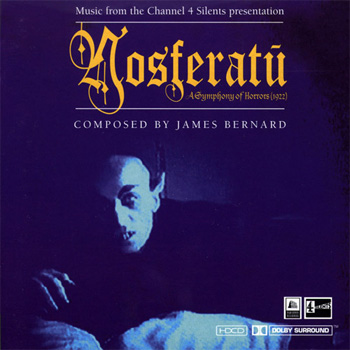 Soundtrack: Nosferatu: A Symphony Of Horrors (1998 Score To 1922 Film)
Composer: James Bernard
Label: Silva Screen Records
Release Date: February 17, 1998
Contrary to popular belief, it is commonplace for multiple musical scores to exist for classic silent films, and director F. W. Murnau's infamous horror film Nosferatu, eine Symphonie des Grauens (translated to Nosferatu: A Symphony of Horrors) is no exception to this practice. In fact, since the film's release in 1922, a number of composers have taken on the challenge of creating a musical score for this iconic film. One of the most recent scores written for Murnau's film is composer James Bernard's Nosferatu: A Symphony Of Horrors (1998 Score To 1922 Film), which was created in 1998 to accompany a British television presentation.
According to fans of his work, James Bernard's other musical scores and soundtracks are much more aggressive than his Nosferatu score; however, this collection is cited numerous times by fans of the German expressionist vampire film as the best soundtrack available to date. Bernard's compositions for Nosferatu are referenced by fans as more mature and complex than his previous work, with tracks that expertly express the feeling intended by Murnau in Nosferatu.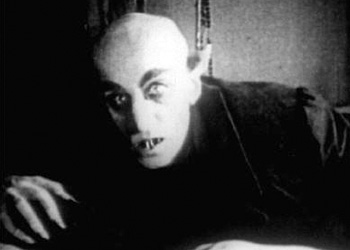 Bernard's decision to lighten his traditionally aggressive musical styling is an excellent one given the degree to which Murnau's film depends not only on its musical score, but on that score conveying a certain degree of spine-tingling suspense without overwhelming the film's striking visuals. Although film composers must always take the visual into account when they compose, more flexibility is provided to those working on new films than for those composing for such an iconic classic film as Nosferatu, which not only has had various musical scores but exerts such a profound influence over multiple forms of media, even today.
Composers working on soundtracks and scores for contemporary music have the benefit of conversing with other members of the film's production team, while those like Bernard are tasked with composing music for a film director who completed his work sixty years in the past. Here in particular is where Bernard succeeds, creating music that complements Murnau's film rather than taking away from or overpowering it.
If you're a fan of F. W. Murnau, Nosferatu, or James Bernard, I highly recommend checking out this musical score. It is well worth the time it will take you to listen to the fourteen tracks.
Track Listing:
"Overture – Omens of Nosferatu" (03:03)
"Hutter and Ellen" (02:11)
"Ellen's Disquiet" (05:12)
"Journey to Orlok's Castle" (06:04)
"In the Castle" (05:21)
"Ellen Sleep-walks" (06:10)
"Hutter's Discovery" (03:24)
"Loading the Coffins" (03:58)
"Ellen by the Seashore" (03:23)
"The Ship of Doom" (05:19)
"Orlok's Lair" (02:43)
"The Plague" (05:55)
"The Pursuit of Knock" (02:47)
"The Power of Orlok/The Death of Ellen" (07:34)
Rating: 4 / 5 Stars