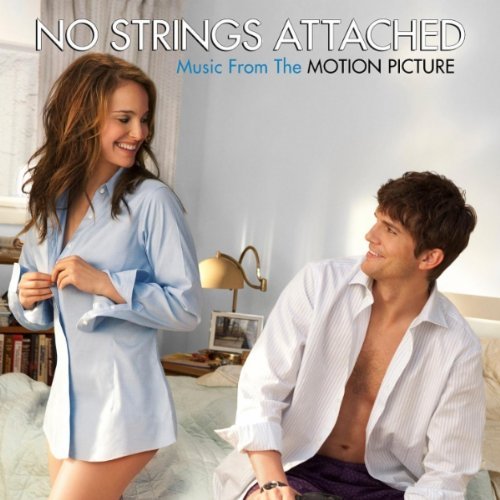 Soundtrack: No Strings Attached (Music From The Motion Picture)
Artists: Color Me Badd, Lanchen, Bishop Allen, Mark Ronson & The Business Intl., Hugo, Elvis Presley, Leona Lewis, D'Angelo, Daniel Ahearn, Robbie Nevil, Little Red, The Temper Trap, Plain White T's
Label: Lakeshore Records
Release Date: February 15, 2011
The romantic comedy No Strings Attached has recently hit theaters and audiences may find themselves tapping their feet along to the film's soundtrack. With songs from the likes of Color Me Badd, Elvis Presley, and Leona Lewis, the CD will surely sell highly when it's released next month. While some films' soundtracks manage to create the perfect mood with a collection of instrumentals, I personally always enjoy when popular music is interspersed into films as well. With the No Strings Attached soundtrack, I get my wish tenfold. From old hits to current, this could easily be someone's playlist rather than the backing for a movie.
This soundtrack is composed of many of my favorites. I have always been a fan of "Bleeding Love" by Leona Lewis, as it's held a permanent place on my iTouch since it came out. To have it included in this collection just makes me love it more. And then you add in Elvis Presley singing "Bossa Nova Baby" and this soundtrack gets ten times cooler. Come on, it's Elvis! Also, I recently became a bigger fan of "99 Problems," so it was amusing to have the differing mental images the song creates to enter into the romantic mood previously set.
It wasn't just the old favorites that drew me in either. I was exposed to some songs that I had never heard before, yet quickly fell in love with. "It Was You" by Robbie Nevil reminds me of the olden days of boy bands. The discovery of young love is always magical, especially when backed up with studio effects. And "Rhythm of Love" by Plain White T's puts you in the mood for summer love. I can almost visualize a duo keeping the beat, nodding their heads and tapping their feet.
I was extremely pleased with the compilation of this soundtrack. It perfectly sets the mood for the movie itself, as well as working as a stand-alone album. Whether you've had a chance to check out No Strings Attached onscreen or you're just a fan of good music, this soundtrack is one you'll be pleased to pick up.
Track Listing:
"I Wanna Sex You Up" (Color Me Badd)
"What Good Is A Boy" (Lanchen)
"Click, Click, Click, Click" (Bishop Allen)
"Bang Bang Bang" (feat. Q-Tip & MNDR) (Mark Ronson & The Business Intl.)
"99 Problems" (Hugo)
"Bossa Nova Baby (Viva Elvis)" (Elvis Presley)
"Bleeding Love" (Leona Lewis)
"Untitled (How Does It Feel)" (D'Angelo)
"I Will Let You Go" (Daniel Ahearn)
"It Was You" (Robbie Nevil)
"Rock It" (Little Red)
"Love Lost" (The Temper Trap)
"Rhythm of Love" (Plain White T's)
Rating: 4 / 5 Stars