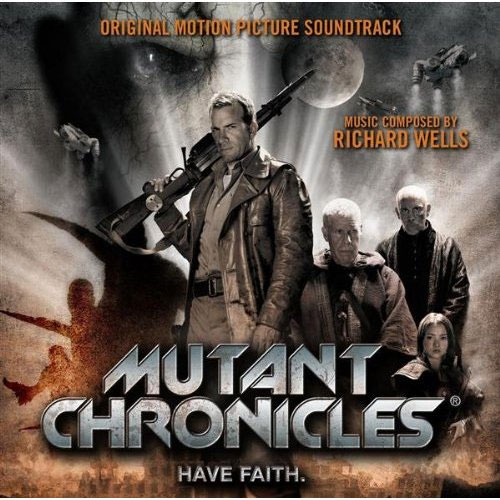 The musical score that accompanies the small, independent science fiction film Mutant Chronicles may be one of the best released in 2009. The soundtrack for Simon Hunter's ambitious film is fully orchestral, runs just under an hour, and is presented with excellent production quality both in terms of the recording itself and the quality of its performance. Director Simon Hunter enlisted the help of composer Richard Wells, whose credits include the score for the 2003 cult Muay Thai action film Ong-bak, in creating the Mutant Chronicles score. Although a relative newcomer to the arena of film score composition, Wells succeeded in producing nineteen instrumental tracks for Mutant Chronicles that are rich with color and superbly compliment the emotional and psychological tensions of the film's characters as they embark upon what is viewed as a suicide mission to save humanity by destroying an ancient machine embedded deep within the Earth's core.
As Hunter told ScoreNotes.com in a recent interview, the soundtrack for Mutant Chronicles is much more classical and orchestral than might be expected for so unusual a film. Rather than creating an unusual, electronic score, Hunter and Wells chose to approach the music from a traditional direction, one that ultimately makes the compositions easily mistakable as selections from an epic, science fiction Hollywood blockbuster rather than a low-budget Sci-fi action adventure movie. Pulling from both science fiction and horror, the Mutant Chronicles score weaves from one to the other seamlessly. The exciting high notes of violins and other string instruments common to horror film scores were perfectly implemented to establish a sense of the impending action and looming danger that faced the film's antiheroes, while the eerie, ethereal notes of a choir frequently heard in modern science fiction films heightens the sense of mystery and adds weight to the struggle of humanity against a seemingly inevitable destruction.
Although movie soundtracks, especially instrumental, orchestral ones like that of the Mutant Chronicles, are often overlooked by audiences during the course of a film, Wells' score plays a particularly important role in creating the atmosphere necessary for such a gritty, bleak picture of despair and destruction in a world that has been carved up by greedy corporations warring for control of what little natural resources remain. The depth of Wells' compositions, uncommon in films of this type, make an invaluable contribution to the film while simultaneously allowing the score to stand strong even independently of the movie. The Mutant Chronicles soundtrack is available from Silva Screen and through iTunes. We highly recommend that you take a listen.
Overall Rating: A-
Track Listing:
Take Off (04:07)
The Night Before (01:38)
Mutant Attack (04:32)
The Corporate Council (01:40)
Give Me Twenty Men (02:27)
Mitch and Adelaide (02:33)
The Sewer (03:13)
The City Burns (01:01)
The Killing Fields (03:01)
McGuire (01:02)
The Lost City (01:46)
How Much Do You Weigh? (01:40)
Bonecrusher (04:37)
Steiner Rescued (02:01)
Monastery (02:26)
Lift Shaft (03:38)
Tunnel of Bones (03:54)
Leap of Faith (02:39)
Mutant Chronicles End Credits (07:37)