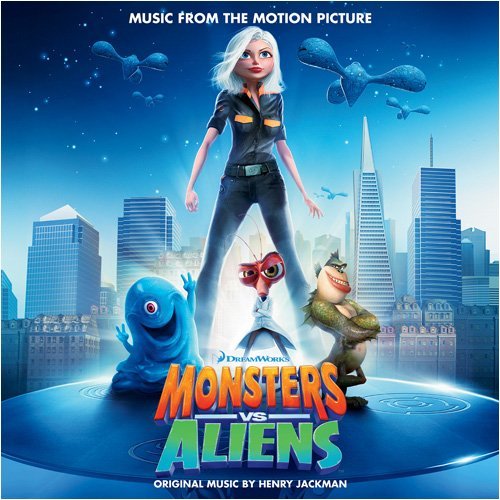 Composer: Henry Jackman
Label: Lakeshore
Monsters Vs. Aliens is the latest 3-D hit by DreamWorks Animation and Paramount Pictures.  The movie is a modern, animated take on the classic monster and alien B-movies of the 50's and 60's.  It follows the story of Susan, an average everyday woman, who gets hit by meteor on the day of her wedding.  She absorbs a substance called quantonium that causes her to grow into a giantess.  The government catches wind of her situation and quickly rounds her up, confining her to a secret compound where they have been keeping various other monsters for the past 50 years, out of sight from the general public.  When the threat of an alien invasion forces the government into action, only this ragtag group of "monsters" can save the day.
This soundtrack is perfect for the kind of movie this is.  Henry Jackman (who previously worked with Hans Zimmer on such soundtracks as The Dark Knight, Pirates of the Caribbean: At World's End, and Kung Fu Panda) does a fantastic job putting together his original score with great zany classics like "Wooly Bully" by Sam the Sham and the Pharaohs and "Purple People Eater" by Sheb Wooley.
The score tracks are sweeping and big at times ("The Battle at Golden Gate Bridge"), giving you a sense of super scifi action happening somewhere and that you really need to be there in the thick of it.  Other times, it's offbeat and kooky and lounge lizardy, which makes "Meet the Monsters" a great segue to "Planet Claire" by The B-52's.  There are also moments of downtime, where the tracks slow and are softer and lighter, moments where you can imagine that Susan is having a hard time adjusting to her new course in life while missing the one she left behind ("The Ginormica Suite").
It's an upbeat soundtrack that remains light-hearted and well aware of its target audience (the actual kids being taken to the movie, or the kid in all of us), even when the tracks get to that call-to-arms level of tempo.  Jackman gives you an hour's worth of tunes that makes you want to dance, move around, or have fun acting out space battles with your kids using blankets, paper towel rolls and couch cushions.