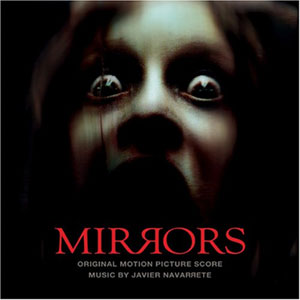 It wouldn't be a stretch to say that I am not the biggest horror movie fan on the face of the planet. However when given the opportunity to listen to Spanish film composer Javier Navarrete's soundtrack for the movie Mirrors, I couldn't say no.  Navarrete was nominated for both an Academy Award and a Grammy for his work on the soundtrack for El laberinto del fauno (Pan's Labyrinth), which currently stands as one of my favorite movies of all time.  Utilizing The City of Prague Philharmonic Orchestra, rather than computer generated or synthesized music, he again has worked his magic creating a score full of suspense and haunting cues.
"Asturias," written by Isaac Albéniz and arranged by Navarrete is effectively used throughout the soundtrack as a recurring them.  Intermixed there are tracks that go from soft and wistful to look-over-your-shoulder suspense and pure fright.  Navarrete's composition brings out some truly thrilling sounds and frightful moments that prove that not everything is better digitized.  Whether the stings are dragging or driving, he has mastered storytelling through music.  The spooky atmosphere needs nothing more than the soft voices of the chorus featured in "Farmhouse Basement".  He captures the rise and fall of action through the thundering drums in "The Dressing Room" or when the flood gates of sound and music open in "Escape" and "Possession".
Navarrete manages to avoid the standard cliche of dramatic crescendos to emphasize thrilling moments but rather lets the hammering drums and the forceful flurry of the strings affect the thrill and suspense. Darkly haunting and deeply unsettling, Navarrette's music is created to give the listener the creeps, and he succeeded without a doubt.  He doesn't need synthesized noise to reach down into the very depths of paranoia but uses the natural depth of the instruments in the orchestra to creating the jarring score, both beautiful and truly epitomizing the horror genre.
I would recommend this soundtrack to anyone who is interested in a well rounded score. Again, it avoids many of the typical standards of the background sounds you'd expect.  I might not recommend listening to it while driving home by yourself late at night, like I did.  However if you are a horror film enthusiast, this is a very quality addition to any collection.  Javier Navarrete is a master at his craft, and I personally look forward to more of his composition.  I highly recommend this soundtrack and would definitely give it 4½ stars out of 5.