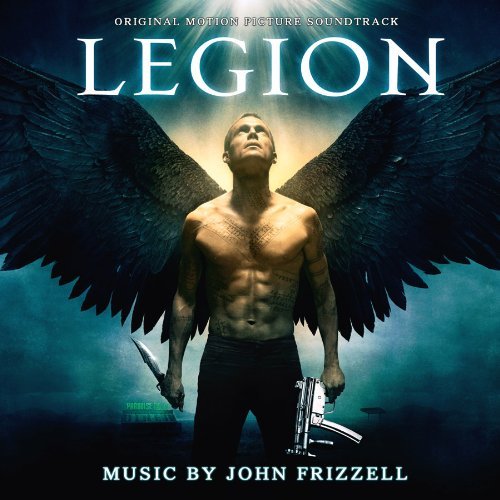 Soundtrack: Legion
Composers: John Frizzell
Label: La-La Land Records
Release Date: January 19, 2010
In the supernatural action thriller Legion, an out-of-the-way diner becomes the unlikely battleground for the survival of the human race. When God loses faith in mankind, he sends his legion of angels to bring on the Apocalypse. Humanity's only hope lies in a group of strangers trapped in a desert diner and the Archangel Michael (Paul Bettany). The score by John Frizzell (whose more recent work can be heard in Whiteout and United States of Tara) is a great mix of atmospheric, eerie, and tense, with just enough quiet moments to keep you from burning out.
As this is a score for a supernatural thriller, it does have some of the usual cues such movie scores have (the trilling violins that tell you something bad is about to happen, chanting to indicate the humans are going up against angels, or repetitive bits of notes to create a sense of urgency and movement). This isn't necessarily a bad thing; after all, those cues are staples for the genre. Frizzell does a great job of balancing those tried-and-true elements with quieter, more intimate moments that focus mostly on a piano (a reoccurring but subtle theme throughout the score). These moments almost feel hopeful, while retaining the sad quality a lone piano can have, and are a nice reprieve from the jumps and hurried pace that one expects to accompany a fight to survive against supernatural beings.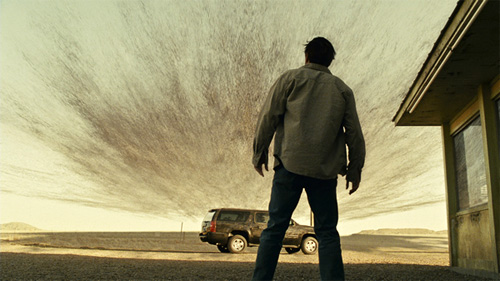 I always think that a good movie score not only works well at making the actual movie a complete work, but also stands on its own as an album. The trilling violins were a bit much at certain points, but I thought this was a solid album. I particularly enjoyed "Michael Descends" (really nice bit at about the halfway point), and overall it got me in the mindset of warring garrisons of angels and all the fantastic imagery that can entail. With a runtime of around 52 minutes, this is definitely a good album to create stuff to. That is, if you don't mind a few loud "scare" moments every once in awhile.
Rating: 3.5 / 5 Stars
Track Listing:
When I Was A Little Girl" (1:33)
"Michael Descends" (2:45)
"It's Started" (2:36)
"Old and Pissed Off" (2:39)
"This is Not A Test" (1:40)
"Clouds Don't Buzz" (1:18)
"The Aftermath" (0:57)
"Now What?" (1:44)
"They're Here" (1:54)
"The Ice Cream Man" (1:59)
"Attack of The Possessed" (0:42)
"We Got 'Em Running" (1:02)
"God's Plan" (3:48)
"Percy's Story" (1:28)
"Dark World" (1:51)
"Bob Blames Himself" (1:08)
"I Didn't Even Want This Baby" (2:12)
"Open the Door" (2:42)
"Are We Safe Now?" (2:57)
"A Rebellious Son" (2:14)
"The Battle" (2:21)
"Die Like One of Them" (1:43)
"That Is Why You Failed Him" (3:05)
"You Are The True Protector" (2:12)
"You Are The True Protector" (Alternate Version) (2:12)