Soundtrack: Killers
Composer: Rolfe Kent
Featuring: Various Artists
Label: Lionsgate
Release Date: June 1, 2010
Killers is a new action-comedy movie releasing June 4, 2010, starring Ashton Kutcher and Katherine Heigl. Spencer Aimes (Ashton Kutcher) is a former CIA operative who gets out of the game and marries Jen Kornfeldt (Katherine Heigl). They live happily ever after for 3 years, until he discovers there's a price on his head, and their life goes from normal, domestic bliss to trying to keep him alive. The soundtrack is half score and half songs from various artists including Macy Gray, Nikki & Rich, Rox, and Salvador Santana. The score was composed by Rolfe Kent, a British composer who has scored a number of movies including The Men Who Stare at Goats, Wedding Crashers, and Up In The Air, and also composed the theme song for the series Dexter. This is not normally the genre of movie I'd choose to see; I did try to find someone to go with me, but it didn't work out so I will be reviewing the soundtrack blind, so to speak.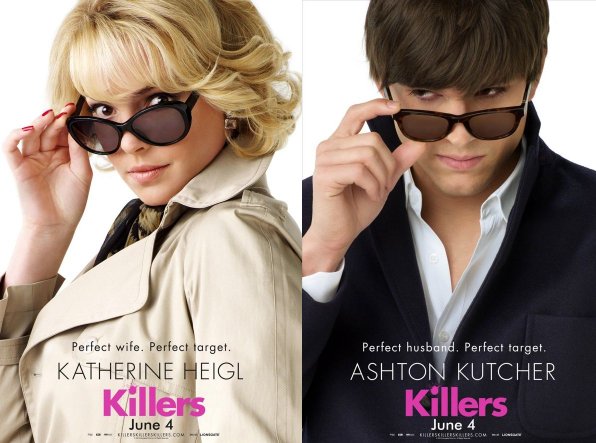 The beginning of the album consists of eight tracks by different artists. The first one (also the only artist I'd heard of) is "Beauty In The World," by Macy Gray. This song is from her new album, The Sellout, being released in a couple of weeks. I have to admit, I was never a fan of Macy Gray. In fact, I really did not like her at all, not because the music is necessarily bad, but because of her voice — it bothers me to high heaven. Her voice is my nails on a chalkboard. I mean no offense to the woman, it's just an issue of personal preference. The song is heavy on percussion & tambourine, and does have a pretty catchy tune to it. It also sets the tone of the album well — upbeat and happy, about life being good and beautiful.
Next is a mix of songs by different artists, none of whom I'd previously heard of, and to be honest, none of which really oozed awesomesauce to me. A few were catchy and cute, but the songs sounded generally the same to me. When I listened to "Ooh La La" by Faces, I realized I had heard it before, and do like it. I liked "A Moment" by Bitter:Sweet; "Cat and Mouse" by Nikki & Rich has a retro sound to it and I like the singer's voice. "Montego Sunset" by The Menahan Street Band is a beachy instrumental composition, and "Under The Sun" by Salvador Santana (son of Carlos Santana) has the same happy, summery feeling to it. The only song I really have anything negative to say about is the French song, "Bon Bon Bon" by Vanessa Conteney-Quinones, and that's only because I don't like French. I know it's supposed to be this gorgeous, lyrical language… but I've never liked how it sounds for some reason. Don't like how it sounds, never liked singing it and trying to pronounce it. Ugh. (Apologies to those of you who are French or speak it, no offense meant! It's just one of my odd dislikes. I have many.) This song is not something I'd choose to listen to.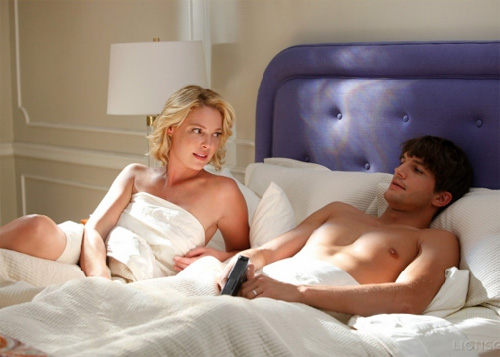 After the first eight tracks, the album switches into score mode. Most of these score pieces by Rolfe Kent are under two minutes long, so I'm assuming they're just clips of the full score that underline important parts of the movie. I could describe the tracks best as "fun spy movie music." There's one track, "Falling In Bed," that is slower than the previous tracks & is mostly orchestra with an acoustic guitar and a pretty melody. The last track, titled "Killers Suite," is probably what plays during the opening credits (or maybe the closing credits) and it's cute and catchy. As an analogy for folks, I listened to the Dexter theme which Kent also composed, and it sounds pretty similar to the Killers music — imagine the Dexter theme with some variations and you'll be quite close to the Killers music!
By saying that nothing oozed awesomesauce and that the songs all seemed similar to me, I don't mean to say they are bad, just that I didn't love any of them. Listening to the album all the way through, it's pretty easy to get that the movie is a sort of romance/comedy, as the music overall is light and fun. From what I understand about the movie, this sounds like a good soundtrack for it. It's simply not music (or a movie, for that matter) that I would generally gravitate towards.
Track Listing:
Macy Gray – "Beauty In The World" (3:52)
Salvador Santana – "Under The Sun" (3:38)
Nikki & Rich – "Cat and Mouse" (3:08)
Faces – "Ooh La La" (3:31)
Bitter:Sweet – "A Moment" (4:20)
Rox – "I Don't Believe" (2:38)
Vanessa Conteney-Quinones – "Bon Bon Bon" (3:30)
Menahan Street Band – "Montego Sunset" (3:17)
Rolfe Kent – "Scuba Sneak and Shopping" (1:39)
Rolfe Kent – "I'm Gonna Kill Him" (1:17)
Rolfe Kent – "Even The UPS Guy" (1:45)
Rolfe Kent – "Arriving In Nice" (2:38)
Rolfe Kent – "Falling In Bed" (1:16)
Rolfe Kent – "Elevator Attraction" (1:47)
Rolfe Kent – "New Home Office" (1:01)
Rolfe Kent – "Killers Suite" (3:44)
Rating: 3.5 / 5 Stars