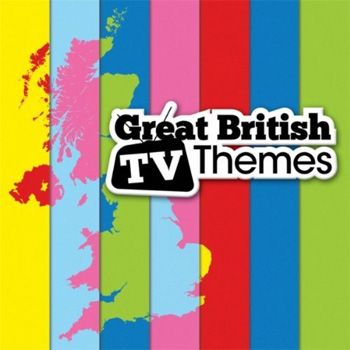 Soundtrack: Great British TV Themes
Composer: Various
Label: Silva Screen Records
Release Date: July 25, 2011
If you grew up watching old British shows through the BBC, ITV, and/or PBS, this is definitely a soundtrack for you. It has just about every major British show I can think of, and a few I admit I'd never known about. Just to give you a basic idea, here are some of the shows included: Steptoe and Son (precursor to the American Sanford and Son), Doctor Who, The Avengers, The Benny Hill Show, Eastenders, Coronation Street, The Prisoner, Danger Man, and more. Many of the shows present on the album ran in the 1960s and 1970s, but also includes programmes that ran into the 90s and 21st century, such as The Bill and the aforementioned soap operas Eastenders and Coronation Street.
The album includes game shows from Countdown to Blockbusters and even The Crystal Maze (for all you Richard O'Brien fans). You even get the original Big Brother theme. It has just about every Gerry Anderson-produced shows theme, including Space: 1999, UFO, Captain Scarlet, Stingray, and even one of his live-action series, The Protectors. A few non-Anderson children's shows are present as well, such as The Adventures of Robinson Crusoe and The Magic Roundabout. The soundtrack even adds music from news segments such as "The World at War" and "Match of the Day."
A notable aspect for this album is that it will certainly make you interested in some of the shows you may not know. One in particular that I will have to look up to watch now is Randall and Hopkirk (Deceased), in which the ghost of the former helps his detective partner solve mysteries in a comical, somewhat-supernatural manner.
The artists themselves on the soundtrack are a veritable mash-up of different composers and orchestras, from the City of Prague Philharmonic Orchestra to Ron Grainer, who is essentially the John Williams of BBC Television themes. Some of the themes can vary slightly from the originals, depending on who is performing the track, but all in all creates a nice nostalgic feel. Other than that, not a lot of more modern shows, which may be for rights reasons and the fact that so many release their own soundtracks now.
If I had my way, here's some songs that would have been included, old and new:
Danger Mouse
Law & Order: UK
The Young Ones
Coupling
Black Books
A Bit of Fry and Laurie
Count Duckula
However, here's the actual tracklist:
Track Listing:
CD 1: 1957-1971
Captain Pugwash
Coronation Street
Steptoe And Son – Old Ned
The Saint
Fireball XL5 – Fireball
Dr. Finlay's Casebook
Doctor Who
Hancock – Hancock's Tune
Danger Man
The Magic Roundabout
The Adventures Of Robinson Crusoe
Stingray
The Avengers
Thunderbirds
Man In A Suitcase
The Prisoner
Captain Scarlet & The Mysterons
BBC Cricket – Soul Limbo
Please Sir!
The Benny Hill Show – Yakety Sax
Cadbury's Milk Tray – The Night Rider
Randall And Hopkirk (Deceased)
Monty Python's Flying Circus – The Liberty Bell
UFO
Match Of The Day
The Persuaders
The Onedin Line – Adagio from Spartacus
CD 2: 1972-2006
Film 72 – I Wish I Knew How It Felt To Be Free
Van Der Valk – Eye Level
The Adventurers Of Black Beauty
The Protectors – Avenues And Alleyways
The World At War – Theme
Fawlty Towers
The Sweeney
Space 1999 – First Series
The Good Life
The New Avengers
The Professionals
Ski Sunday Theme – Pop Looks Bach
Minder – I Could Be So Good For You
Tales Of The Unexpected
Tinker, Tailor, Soldier, Spy – Nunc Dimitis
Blockbusters
Only Fools And Horses
Countdown
The Bill – Overkill
EastEnders
Casualty
Inspector Morse
Red Dwarf
The Crystal Maze – Force Field
Between The Lines
Big Brother – UK TV Theme
Lewis – Main Theme
Rating: 4 / 5 Stars